CORONAVIRUS
/
Taiwan reports 4 new COVID-19 cases, one death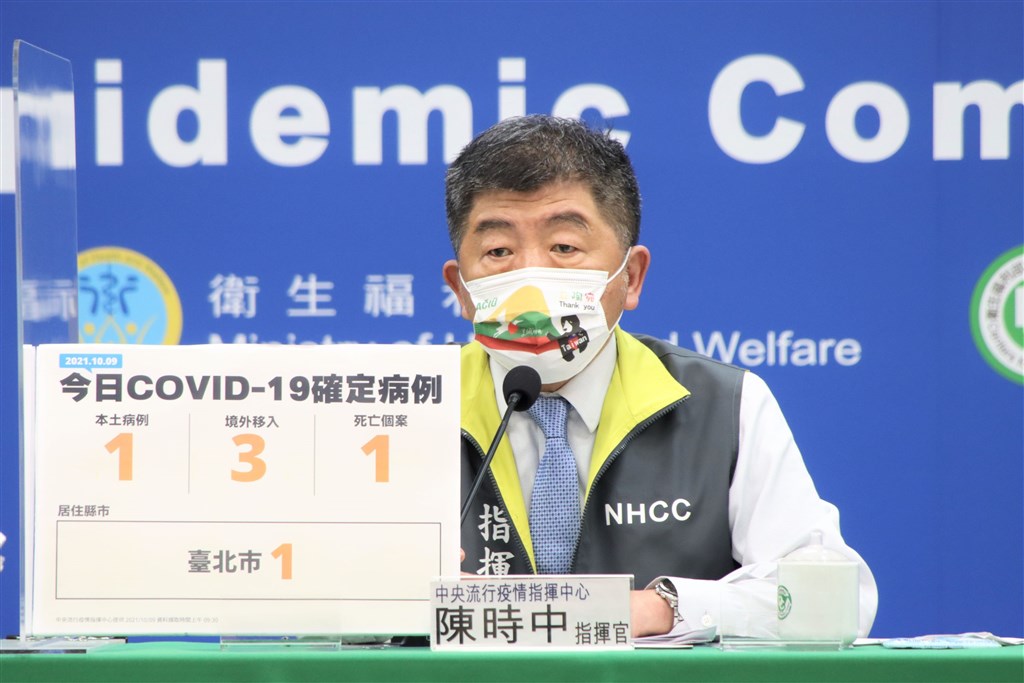 Taipei, Oct. 9 (CNA) Taiwan reported four new COVID-19 cases, consisting of three patients infected abroad and the first locally infected patient recorded in October, and one death from the disease on Saturday, according to the Central Epidemic Command Center (CECC).
The sole local case, a 1-year-old girl in Taipei, tested positive when she was taken to see a doctor Oct. 7, after she began having fever and diarrhea on Oct. 5, Heath Minister Chen Shih-chung (陳時中) said during a CECC press briefing.
Because test results showed she had a cycle threshold (CT) value of 38, meaning a low viral load, Chen said it was likely that the infection was not recent.
While four people listed as her close contacts have been placed in quarantine, none of her family members have tested positive for COVID-19, he added.
Before Saturday's one new local case, Taiwan had reported no domestically transmitted case for nine consecutive days.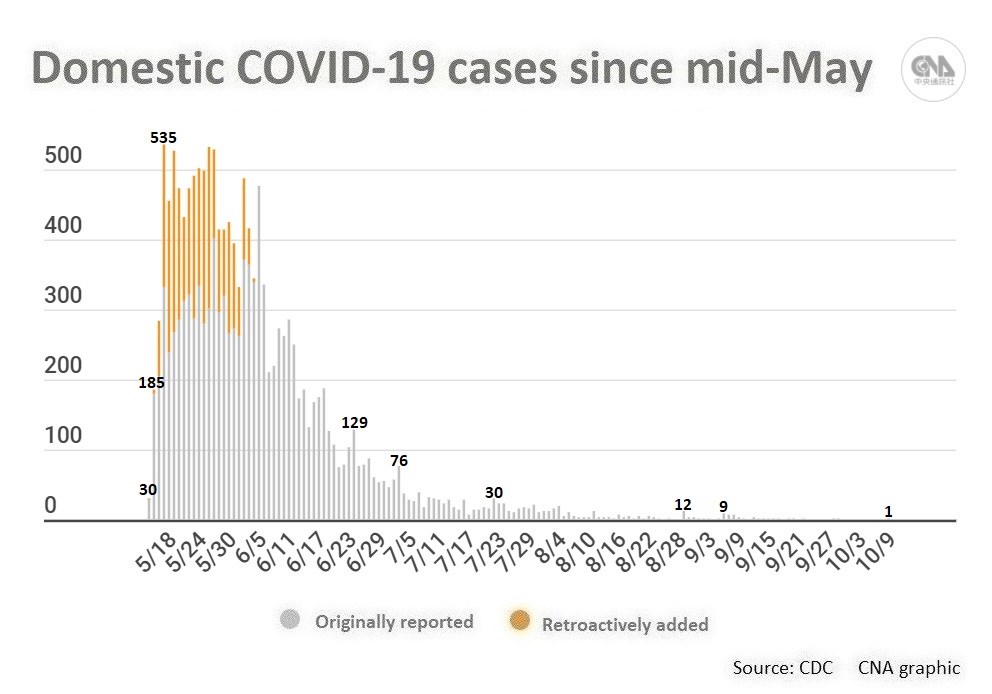 The three imported cases involved an American woman in her 50s traveling from the United States on Oct. 6; a Taiwanese woman in her 20s who returned from the U.S. on Sept. 27; and a Taiwanese boy who returned from Myanmar on Sept. 24, according to the CECC.
The American tested positive upon arrival, while the two Taiwanese tested positive during their 14-day quarantine, the CECC said.
To date, Taiwan has confirmed a total of 16,287 COVID-19 cases, of which 14,418 are domestic infections reported since May 15, when the country first recorded more than 100 cases in a single day.
However, the daily number of domestic cases has fallen to mostly single digits since Aug. 15, totaling 115 since then, according to CECC data.
During the same period, the number of imported cases has risen by 351 to 1,651, including Saturday's three new cases, CECC data showed.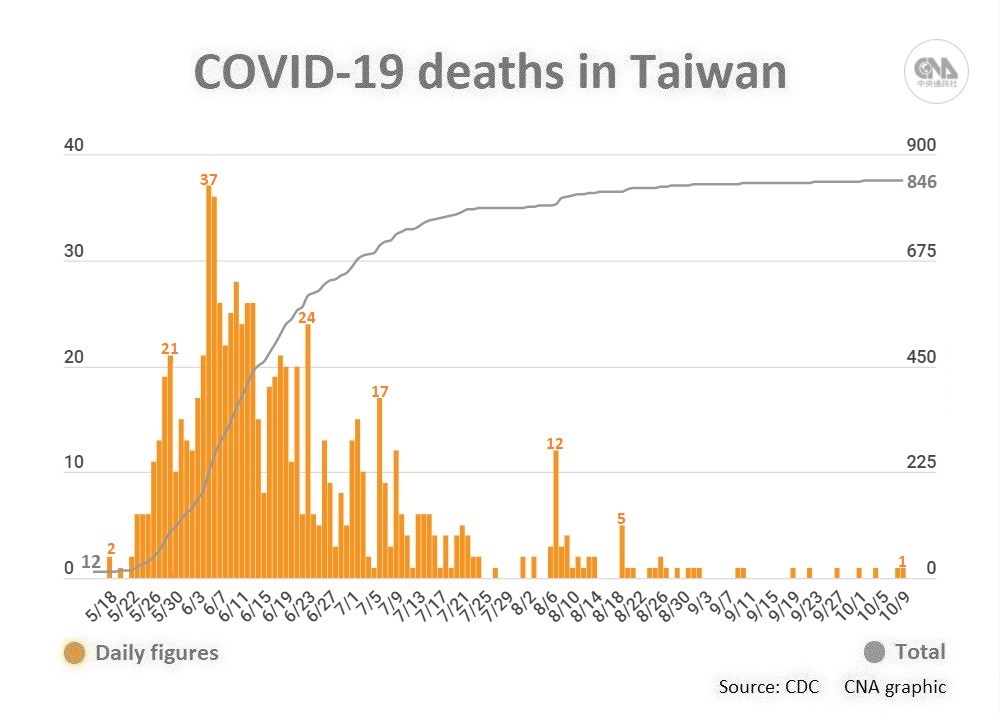 The one death involved a woman in her 70s, who was hospitalized in isolation on May 31 after a positive COVID-19 test, according to the CECC.
She was diabetic and was transferred to another medical facility for other treatments at the end of August, when her COVID-19 infections resurfaced again, CECC official Lo Yi-chun (羅一鈞) said.
She was in isolation again until Sept. 17 after tests showed she was not infectious, but she remained hospitalized for her other health issues before she died on Oct. 4 because of pneumonia and respiratory failure, according to Lo.
With the death reported on Saturday, the number of confirmed COVID-19 fatalities in the country rose to 846, with all but 12 recorded since May 15, CECC data showed.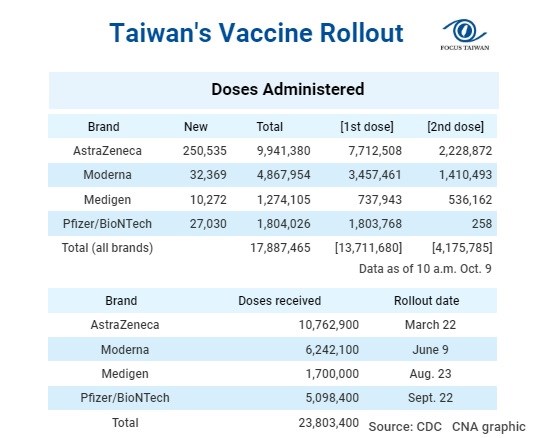 Recent cases
Oct. 8: Taiwan reports 12 new imported COVID-19 cases, one death
Oct. 7: Taiwan reports 4 new COVID-19 cases, all imported
Oct. 6: Taiwan reports 5 new COVID-19 cases, no deaths
Oct. 5: Taiwan reports no new domestic COVID-19 cases for sixth straight day
Oct. 4: Taiwan extends Level 2 COVID-19 alert two weeks, reports five new cases
View All