CORONAVIRUS
/
Taiwan receives 1.13 million doses of Moderna vaccine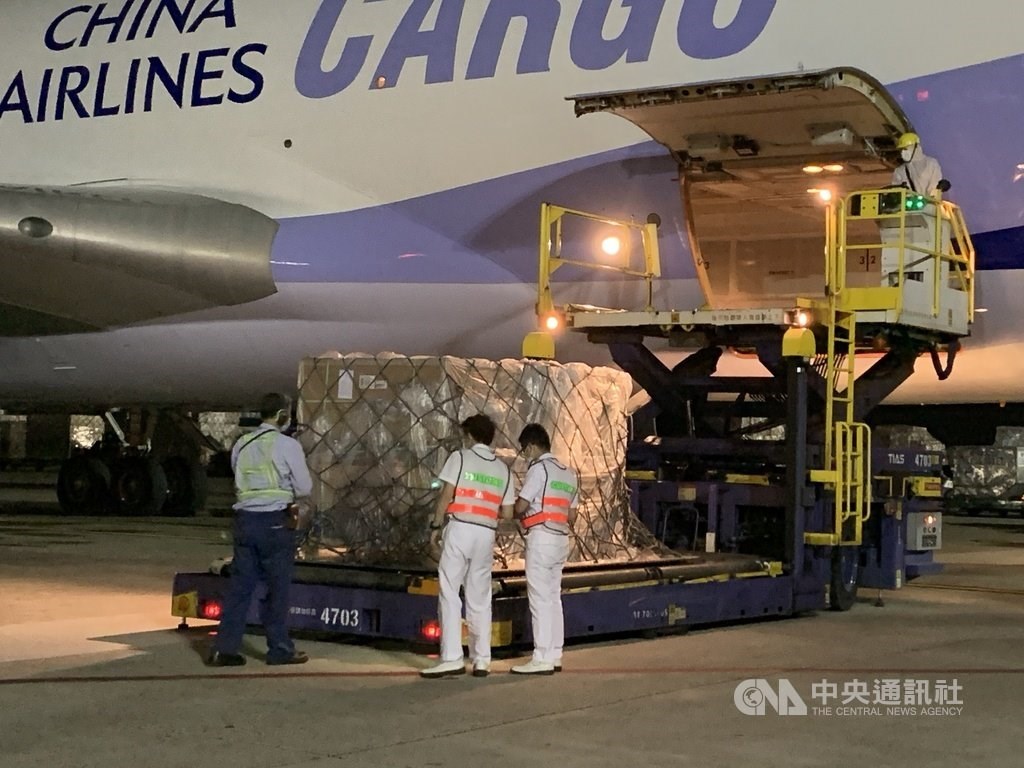 Taipei, Oct. 9 (CNA) The eighth batch of the Moderna COVID-19 vaccine purchased from the American vaccine maker arrived in Taiwan early Saturday, comprising 1.13 million doses, and comes at a time when many people who received their first dose of the brand over two months ago still haven't been given their second shot.
The latest shipment touched down at Taiwan Taoyuan International Airport around 1:19 a.m. on a China Airlines flight that departed from Atlanta City, in the United States, on Friday.
The vaccine will be rolled out to people who were vaccinated with a Moderna shot prior to July 16 and need to obtain a second jab to be fully vaccinated, the Central Epidemic Command Center (CECC) said on Friday, without revealing how many of those people have yet to receive a second jab.
Second dose shots for those people will be administered starting on Oct. 22, the CECC said.
According to CECC data, as of Saturday, approximately 3.45 million people in Taiwan had received their first Moderna shot, including 2.6 million people who received their first shot before mid-July.
However, as of Saturday, only 1.37 million had been fully vaccinated with two doses, showing that the country doesn't have enough vaccines to give a second shot to people vaccinated with the Moderna vaccine.
The World Health Organization (WHO) has recommended that the two Moderna vaccine doses be given 28 days apart, and that the interval between the two shots can be delayed by up to 12 weeks if necessary.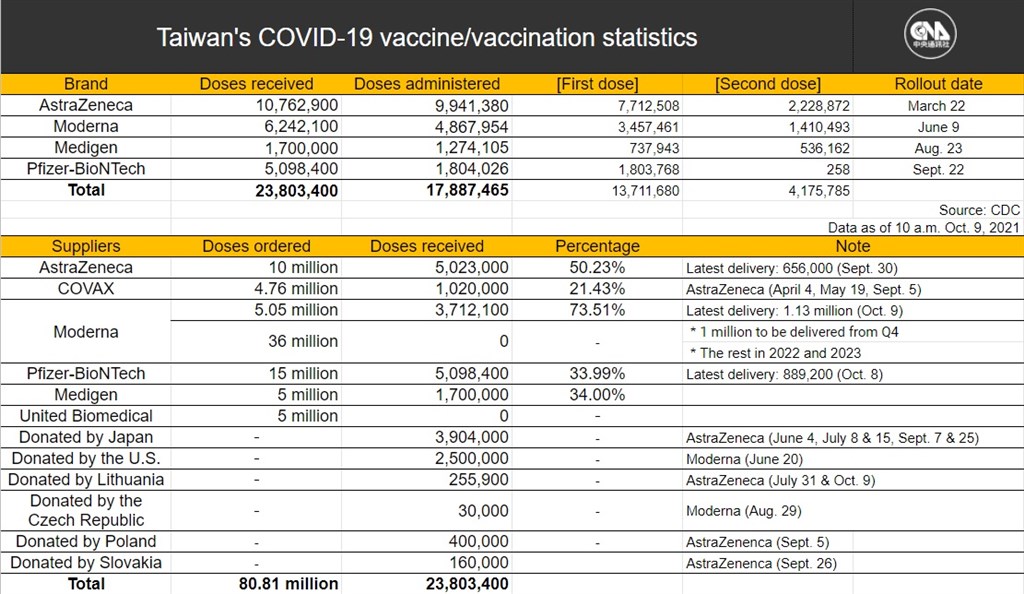 By mid-July, only people on the government's vaccination priority list were eligible to get their first jab of the Moderna vaccine, including medical personnel, those tasked with the government's COVID-19 response efforts, and residents and staff members of long-term care facilities.
The list also includes national security personnel, people working in key industries such as energy, water, communications and transportation, as well as school employees and frontline media reporters.
In addition, pregnant women, people aged 65-74 or indigenous people aged 55-64 were also on the list.
The vaccine shipment that arrived on Saturday brings the total number of Moderna shots Taiwan has taken delivery of to roughly 6.24 million, of which 3.71 million are part of a 5.05 million-dose order Taiwan placed with the American firm, while 2.53 million were provided by the U.S. and the Czech Republic as donations.
The latest batch of the vaccine, which will expire on March 2, 2022, will be inspected by Taiwan's Food and Drug Administration, the standard procedure before the doses can be distributed for use, the CECC said.
Meanwhile, the second batch of the AstraZeneca vaccine donated by Lithuania, totaling 235,900 doses, is scheduled to arrive in Taiwan around 8:30 p.m. Saturday, Taiwan Taoyuan International Airport personnel told CNA on the same day.
View All