Same-sex couple married after unprecedented court victory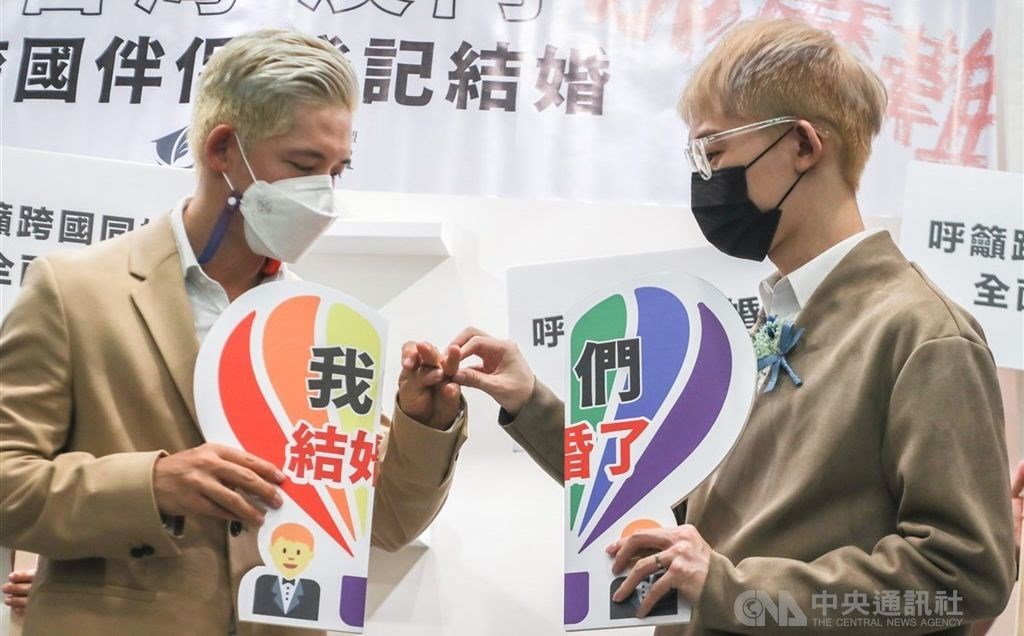 Taipei, Aug. 13 (CNA) Taiwanese national Ting Tse-yan (丁則言) was legally married Friday to his partner Guzifer Leong (梁展輝) from Macao three months after the couple won an unprecedented court victory in their same-sex marriage case.
Ting and Leong completed their marriage registration at Taipei's Zhongzheng District Household Registration Office, two years after the office's rejection of their application triggered a legal battle.
The rejection was based on Taiwanese law, which says that same-sex couples involving a partner from a country or jurisdiction in which gay marriage is illegal, such as Macao, are not allowed to marry in Taiwan or have a marriage in a third country legally recognized.
In May, the Taipei High Administrative Court overturned the office's decision and allowed the two to marry, but the case narrowly revolved around Leong being from Macao, and did not change the situation for other same-sex couples.
Speaking at a press conference, Leong said he "feels no desire to celebrate when thinking about other homosexual couples" who face similar situations.
"Personally we are happy today, but I think this [happiness] is only for us, not for all couples," Leong told CNA.
"We are the special case," Ting said, adding that he hoped related laws can be amended to address the problem.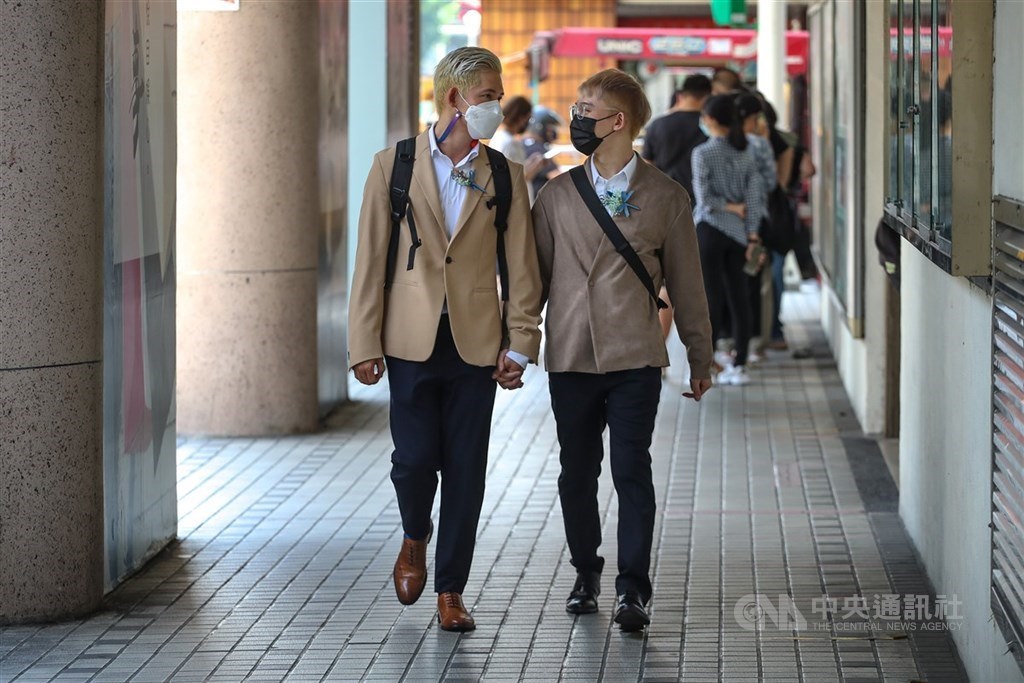 According to the Taiwan Alliance to Promote Civil Partnership Rights (TAPCPR), there are currently 300 to 400 same-sex couples forbidden by law to register their marriage in Taiwan because they involve a partner from a country or jurisdiction that bans gay marriage.
Ting and Leong used to be among them until their case was brought to the Taipei High Administrative Court, and they were the first couple to have successfully overcome the obstacle, TAPCPR Secretary General Chien Chih-Chieh (簡至潔) told CNA Friday.
In its ruling on May 6, the court cited Macao's Civil Code as stating that legal jurisdiction for civil matters is based on a person's place of "habitual residence."
Since Leong has been a resident of Taiwan since 2017, Taiwan's laws allowing same-sex marriage should be applied, the court said.
Victoria Hsu (許秀雯), a lawyer working with the TAPCPR, said Friday that the court's ruling could only be applied to individual cases.
She echoed Ting in appealing for an amendment that would allow all same-sex couples to get married as long as one of the partners is a Republic of China (Taiwan) national.
The TAPCPR, which has focused on the issue after same-sex marriage was legalized in Taiwan in 2019, said about 10 couples in situations similar to that of Ting and Leong were preparing to follow in their footsteps.
They will try to register their marriage at the household registration office near their residence, and if they are rejected, the TAPCPR will assist them in taking legal action to fight for their rights, the group said.
In addition, the group said it filed an appeal in May to the Control Yuan, which monitors civil servant or government improprieties or illicit behavior, hoping it will investigate if the authorities have been negligent in addressing the issue.