CORONAVIRUS
/
Taiwan to expand COVID vaccination program to 12-18 age group
Taipei, July 21 (CNA) Taiwan's government said Wednesday that its COVID-19 vaccination rollout will extend to young people aged 12-18 when it receives a pledged donation of 15 million Pfizer-BioNTech doses from three private entities.
At a press conference, Cabinet spokesman Lo Ping-cheng (羅秉成) said the 15 million BNT vaccines will be processed in one batch, starting with an application to Taiwan's Food and Drug Administration for emergency use authorization (EUA).
Once the EUA is issued and all the safety checks are completed, the Pfizer-BioNTech brand will be included as a choice on the government's vaccination registration website, Lo said.
In addition, young people in the 12-18 age group will be eligible for COVID-19 vaccination but will be limited to only the Pfizer-BioNTech shots, he said.
The 15 million BNT vaccines are being donated to the government by the Buddhist humanitarian Tzu Chi Foundation, Taiwan Semiconductor Manufacturing Co. (TSMC), and the YongLin Charity and Education Foundation of Hon Hai Precision Industry Co., which have each pledged to give 5 million doses.
Earlier Wednesday, Tzu Chi said it had signed a contract with Shanghai Fosun Pharmaceutical Group Co. -- the distributor of the Pfizer-BioNTech COVID-19 vaccine in mainland China, Hong Kong, Macau and Taiwan -- to buy 5 million doses of BNT and donate them to the government.
Hon Hai and TSMC, which signed their procurement contracts in late June, had said on July 12 that the BNT vaccine doses they were buying would be shipped directly from the manufacturer BioNTech in Germany.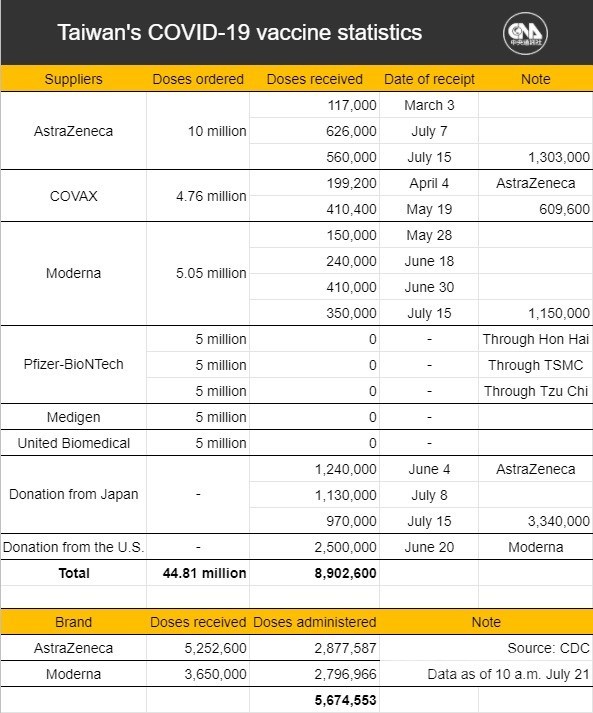 At Wednesday's press conference, Lo said he could not disclose any details of the vaccine procurement, such as the cost or expected shipment dates, because that information was confidential.
Meanwhile, President Tsai Ing-wen (蔡英文) on Wednesday expressed gratitude to the three donors for their efforts to obtain COVID-19 vaccines for Taiwan, according to Presidential Office spokesman Xavier Chang (張惇涵).
The donations are an indication of the unified effort among the Taiwan people to safeguard their country amid the COVID-19 pandemic, Tsai was cited as saying.
According to Lo, the Taiwan government tried hard last year but failed to reach a procurement deal with BioNTech.
The Tsai administration has laid the blame for the failed contract squarely on China, which it said had obstructed the process.
Taiwan has signed contracts to purchase about 20 million vaccine doses from abroad, including 5.05 million doses of Moderna, 10 million doses of AstraZeneca (AZ), and 4.76 million doses of unspecified brands through the COVAX program.
Only about 3 million doses have been delivered to date, but Taiwan has also received donations of 3.34 million doses of AZ from Japan and 2.5 million doses of Moderna from the United States.
The government has also signed contracts to buy 10 million doses of vaccines from two Taiwanese manufacturers -- Medigen Vaccine Biologics Corp. and United Biomedical Inc.
View All