CORONAVIRUS
/
Taiwan adds 15 new domestic COVID-19 cases, but says trend stable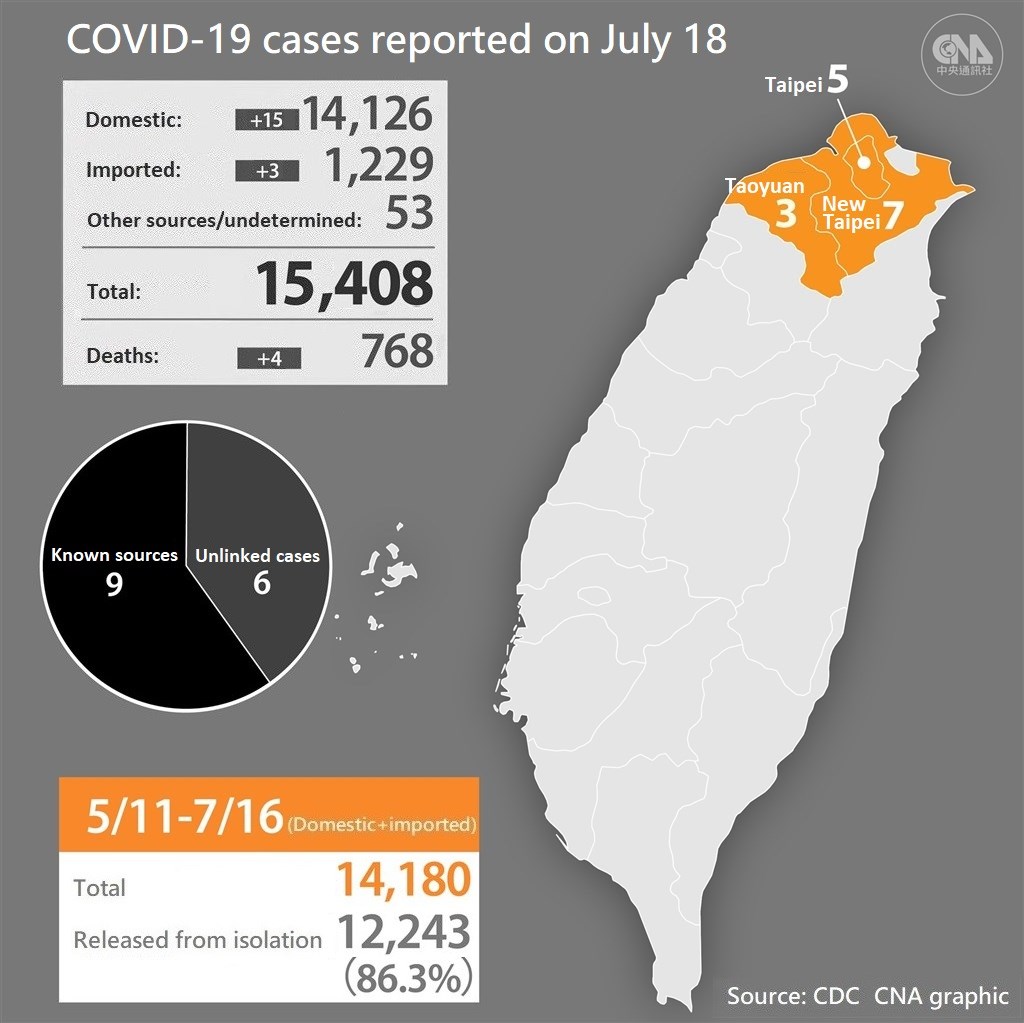 Taipei, July 18 (CNA) Taiwan reported 15 new domestic cases of COVID-19 and four deaths on Sunday, but the trend of lower case numbers appeared stable, with only a few cases having unknown sources of infection, according to the Central Epidemic Command Center (CECC).
While the new domestic cases outnumbered Saturday's eight, Health and Welfare Minister Chen Shih-chung (陳時中), who heads the CECC, said at a news briefing that overall, the current COVID-19 situation in Taiwan is stable.
Of the 15 domestic cases reported Sunday, six people tested positive for the disease while in quarantine or upon ending their quarantine, suggesting there was little chance for the disease to spread, the CECC said.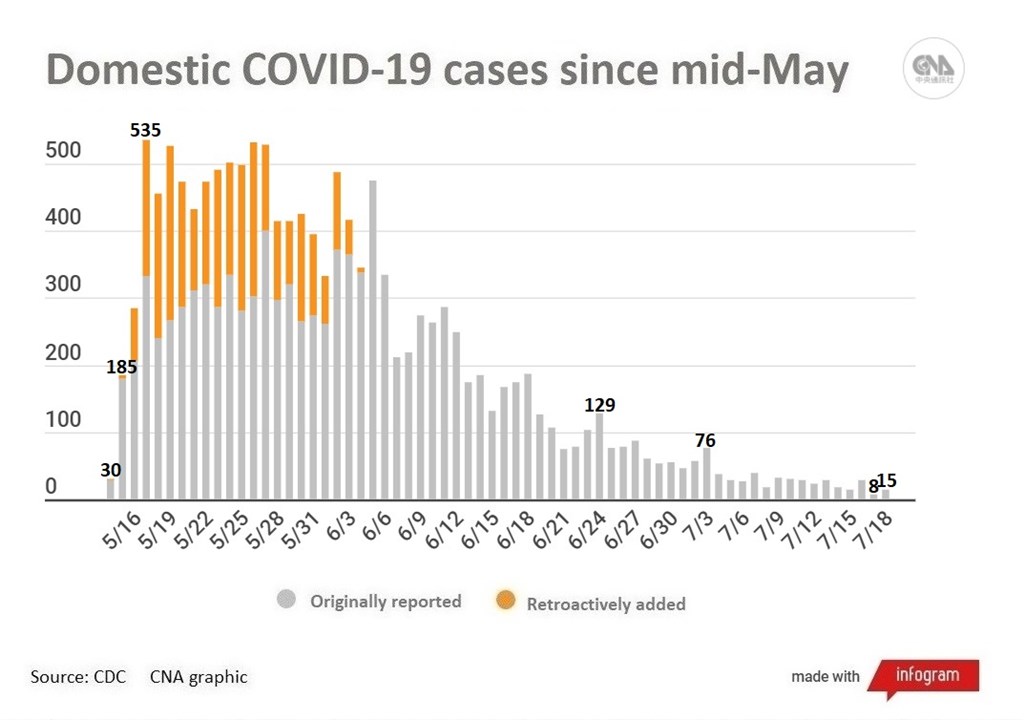 The domestic cases were nine males and six females, aged in their 20s to 90s, who began showing symptoms from July 10 to July 17, according to CECC data.
Seven of the domestic cases were reported in New Taipei City, five were reported in Taipei, and three were reported in Taoyuan, the data showed.
Among the domestic cases reported Sunday, nine had a known source of infection, while six had unknown links to other cases, according to the CECC.
The relatively small number of cases with unknown sources of infection will make it easier to investigate them and trace contacts of those confirmed to be infected, Chen said.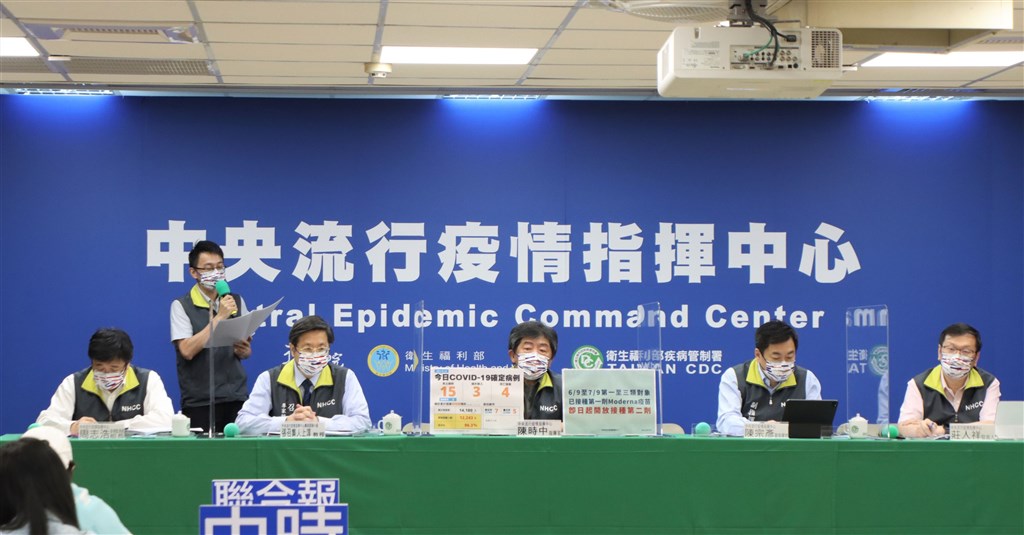 He said Saturday there was a high possibility that a nationwide Level 3 alert for COVID-19 will be lowered after it expires on July 26 as Taiwan's COVID-19 outbreak eases and the number of people who have received at least one dose of the vaccine has reached 20 percent.
Chen said Sunday that lifting the restrictions would not depend on reporting "zero new coronavirus cases," but rather whether the outbreak has been brought under control and the country has sufficient medical capacity to respond to the situation.
Also Sunday, Taiwan reported three cases of the disease that were contracted overseas.
They involved a Taiwanese man who returned from Spain on July 15, a Taiwanese woman who arrived from the United States on July 16, and a British man in his 20s who came to Taiwan on July 15 from the United Kingdom.
The new cases reported Sunday brought the total in the country to 15,408, of which 13,962 are domestic infections reported since May 15, when the country first recorded more than 100 COVID-19 cases in a single day.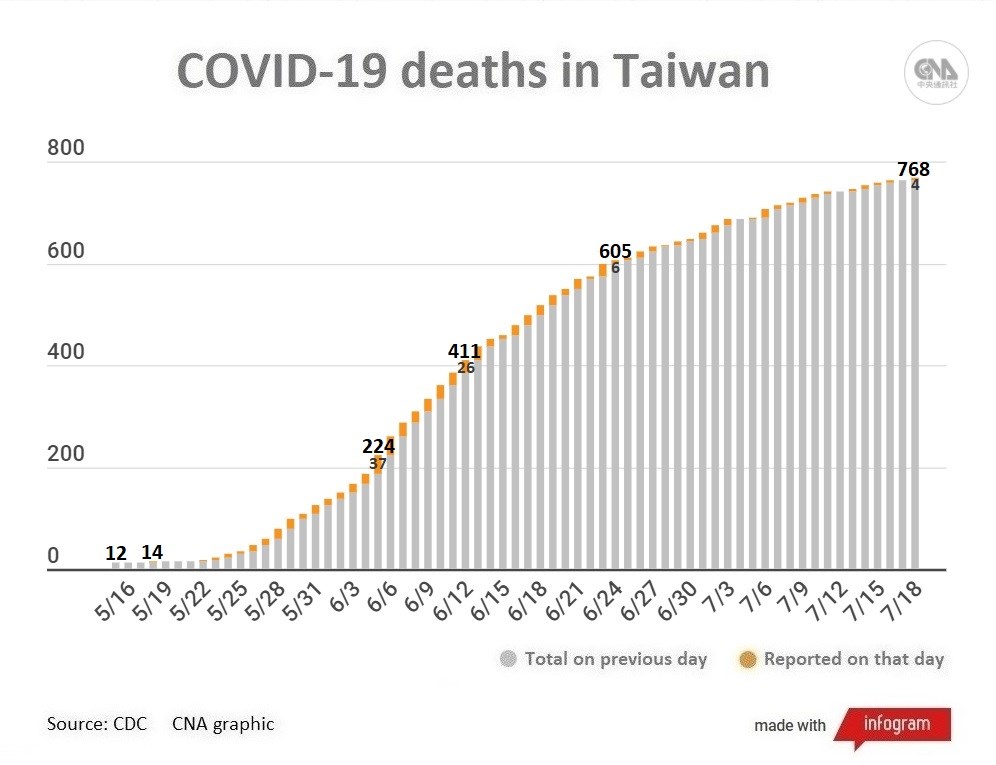 The four deaths reported Sunday were three men and one woman, aged in their 40s to 80s, who passed away between July 13 and July 15, the CECC said.
To date, 768 people have died of COVID-19 in Taiwan, including 756 since May 15.
Recent cases
July 17: CECC to mull lowering Level 3 alert after fall in COVID-19 cases
July 16: COVID-19 trend moving in positive direction despite fluctuations
July 15: Domestic COVID-19 cases drop to 14, lowest in 2 months
July 14: Taiwan reports 27 new COVID-19 cases; adult daycare centers can open
View All