CORONAVIRUS
/
Taiwan reports 39 new COVID-19 cases, pushing total case numbers past 15,000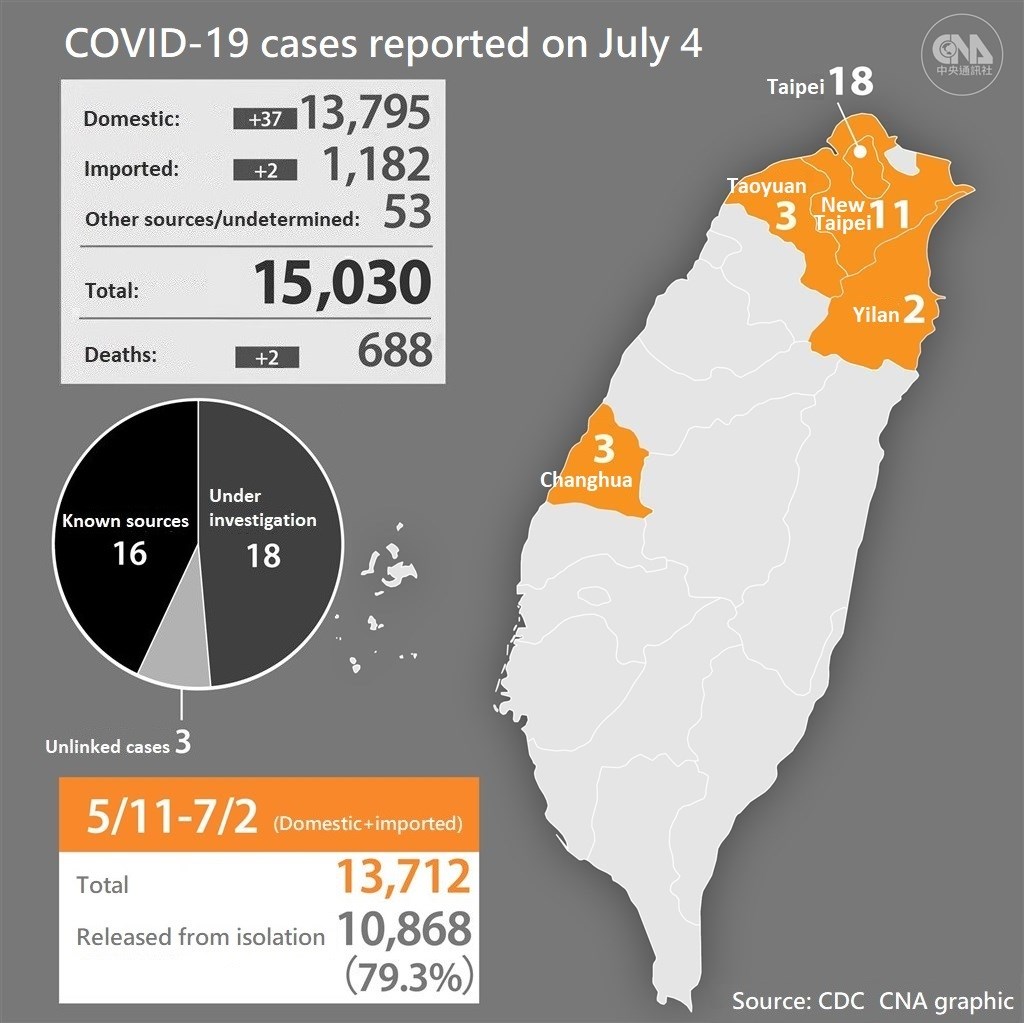 Taipei, July 4 (CNA) Taiwan reported 39 new COVID-19 cases on Sunday, the lowest number recorded since May 14, pushing the total number of cases reported in the country past 15,000, according to the Central Epidemic Command Center (CECC).
Of the new cases, 37 were domestic transmissions, two were imported and there were also two deaths from the disease, the CECC said.
Speaking at the daily CECC press briefing, Health Minister Chen Shih-chung (陳時中) said that overall case numbers continue to trend downwards.
The cluster infections at three Taipei markets are also under control, Chen said, adding that testing of market personnel, contacts of confirmed patients, and residents in the neighborhood have returned fewer positive results than expected.
This indicates that the cluster has been contained to a certain degree, Chen said, though thorough contact-tracing and more tests are still required.
To date, the three wholesale markets in Taipei have reported more than 200 cases. This includes 110 at Huannan Market, 96 at the First Fruit & Vegetable Wholesale Market and 23 at the Second Fruit & Vegetable Wholesale Market, Chen said.
More than 11,000 COVID-19 tests have been administered at the markets over the past three days, according to Chen.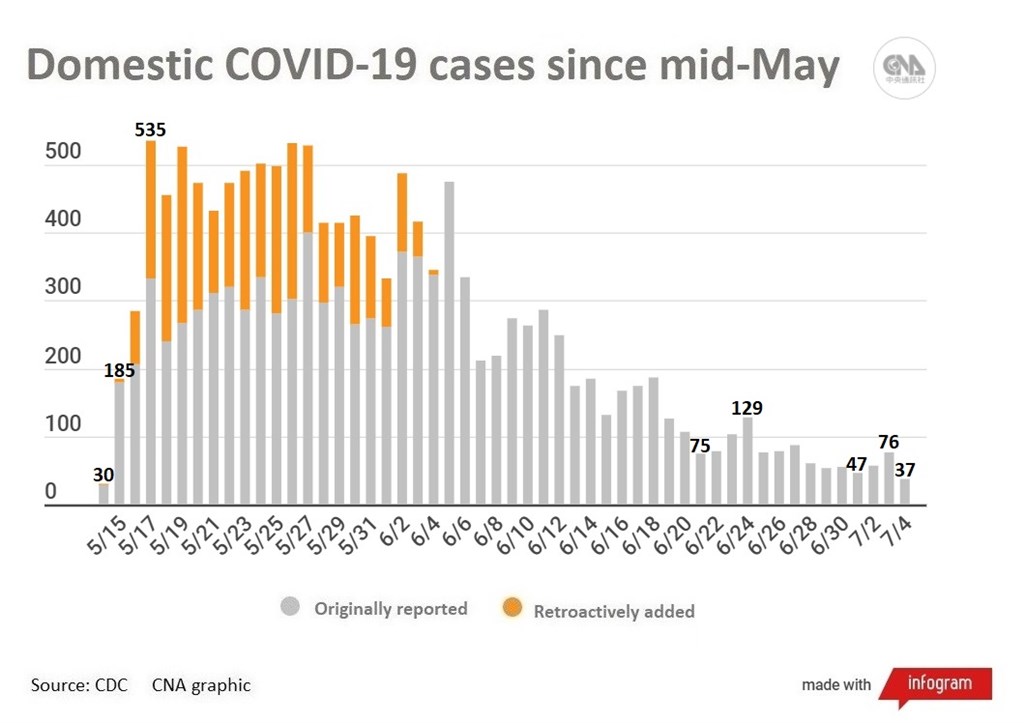 Of the 37 domestic cases Sunday, Taipei reported 18, followed by New Taipei with 11.
Taoyuan and Changhua County each recorded three cases, while two were reported in Yilan County.
Three of the cases have no apparent link to previously confirmed COVID-19 patients, 16 have a known source of infection, and 18 are under investigation, according to the CECC.
Meanwhile, the two imported cases involved two Taiwanese nationals who recently returned from Cambodia and Indonesia.
The two deaths reported Sunday were a woman in her 70s and a man in his 80s, who passed away on July 2 and June 17, respectively, the CECC said.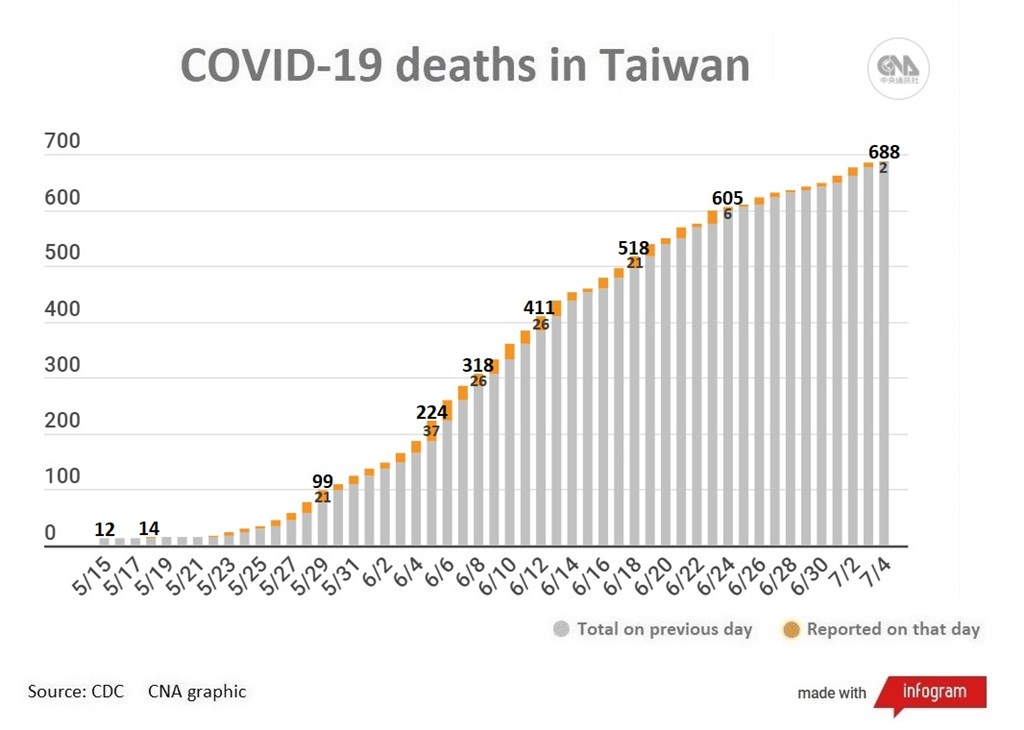 To date, Taiwan has confirmed a total of 15,030 COVID-19 cases, over 13,600 of which are domestic infections reported since May 15, when the country first recorded more than 100 cases in a single day since the beginning of the pandemic.
The number of confirmed COVID-19 deaths in the country has risen to 688, with all except 12 recorded since May 15, CECC data shows.
Recent cases
July 3: Taiwan adds 80 new COVID-19 cases, driven by Taipei market cluster
July 2: Taiwan reports 58 new cases, outbreak in Taipei market
July 1: Taiwan reports 50 new COVID-19 cases, link in Delta cases confirmed
June 30: Taiwan reports 56 new COVID-19 cases, Delta variant cluster grows to 15
June 29: Taiwan reports 54 new COVID-19 cases, 1 more Delta infection
View All