CORONAVIRUS
/
COVID-19 press briefing
From the Central Epidemic Command Center
Taiwan's Central Epidemic Command Center (CECC) raised the COVID-19 alert level for Taipei and New Taipei cities to Level 3 on Saturday, as well as tightened disease control measures islandwide after reporting 180 new domestically-transmitted cases on the same day.
• New cases
Health Minister Chen Shih-chung (陳時中) has announced 180 new domestically transmitted COVID-19 cases and five new imported cases. The cases include 89 in Taipei, 75 in New Taipei, 6 in Changhua, four each in Yilan and Taoyuan and one each in Taichung and Keelung. 
• Taipei and New Taipei
Chen has begun explaining some of the guidelines for Taipei and New Taipei City, which are under a Level 3 COVID-19 alert through May 28. The guidelines include:
1.Wear a mask at all times outdoors
2.Avoid unnecessary travel, activities and gatherings
3.Indoor gatherings of 5+ people and outdoor gatherings of 10+ people prohibited
4.Monitor your health (immediately report COVID-19 symptoms)
5.Business places: enforce crowd controls, mask wearing and social distancing
6.Workplaces: enforce CECC guidelines; when possible work remotely or in staggered shifts
7.Restaurants: ID-based registration, social distancing, partitions for dine-in (or) carry-out only
8.Weddings, funerals: ID-based registration system, social distancing, enhanced disinfection
9.Enhanced disinfection of public venues, transportation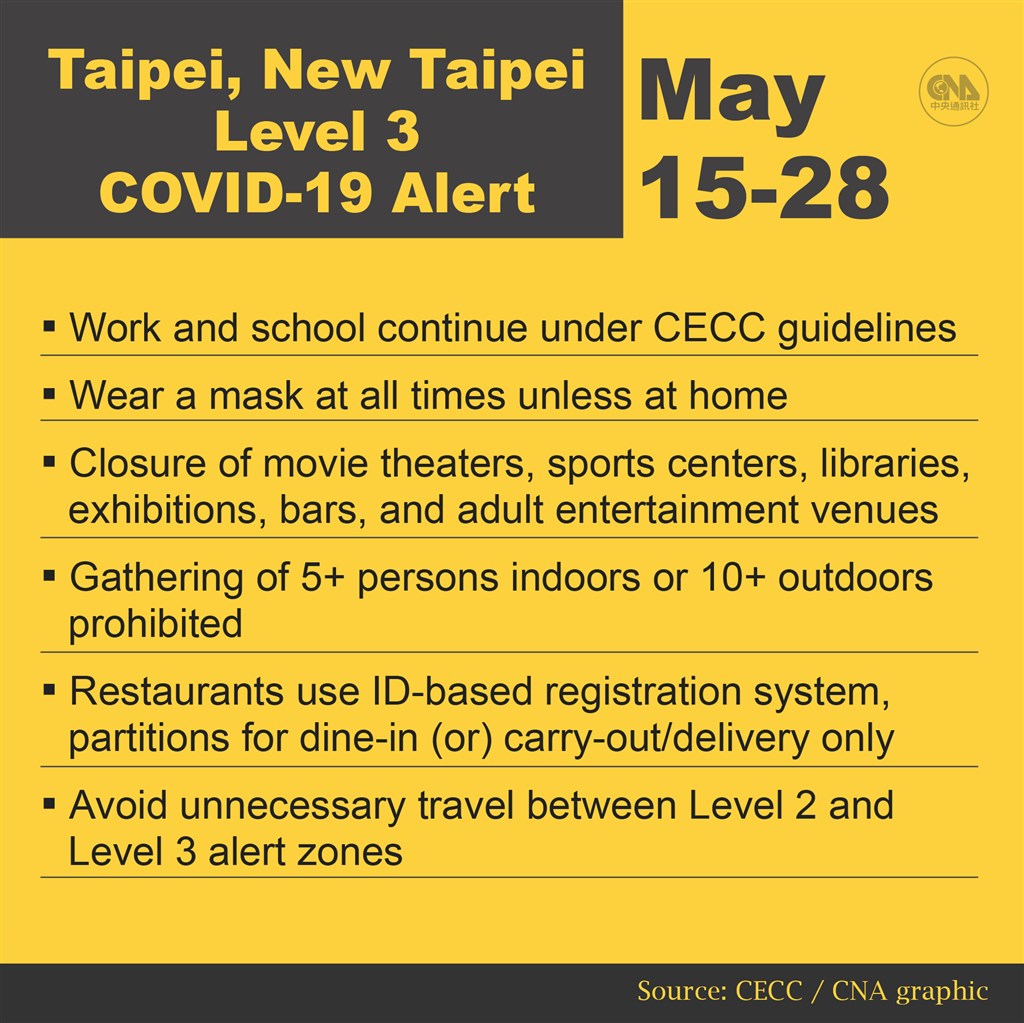 • Enforced Closures in Level 3 zones
Leisure: exhibitions halls, movie theaters, assembly halls, auditoriums, music halls, museums, activity centers, indoor ice rinks and swimming pools, amusement parks, children's play centers
Education: community colleges, senior citizens learning centers, training courses, study centers, social education institutions (libraries, social/science education centers), senior citizen activity centers
• Vaccines administered
32,251 people received a COVID-19 vaccine in Taiwan yesterday, bringing the total to 186,149 doses administered.
The self-paid vaccination program is suspended.
• Penalties
Under a Level 3 alert, failure to wear a mask outdoors is punishable by a maximum fine of NT$15,000. Violations of the rules on public and religious gatherings, or the failure to close designated public venues/business places can be punished by a fine of NT$300,000, according to the CECC. (Violators of COVID restrictions to face heavy fines)
• Tri-Service General Hospital
The medical worker at the Songshan branch of the Tri-Service General Hospital in Taipei who tested positive for COVID-19 on Friday was not infected at the hospital, the CECC says. The person was likely infected through contact with a known case while taking part in a religious activity, according to CECC spokesman Chuang Jen-hsiang.
As a precaution, the CECC has begun COVID-19 testing on hospital staff and ordered potential contacts to home quarantine.
Enditem
View All