CORONAVIRUS
/
COVID-19 Level 3 Alert guidelines for Taipei, New Taipei cities
Taipei, May 15 (CNA) The Central Epidemic Command Center (CECC) on Saturday raised the COVID-19 alert for Taipei and New Taipei cities to Level 3 after reporting a record 180 new domestic infections.
The alert level will remain in place until May 28.
The CECC has issued the following guidelines regarding the restrictions and enforced closures that will be in effect during that time.
COVID-19 Level 3 Alert Guidelines
1. Wear a mask at all times outside of the home
2. Avoid unnecessary travel, activities and gatherings
3. Indoor gatherings of 5+ people and outdoor gatherings of 10+ people prohibited
4. Monitor your health (immediately report COVID-19 symptoms)
5. Business places: enforce crowd controls, mask wearing and social distancing
6. Workplaces: enforce CECC guidelines; when possible work remotely or in staggered shifts
7. Restaurants: identification-based registration, social distancing, partitions for dine-in (or) carry-out/delivery only
8. Weddings, funerals: identification-based registration system, social distancing, enhanced disinfection
9. Enhanced disinfection of public venues and public transport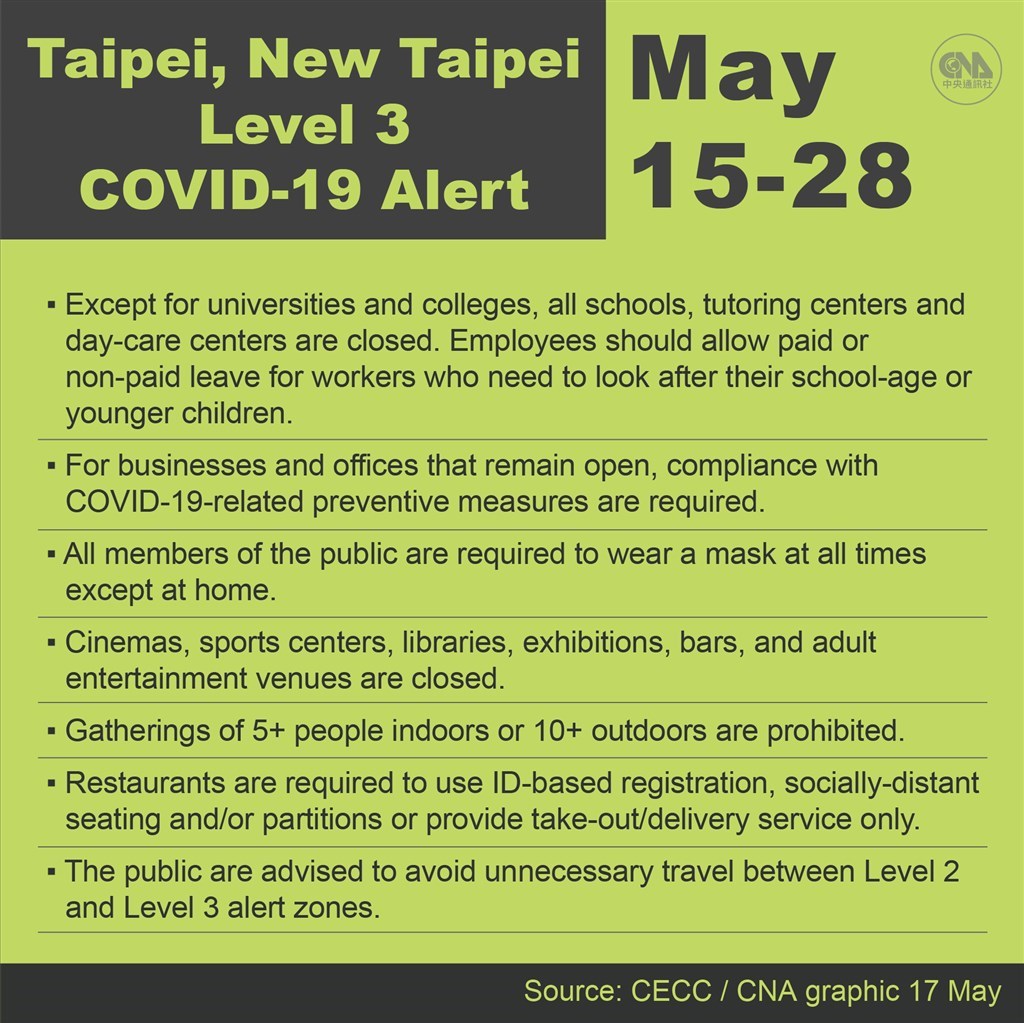 Enforced closures in Level 3 zones
1. Leisure: exhibitions halls, movie theaters, assembly halls, auditoriums, music halls, museums, activity centers, indoor ice rinks and swimming pools, amusement parks, children's play centers
2. Education: community colleges, senior citizens learning centers, training courses, study centers, social education institutions (libraries, social/science education centers), senior citizen activity centers
3. High schools, elementary schools, kindergartens, nurseries, and cram schools (from May 18)
Commuters to Taipei, New Taipei
Commuters entering Taipei and New Taipei for work or school should follow Level 3 rules, wearing a face mask at all times.
Exercise
Gyms, public sports centers and school grounds are closed to the public.
Restaurants
Dining out is allowed, but restaurants need to follow social distancing rules set for business premises and keep a registry of customers' contact information. (Update: McDonald's and local gourmet group ban dining-in amid COVID surge)
Convenience stores
Customers will have to leave their contact information when they go to outlets of the four main convenience store chains -- 7-Eleven, Family Mart, Hi-Life, and OK Mart -- in Taipei and New Taipei.
Places of worship
Activities such as religious processions and prayers carried out inside places of worship, including temples, churches and mosques, have been suspended nationwide until June 8.
Update
May 17: Taiwan to bar entry of non-residents for a month
Enditem/J
View All