Typhoon Surigae not expected to directly impact Taiwan: CWB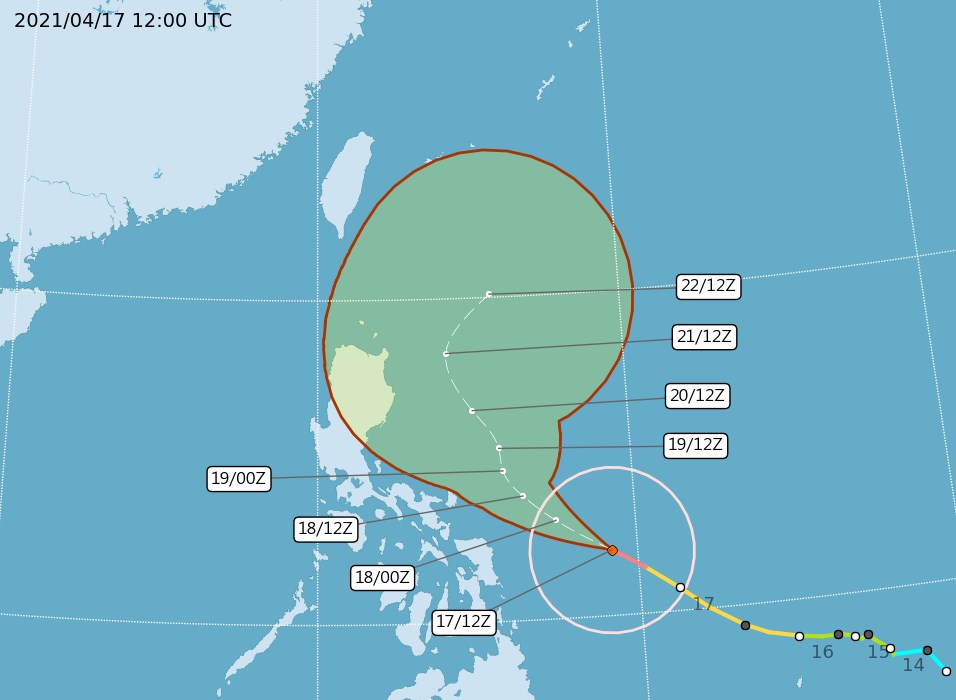 Taipei, April 17 (CNA) Typhoon Surigae, which has formed in the Pacific east of the Philippines, is not expected to have a direct impact on Taiwan, the Central Weather Bureau (CWB) said late Saturday.
However, there is a chance that the typhoon could bring rain over the next few days, concentrated mainly on the eastern part of the island, the CWB said.
The bureau said it would have little impact on the weather in central and southern Taiwan.
As of 8 p.m., Surigae was located about 1,430 kilometers southeast of Eluanbi, the southernmost tip of Taiwan, moving at a speed of 21 kph in a north-northwesterly direction, according to the CWB.
The typhoon was carrying maximum sustained winds of 183 kph, with gusts of up to 226 kph, bureau data showed.
Heavy waves can be expected in the offshore Orchid Island and Green Island, as well as the Hengchun peninsula in the south, the CWB forecast.
Wu Der-rong (吳德榮), a meteorologist and adjunct associate professor of atmospheric sciences at National Central University, said Surigae is expected to intensify as it moves toward northerly areas of the Philippines on Sunday.
Because the typhoon will most likely have no direct impact on Taiwan, it will not help alleviate the drought in the country, Wu said.
According to the CWB, daytime temperatures on Sunday will range between 18-26 degrees Celsius in the north, 21-26 degrees in central Taiwan and 24-27 degrees in the south.