3 lawmakers detained, ex-NPP chair released on bail in bribery case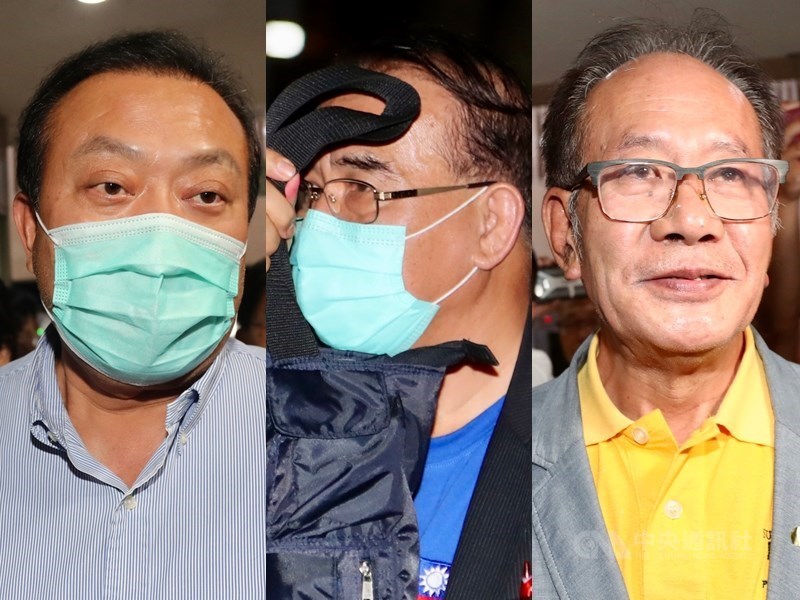 Taipei, Aug. 4 (CNA) A Taipei court has granted a prosecutors' request to detain three lawmakers involved in a high-profile bribery case but ordered former New Power Party (NPP) Chairman Hsu Yung-ming (徐永明) released on bail.
The Taipei District Court on Tuesday agreed to the request to hold incommunicado legislators Chen Chao-ming (陳超明) and Liao Kuo-tung (廖國棟) of the opposition Kuomintang (KMT) and Su Chen-ching (蘇震清) of the ruling Democratic Progressive Party (DPP).
Also ordered to be detained and held incommunicado by the court Tuesday were Su's office chief Yu Hsueh-yang (余學洋) and Liao's office chief Ting Fu-hua (丁復華).
It did not agree, however, to prosecutors' request to detain Hsu, who was a legislator from February 2016 to January 2020.
The court ordered him released on NT$800,000 (US$27,208) bail, arguing that the evidence turned up so far only showed there to be an arrangement to take money but the amount was unclear, and Hsu was not involved in the case as long as the others were.
Prosecutors later said they would appeal the verdict to release Hsu on bail.
All of the lawmakers were accused of taking bribes from former Pacific Distribution Investment Co. Chairman Lee Heng-lung (李恆隆) since 2013 to help Lee in his legal battle against the Far Eastern Group over ownership of the Pacific SOGO Department store chain.
Prosecutors argued at a court hearing that detaining them was necessary because of the seriousness of their crimes, which could carry minimum five-year sentences, and the possibility that the suspects could collude to destroy evidence or flee the country.
In all, the Taipei court on Tuesday granted Taipei District Prosecutors' Office requests to detain seven suspects involved in the bribery case, including Lee and Su's former aide Kuo Ke-ming (郭克銘).
Kuo was accused by prosecutors of having served as a middleman to give money to the lawmakers and their aides on behalf of Lee.
Another former DPP lawmaker, Mark Chen (陳唐山), who was also accused of taking bribes from Lee, was released on NT$500,000 bail Friday.
According to prosecutors, Lee had been paying bribes to these lawmakers at different times since 2013 to buy influence to help him retake ownership of Pacific SOGO, one of the most profitable department store chains in Taiwan.
Lee has been in a legal fight against Far Eastern Group Chairman Douglas Hsu (徐旭東) over SOGO's ownership since the early 2000s.
At the heart of the issue was whether Far Eastern's capital injection of NT$4.01 billion from 2002 to 2008 was proper and gave it ownership of the chain by making it the biggest shareholder.
It was later found both legal and illegal in different courts during a long legal battle.
In the final verdict in 2013, the Supreme Administrative Court ruled the capital injections to be legal and that the Far Eastern Group was the chain's largest shareholder and rightful owner.
Prosecutors believe Lee's campaign to buy influence began after that ruling and has continued until today as he remained determined to fight for ownership of the lucrative property.
They suspect the alleged bribes paid since 2013 have been used to lobby the Ministry of Economic Affairs (MOEA) to amend the Company Act (公司法) clauses on capital increases and make them retroactive so that his company could maintain control of Pacific SOGO.
In 2019, Lee sold part of his shares in Pacific Distribution Investment Co. to a new company to continue his legal pursuit of the department store under the new company's name.
At that time, lawmakers received money from Lee to pressure the MOEA on his behalf, and they responded by holding a round of public hearings in December 2019 to pressure the MOEA to change the Company Act to help Lee's cause, according to prosecutors.
Prosecutors believe that Su's former aide Kuo, who now runs a political consulting company, was one of the two middlemen responsible for delivering bribes to lawmakers and their assistants on behalf of Lee.
Su is accused of taking NT$20 million in bribes since 2013 while Chen is believed to have taken NT$8 million and Liao NT$6 million, according to sources familiar with the case.
The other middleman was Weng Hua-li (翁華利), president of the Taoyuan-based Tonlin Plaza Department Store, who was released on NT$2 million bail Saturday after being questioned.
Also questioned in the case and later released on NT$500,000 bail Saturday was Lee's older sister, accountant Lee Hsiu-feng (李秀峰).