Sixth body found after Yilan bridge collapse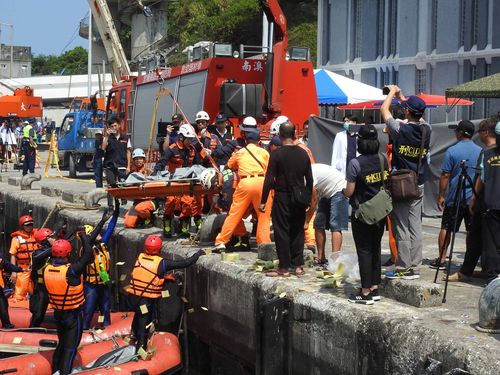 Taipei, Oct. 3 (CNA) The migrant fisherman who remained missing following the collapse of the Nanfang'ao Bridge in Yilan County was confirmed dead Thursday, when his body was finally recovered, according to the authorities.
The victim was named as 29-year-old Filipino Romulo Escalicas.
A total of six migrant fishermen working on Taiwanese fishing boats -- three Indonesians and three Filipinos -- were killed in the accident. They were trapped when the bridge above the entry to the port of Nanfang'ao suddenly ruptured and collapsed Tuesday morning, crushing their boats.
The other five victims are 29-year-old Indonesian Wartono, 44-year-old Filipino Andree Serencio, 32-year-old Indonesian Ersona, 46-year-old Filipino George Impang and 28-year-old Indonesian Mohamad Domiri, according to the Yilan Emergency Operation Center.