Diver arrested for mistreating green sea turtle in Xiaoliuqiu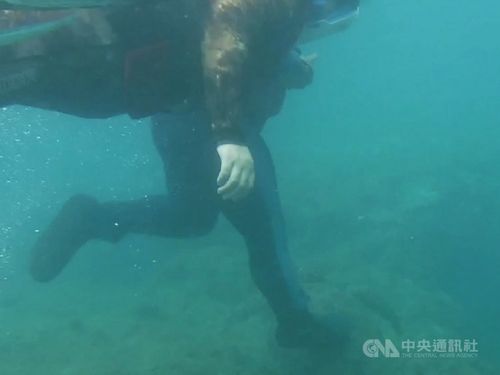 Taipei, June 11 (CNA) A diver suspected of deliberately standing on a green sea turtle while snorkeling in waters off Xiaoliuqiu, an island in Pingtung County, has been arrested, the Southern Branch of the Coast Guard Administration said Tuesday.
The incident took place on Monday and was witnessed and filmed by another diver, who later reported the matter to the authorities and provided the video footage as evidence, according to the coast guard.
With the report, they were able to track down and arrest the diver at a local hostel that same day, the coast guard said, noting that at first, the suspect denied the accusation, but changed his tune when he was shown the video.
After questioning, the man was found to have violated Article 18 of the Wildlife Conservation Act, and the case is now being investigated by the Pingtung District Prosecutors Office.
The coast guard said Tuesday that although similar cases have occurred in the past, no one ever reported them at the time even though photos and clips have been posted on social media.
According to Article 18, protected wildlife should be conserved and not disturbed, abused, hunted or killed.
Anyone caught violating this provision are subject to imprisonment of up to one year, or fined NT$60,000 to NT$300,000 (US$9,553).
If the protected species is killed, the offender faces a prison sentence of up to two years, or a fine ranging from NT$100,000 to NT$500,000.