Six people injured in 4-vehicle crash in Kaohsiung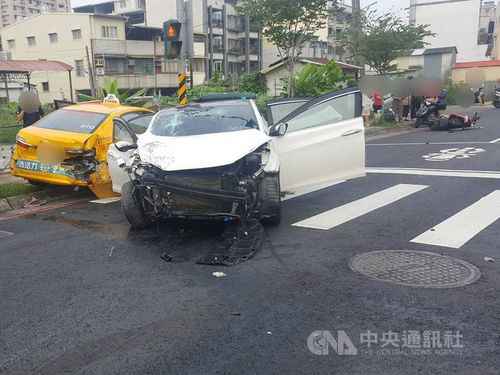 Kaohsiung, May 26 (CNA) Six people were injured Sunday morning in a road accident that involved four vehicles at a stoplight in Kaohsiung, one of them driven by a suspected drunk driver, police said.
The accident occurred around 6 a.m. when a white sedan driven by a 19 year-old man crashed into a taxi and another car that were waiting at a red light in the city's Fengshan District, police said.
After hitting those two vehicles, the sedan, which was carrying three passengers, skidded into the oncoming traffic lane and collided with a heavy motor bike, police said.
Six people were injured, including the sedan's driver, who admitted that he had drunk several beers and was feeling woozy but had been speeding on his way to Kaohsiung airport when the accident occurred, according to police.
A subsequent breathalyzer showed, however, that his blood alcohol content was 0.08 mg/l, within the legal limit of 0.15 mg/l, police said.
One of the passengers in the sedan was trapped and suffered an out-of-hospital cardiac arrest but was resuscitated upon arrival at a nearby hospital, the police said.
The driver of the sedan and four other people sustained only minor injuries, according to police.