Evacuations expected as debris flow alerts issued for parts of Taiwan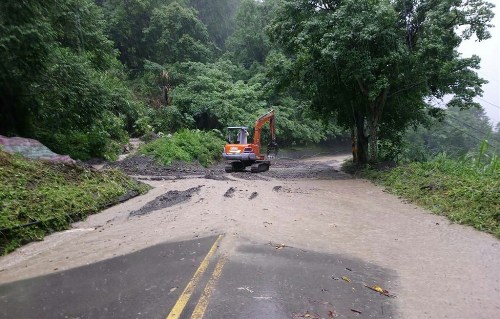 Taipei, May 20 (CNA) Warnings against debris flows were issued Monday afternoon for 214 streams around Taiwan, which were expected to spur evacuations in some areas, as torrential rains continued to batter the island.
A red-coded alert was issued for 24 streams in Chiayi County and Kaohsiung, while a yellow-coded warning was issued for 190 waterways mostly in mountainous areas of New Taipei, Taoyuan, Hsinchu County, Miaoli, Taichung, Nantou, Chiayi County and Kaohsiung.
The city and county governments will begin evacuation of people in the high-risk areas, in accordance with the standard procedure stipulated in the Disaster Prevention and Protection Act, said the Soil and Water Conservation Bureau (SWCB), which issued the warnings under its two-tier system.
A debris flow is a natural phenomenon that typically occurs in Taiwan during typhoons or torrential rain storms, washing down a mixture of mud, sand, gravel and water in streams, ditches and on slopes.
Debris flows often cause loss of property, damage to infrastructure, and human casualties.
The SWCB debris flow warnings are based on assessments of the intensity, duration, and accumulated volume of rainfall, as well as the antecedent rainfall of an area.
Meanwhile, the Central Weather Bureau has issued an extremely heavy rain warning for southern Taiwan and a heavy rain warning for most other parts of the island, as a weather system moved southward.