Chicken farm in Yunlin hit by avian flu, 11,104 birds culled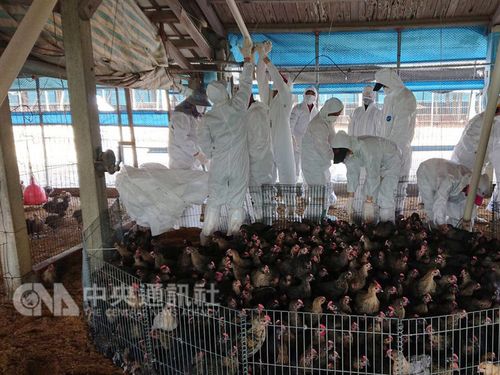 Taipei, Jan. 29 (CNA) A total of 11,104 chickens in Yunlin County were culled after the farm on which they were being raised was confirmed to be infected with the highly pathogenic H5 avian influenza virus, the county's Animal and Plant Disease Control Center said Tuesday.
Cheng An-kuo (鄭安國), an official at the center, said it received a report of abnormal deaths of chickens at the farm in Dongshih Township and immediately collected tissue samples from the animals Jan. 26.
The samples were then analyzed and confirmed to be the H5 strain of avian flu, Cheng said.
This is not the first time this particular farm has been hit by the disease, the last time being only last year, when the farmer also had chickens culled because of avian flu, the official said.
Cheng urged farmers to report any cases of abnormal poultry deaths to the authorities as quickly as possible to prevent the possible spread of the disease.
According to Bureau of Animal and Plant Health Inspection and Quarantine statistics, three poultry farms in Taiwan have been infected with avian flu so far this year, leading to the culling of 22,375 birds.