Taipei 101 New Year fireworks display to be expanded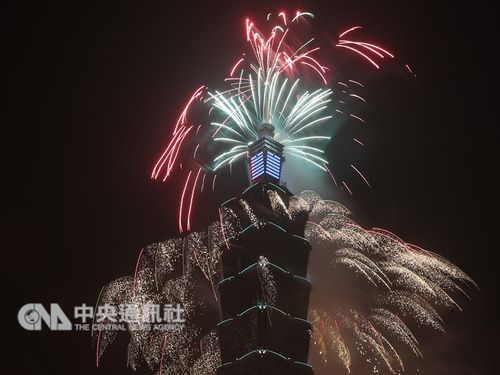 Taipei, Nov. 15 (CNA) The 2019 New Year's Day fireworks at Taipei 101 will be longer than last year and festivities will also include a series of parties starting from the end of November, Taipei Financial Center Corp. announced Thursday.
The Taipei 101 New Year's Day fireworks display will last longer than 5 minutes this year, with animation and music prepared by award-winning Taiwanese groups and well-known local celebrities hosting the New Year countdown, according to the owner of Taipei's landmark skyscraper.
For the first time, Taipei 101 will also host a series of parties running from late November until Dec. 31 when the "Lounge Party" will take place at the Taipei 101 office center with a maximum of 1,010 participants, the company said.
Those attending the "Lounge Party" can enter the venue at 9 p.m. on Dec. 31 and celebrate until 3 a.m. Jan. 1, with 500 chosen to enjoy the fireworks up close from the building's observatory, it added.