Human traffickers working as labor brokers in Taiwan: Greenpeace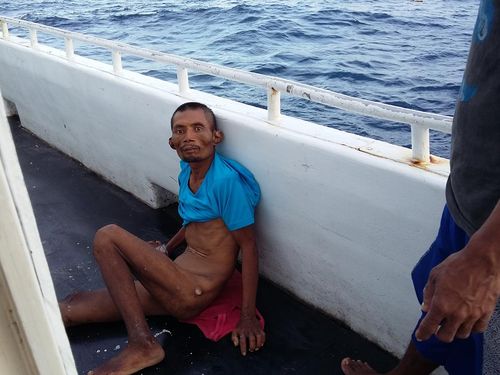 Taipei, May 24 (CNA) A Greenpeace report released Thursday identified four Taiwanese men convicted of human trafficking in the fishing sector in Cambodia in 2014 who are currently working as brokers for migrant fishermen in Taiwan after fleeing justice.
In the report titled "Misery at Sea," Greenpeace presented evidence related to three high-profile cases involving trafficking and abuse of migrant crew members to highlight the failure of Taiwan's authorities to address the issue.
Greenpeace investigated the whereabouts of five Taiwanese men who originally worked at the defunct Giant Ocean International Co., a recruitment agency in Cambodia.
The men were sentenced to 10 years in prison for trafficking more than 1,000 Cambodians to work in slave-like conditions on fishing boats, but fled to Taiwan before serving their sentences.
Greenpeace found that Lu Tien-de (盧天德) and Chen Chun-mu (陳春木) are running labor brokerage agencies in Kaohsiung and have licenses issued by the Fisheries Agency, according to the report.
The report said that two others, Huang Chun-fa (黃俊發) and Wu Fu-tsang (吳富藏), also appear to be involved in recruiting crew for fishing vessels, but Greenpeace was unable to determine whether Tsai Hsi-hu (蔡西湖), the fifth man, was in the same business.
In other words, at least two of them have been vetted by Taiwan's fisheries authority and authorized to conduct recruiting activities, the report added.
Lee Yi-chiao (李宜蕎) of Greenpeace said the offenses the men were found guilty of fall under Taiwan's Human Trafficking Prevention Act, but prosecutors have decided not to investigate the case or file charges unless new evidence is presented.
The fact the men continue to work in the same business with the full knowledge of the Fisheries Agency merely highlights Taiwan's international notoriety for mistreating migrant fishermen, Lee said.
Asked by CNA to respond, Lin Kuo-ping (林國平), deputy director-general of the Fisheries Agency, said that after the agency learned of the men's alleged involvement in the trafficking of fishermen several years ago, it referred the case to prosecutors for investigation.
After they declined to pursue the case, the men's applications for licenses were filed in accordance with the Act for Distant Water Fisheries and approved, Lin said.
Separately, the report included photographic and video evidence of the suffering endured by Indonesian fisherman Supriyanto, 43, in the weeks before his death on a Taiwanese vessel the Fu Tsz Chiun in 2015.
"The harrowing images show Supriyanto had been beaten and abused, yet Taiwanese authorities failed to properly investigate his death," Greenpeace said.
In another investigation, Greenpeace investigators interviewed six Indonesian fishermen imprisoned in Vanuatu for murdering their Chinese captain on board the Tunago No. 61, a Vanuatu-flagged Taiwanese owned vessel, in 2016.
The Indonesian crew were frequently forced to work 20 hours a day, seven days a week, faced repeated physical violence and verbal abuse, sleep deprivation, a lack of adequate sustenance, discrimination, and were scared for their lives before the murder, the report said.
"Their harrowing stories do not excuse their actions, but they offer an insight into their appalling working conditions," Greenpeace said.
Greenpeace said it is concerned Taiwanese authorities are using the vessel's Vanuatu flag as an excuse to avoid investigating or prosecuting possible crimes involving the boat.
Meanwhile, Greenpeace alleged that Fong Chun Formosa Fishery Company (FCF), a major Taiwanese global seafood supplier, is implicated in two of the three cases, making its supply chain "tainted with human rights abuses."
Greenpeace said it has found vessels that supplied tuna to FCF connected to the Giant Ocean human trafficking case, and the Tunago No. 61 murder case.
Asked by CNA to respond, FCF said in a statement the company takes its social accountability and corporate responsibility very seriously and the allegations are "unjustified."
FCF said that it has not had business with any of the alleged vessels or people listed by Greenpeace since 2015, with one exception, but said it had confirmed with the owner of that vessel there have been no formal claims or complaints from the crew.