Cross-county same-sex partnership registration to be allowed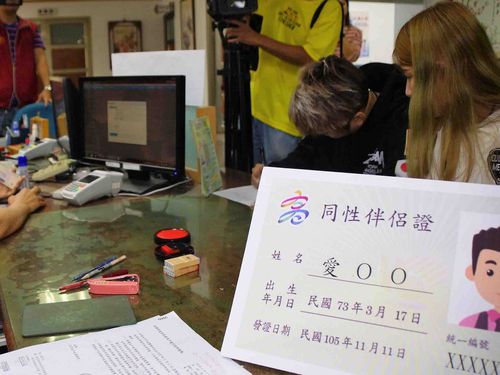 Taipei, July 2 (CNA) Taiwanese cities and counties that currently offer sex-same partnership registration will also begin to accept applications from other areas from Monday, according to the Ministry of the Interior (MOI).
As of July 2, 18 cities and counties in Taiwan allow gay residents to list their partners in city household registration records, MOI official Chai Lan-ping (翟蘭萍) said Sunday.
So far, only four cities and counties have yet to introduce same-sex partnership registration -- Hualien, Taitung, Yunlin and Penghu counties, Chai said.
But from Monday, gay couples from non-complying areas will be able to seek same-sex partnership registry in other cities and counties.
Keelung was the latest city to allow same-sex partnership registration in the wake of a ruling by the Constitutional Court in favor of gay marriage on May 24.
According to the Ministry of Health and Welfare, the designation of partners in household records does not give gay couples the same rights as married heterosexual couples, but it does afford registered gay couples the right to sign medical contracts for each other, something they had previously not been legally able to do.
(By Liu Li-jung and Ko Lin) ENDITEM/J