Longshan Temple to limit incense burning starting May 5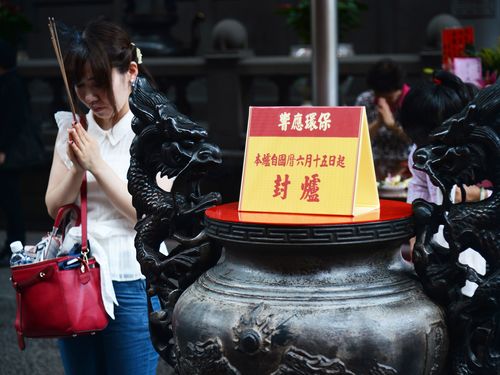 Taipei, March 6 (CNA) Longshan Temple (龍山寺), one of Taipei's most popular temples with worshippers, has decided to limit the number of incense sticks worshippers can burn to one stick starting May 5 in an effort to curb PM2.5 particulates.
The burning of incense releases PM2.5 pollutants and other possibly carcinogenic materials into the air, and temple authorities have decided to limit the number of incense sticks that an individual can burn to one, temple vice chairman Huang Shu-wei (黃書瑋) said Monday.
Huang said the temple will inform worshippers of the new policy and encourage them to go around the temple and worship all gods and goddesses before placing their incense stick in an incense burner at the end of their tour of worship.
The temple also plans to cut the number of incense burners at the temple from three to one, Huang said.
Worshippers tend to burn many incense sticks at the temple, placing them in incense burners along the way.
Huang said that since the temple first cut incense burners from seven to three in 2015, many people have begun to "worship with their hearts" instead of burning incense to show support for the temple's move, and the temple will now encourage this eco-friendly practice.
The concentration of PM2.5 particulates remained high even after the reduction in incense burners, especially on the first and the 15th day of each lunar month, and Huang said the temple considered removing all incense burners at one point.
But it aborted the plan after many worshippers implored temple authorities to keep at least one incense burner on the premises.
Asked if the temple will eventually remove all incense burners, Huang said it will decide after seeing if the concentrations of PM2.5 particulates improve.
Another famous temple, Xingtian Temple (行天宮), led all temples by ending incense burning and removing all incense burners in August 2014.