Vietnam War veteran seeking to connect with long lost son in Taiwan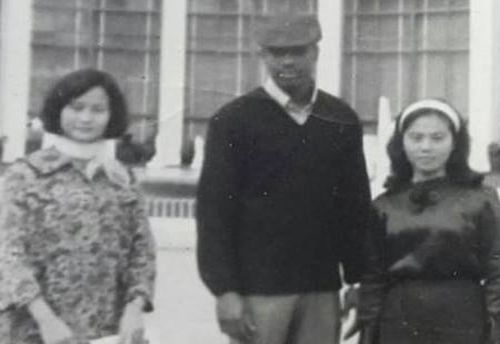 Taipei, April 1 (CNA) An American Vietnam War veteran, now in his 70s, is searching for a son he fathered with a Taiwanese woman in the late 1960s but never met.
The African-American man, Harvey Woods, said he has been trying for many years to locate his son and the Taiwanese woman, with whom he had a relationship while he was stationed in Taiwan 1966-1967.
His daughter, Leah Woods Newton, has enlisted the help of Facebook users in Taiwan to help find the young man.
Harvey Woods served as an Airman 2nd Class in the 2165th Communications Squadron at Qinquan Air Force Base (清泉崗空軍基地, CCK) in Taichung, Taiwan.
It was during that time he met a Taiwanese woman named Ming Ying-chi (or possibly Chi Ming-ying) who lived in the apartment building where he was housed in downtown Taichung.
According to Woods' account, a romance soon bloomed between the two and he gave her the nickname "Kiko," while she reciprocated by affectionately calling him "Mr. Woods."
He wanted to take her back to the U.S. with him at the end of his tour in 1967, but could not do so due to government red tape. Just before Woods departed for the U.S., he learned that Kiko was pregnant with his child and he promised to find a way to bring her to the U.S. and provide support in the meantime.
His last memories of Kiko were a goodbye hug and kiss at the airport and her nonstop waving as his military plane took off.
Back in his hometown of Atlanta, Georgia, Woods received his first letter from Kiko and he responded immediately, telling her he hoped they would be reunited soon.
In 1968, Woods' mother intercepted a letter from Kiko that announced the birth of her son. Woods' mother promptly destroyed the letter, including the return address, and refused to reveal the child's name, which in that era made it almost impossible for Woods to directly contact Kiko or find his son.
In the following years, Woods said, he placed many advertisements in local Taichung newspapers, trying to locate Kiko and his son, but to no avail.
Having received no response to his ads or any further correspondence from Kiko, Woods decided to move on and he eventually married an American woman.
After nearly 50 years, he one day told the story to his daughter Leah and her siblings and asked for their help to find Kiko and his son.
"I want to apologize to Kiko from the bottom of my heart and to make it known to her that I never forgot about our son... and that I have never forgotten about her," Woods said, when asked what he would say to Kiko if he found her.
A Facebook page, http://www.facebook.com/mytaiwanson, has been set up to coordinate the search, and persons with information about Kiko or her son are being asked to directly contact Boston Paul or Shaun Bettinson on the page.