Namibian athlete attacked on Taipei metro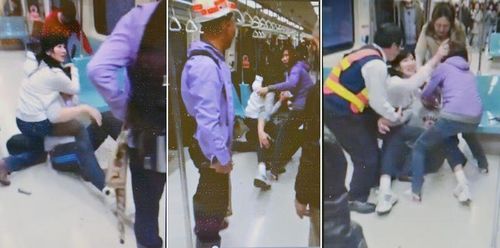 Taipei, Feb. 17 (CNA) A Namibian track and field athlete received a head injury after allegedly being attacked by a Taiwanese man on the Taipei metro Tuesday.
The man, identified by police as Juhannes Benade, 41, was taken to a hospital after being hit in the head with a pair of pliers by Chiu Kuang-hsun.
The Namibian was waiting with his wife to board a train bound for Taipei at Hongshulin Station in New Taipei's Tamsui District when Chiu pushed Benade and cut in front of the couple, police said after an initial probe.
Benade patted Chiu, 61, on his backpack and told the latter that he had cut in line, police said.
After the three got into the carriage, Chiu began abusing Benade and his wife in Taiwanese. Benade then approached Chiu to stop him, thinking that he might have meant to attack his wife, according to police.
Chiu, a construction worker, then hit Benade several times with the pliers, causing Benade to fall to the ground, bleeding profusely.
Chiu was taken to Zhuwei police station for questioning, where he told police he attacked Benade because he pushed him while they were waiting for the train.
Police said they would send Chiu to prosecutors on suspicision of attempted murder.
(By Sunrise Huang and Scully Hsiao)ENDITEM/J
[Warning: disturbing video]