Ting Hsin back in hot water over new oil scandal at subsidiary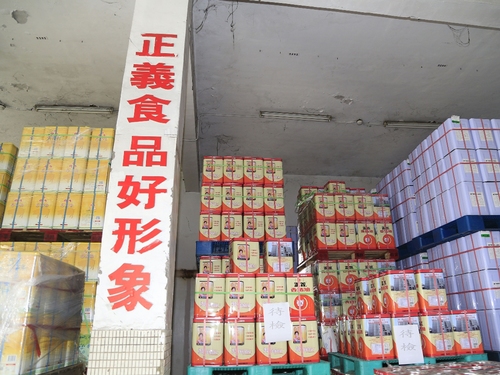 Taipei, Oct. 8 (CNA) A major edible oil maker has put parent company Foodstuff maker Ting Hsin International Group back in hot water after a former employee was detained Wednesday for allegedly supplying oil unfit for human consumption .
Kaohsiung-based Cheng I Food Co., a subsidiary of the massive conglomerate, said it was not aware that some of the lard it used in popular edible oils sold around Taiwan was actually low-quality oil used for animal feed, but it said it will cooperate fully with authorities to handle the situation.
This is the third oil scandal to grip a subsidiary of Ting Hsin, best known for its Master Kong instant noodle brand, since November last year. That month, Wei Chuan Foods Corp. apologized for using supposedly pure oils that had been mixed with cheaper sources by a supplier.
Just last month, Wei Chuan was ordered to recall 12 products after it emerged that another supplier was selling oil made from recycled kitchen waste and industrial grease.
The latest food safety scare to rock Taiwan centers on Wu Jung-he, a former executive at Ting Hsin subsidiary Cheng I Food Co., who allegedly left to set up his own company and began supplying Cheng I with animal feed oil under the guise of lard for human consumption.
The Tainan District Court approved Wednesday a request by prosecutors to detain Wu.
Cheng I mixed the oil it bought from the supplier into some of its popular products, including Wei Li-brand fragrant oil and lard and Cheng I-brand lard, 15-kg barrel lard, 180-kg refined lard, bakery oil and other special order products.
Health officials in Kaohsiung headed to Cheng I's headquarters and seized 400 metric tons of lard-based raw materials and related products.
A spokesman for Cheng I said Wu had been a business representative there until 2004. Wu's newly established company called Hsin Hao began supplying to Cheng I in 2010, with the last delivery taking place in May this year.
"Cheng I was not aware of what had happened to the oil purchased from Wu," the spokesman asserted, but he did not directly answer questions about whether his company discovered the feed oil in inspections, stressing only that Cheng I would begin inspecting products batch by batch.
Hypermarket chains Carrefour, a.mart and RT-Mart and grocery store chain Pxmart all said that day that they have already taken affected products off shelves or were working on doing so.
Related stories:●Oct. 8: Cheng I apologizes over problematic oil●Oct. 8: Man detained for selling animal feed oil for human consumption
Video reports: