12,000 people in shelters after deadly Kaohsiung explosions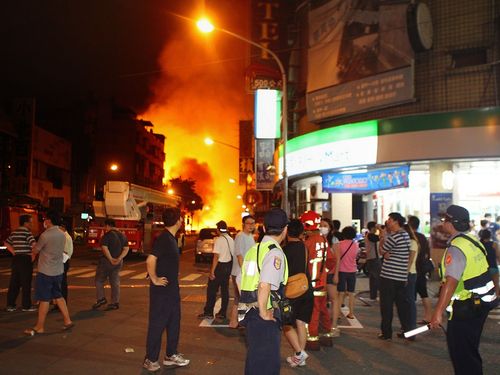 Kaohsiung, Aug. 1 (CNA) About 12,000 people displaced by a series of gas explosions in Kaohsiung Thursday night are being sheltered at 10 emergency centers at local schools, the city government said Friday.
At the largest shelter -- Kuang-Hua Primary School - there are 650 people, while the number at the other centers ranges from dozens to hundreds, said the city government, which set up the centers.
In many cases, the refugees' homes were damaged in the explosions, the city government said, adding that some of the people in the shelters were simply afraid to remain in their houses after the deadly explosions.
Police have cordoned off the areas near the sites of the blasts and have evacuated the residents of those areas.
The people who have been evacuated will not be allowed to return to their homes until the safety of the area can be ensured, the police said.
The explosions, which occurred between 11 p.m. and midnight Thursday, are believed to have been caused by a gas leak from an underground pipeline.
The death toll was 25 as of Friday afternoon, and 267 people were reported injured.
The blasts also cut power to some 12,000 households but utility crews were working to restore the electricity supply as soon as possible.
(By Maubo Chang)ENDITEM/pc
Related stories:●Aug. 1: Kaohsiung mayor asks for rearrangement of pipelines after blast●Aug. 1: Donations pouring in for Kaohsiung explosion disaster relief