Nearly 400 Taiwanese evacuated home from Vietnam overnight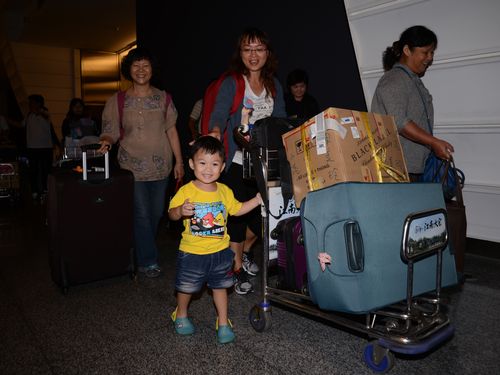 Taipei, May 16 (CNA) The 371 Taiwanese passengers on a chartered flight from Vietnam amid spreading anti-Chinese demonstrations in the country expressed relief upon returning home in the early hours of Friday.
The China Airlines flight, provided by Taiwan's largest airline carrier to meet the large number of Taiwan nationals trying to flee Vietnam, landed on home soil at 1:53 a.m., about an hour later than scheduled.
Passengers were greeted with billboards reading "welcome home" and chocolate provided by the airline.
Many on the plane thanked the airline and said they were relieved to be home after the violence that damaged hundreds of Taiwanese factories and has claimed the lives of at least two Chinese employees since Tuesday.
Some were quick to note, however, that the majority of people in Vietnam are friendly, and the riots over China's establishment of an oil rig in contested waters do not represent usual local attitudes.
Tsai Jen-pin, a Taiwanese businessman who had been reported missing during the chaos, took the red-eye charter flight with his wife and two children.
He said he was so frightened when the riots broke out that he hid himself in a garbage heap for two days before reuniting with his family.
Tsai told the media he brought nothing with him as he fled his besieged factory where rioters smashed windows and looted "almost everything" before setting the building on fire.
He said he disguised himself and walked three hours to reach Taiwan's representative office in Ho Chi Minh City, where he met with his family.
Anyone believed to be Chinese was attacked, he said, and no distinction was made between Taiwanese and Chinese citizens because, as the rioters said, "Taiwan is part of China."
Foreign Minister David Lin, who was waiting at the airport to greet the passengers, said his ministry will help Taiwanese businesses seek compensation from Vietnam.
Lin also said the situation in Vietnam appeared to have calmed down, adding that Hanoi has vowed to protect Taiwanese citizens and their assets in the country where reports indicate more than 20 have died in the riots.
On a mass rally planned across Vietnam Sunday, Lin said the Vietnamese government has promised to prevent it from disrupting public order and the safety of foreign nationals.
(By Bien Chin-feng and Lee Hsin-Yin)ENDITEM/WH
Related stories:●May 15: Cabinet to help Taiwanese businessmen return home from Vietnam●May 15: Worries continue on plans for anti-China marches in Vietnam●May 15: Hanoi vows to protect Taiwanese as anti-China riots continue
(Click here for developments related to the anti-China protest-turned-riot in Vietnam.)