Anti-nuclear rallies to take place islandwide on March 8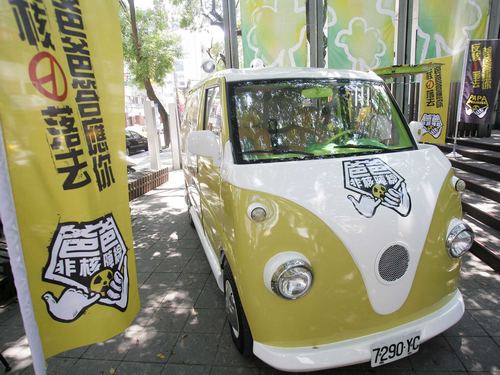 Taipei, March 4 (CNA) Anti-nuclear protesters around Taiwan will take to the streets on March 8, to call for an end to plans to put the controversial fourth nuclear power plant into operation and for a rejection of nuclear power.
The nation-wide action is aimed at pushing the government to make commitment to a no-nuke homeland, said Tsui Su-hsin, secretary-general of Green Citizen Action's Alliance, one of the participating NGOs.
Tsui said her group, along with several dozen civic communities such as Homemakers United Foundation, Taiwan Association for Human Rights and Taiwan Environmental Protection Union, will call for the scrapping of nuclear power plants.
"We hope to renew people's passion towards this issue as the anti-nuclear movement has entered a critical stage," said Tsui, explaining that the fourth nuclear power plant could begin operating soon.
Safety inspections on the nearly completed fourth nuclear power plant are expected to run through June, the Economics Ministry said earlier this year, expressing hopes that the installation of fuel rods at the plant could start by the end of this year if the results turn positive.
The inspections were initiated in an effort to ease widespread concern among the public after the Fukushima nuclear disaster triggered by the earthquake and tsunamis struck northeastern Japan in March 2011.
Construction of the plant began in 1999 but it remains incomplete, due partly to Taiwan's changing political climate, in which advocacy of nuclear power is highly unpopular.
The government should immediately stop construction of the fourth nuclear power plant, Tsui said, demanding the speedy decommissioning of Taiwan's first, second and third nuclear power plants now under operation.
It is hoped that the rally, to take place in Taipei, Taichung in central Taiwan, Kaohsiung in southern Taiwan, and Taitung in eastern Taiwan, could draw at least 220,000 protesters, the level of participation during the national anti-nuclear march last year, Tsui said.
Taipower, which has overseen the construction of the plant and is in charge of Taiwan's power plants, has insisted the fourth plant is safe and that measures have been taken to ensure a Fukushima type of disaster does not happen there.
The government has argued that nuclear power is needed to ensure Taiwan has a steady and adequate supply of electricity. It has also said the fourth plant is safe and is necessary, especially after the other three plants, which are decades old, are decommissioned eventually.
(By Lee Hsin-Yin)ENDITEM/cs