TANG PRIZE
/
Tang Prize laureates awarded Nobel honor for mRNA vaccine research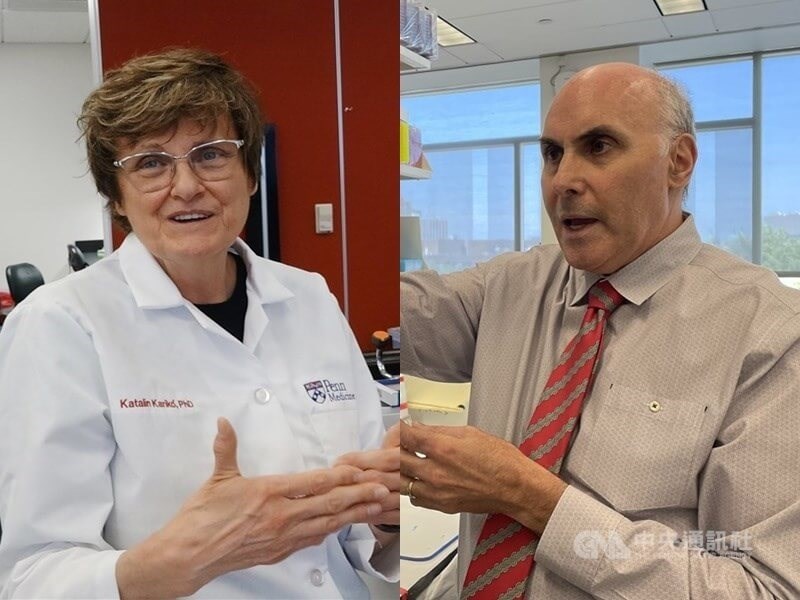 Taipei, Oct. 2 (CNA) The Nobel Prize in Physiology or Medicine has been awarded this year to two Tang Prize laureates for their work on developing the technology that led to the mRNA vaccines against COVID-19, the Tang Prize Foundation said Monday.
The prestigious honor announced Monday by the Nobel Prize committee went to Katalin Karikó and Drew Weissman, both of whom were recipients of the Tang Prize in 2022 for their achievements in biopharmaceutical science, the foundation said.
It was the third time that Tang Prize recipients were later named Nobel laureates, with the first occasion coming in 2018 when 2014 Tang Prize winners James Allison and Tasuku Honjo won the Nobel Prize in medicine, it said.
The second time was in 2020 when 2016 Tang Prize laureates Emmanuelle Charpentier and Jennifer Doudna were awarded the Nobel Prize in Chemistry.
Tang Prize Foundation CEO Chern Jenn-chuan (陳振川) on Monday sent a congratulatory message to Karikó, a Hungarian-American biochemist, and Weissman, an American physician, for their Nobel Prize recognition.
Chern praised the two scientists for paving the way for the successful development of SARS-CoV-2 vaccines, and that their work not only revolutionized vaccinology but also signaled a paradigm shift in protein therapy that ushered in the era of RNA-based therapies.
According to the Nobel Prize committee, Karikó and Weissman were jointly awarded for their "discoveries concerning nucleoside base modifications that enabled the development of effective mRNA vaccines against COVID-19."
Unlike traditional protein therapies that are usually time-consuming and expensive, the new mRNA techniques enable COVID-19 vaccines to be produced in large quantity and at relatively low cost, thus making it easier for people everywhere to have access to quality health care, the foundation said.
During his acceptance speech for the 2022 Tang Prize, Weissman said winning the prize enabled him to reach out to lower income countries and regions and help them develop their own academic mRNA research infrastructure.
View All