CORONAVIRUS
/
Two Taiwan-made Chinese medicine formulas inhibit COVID-19, small study finds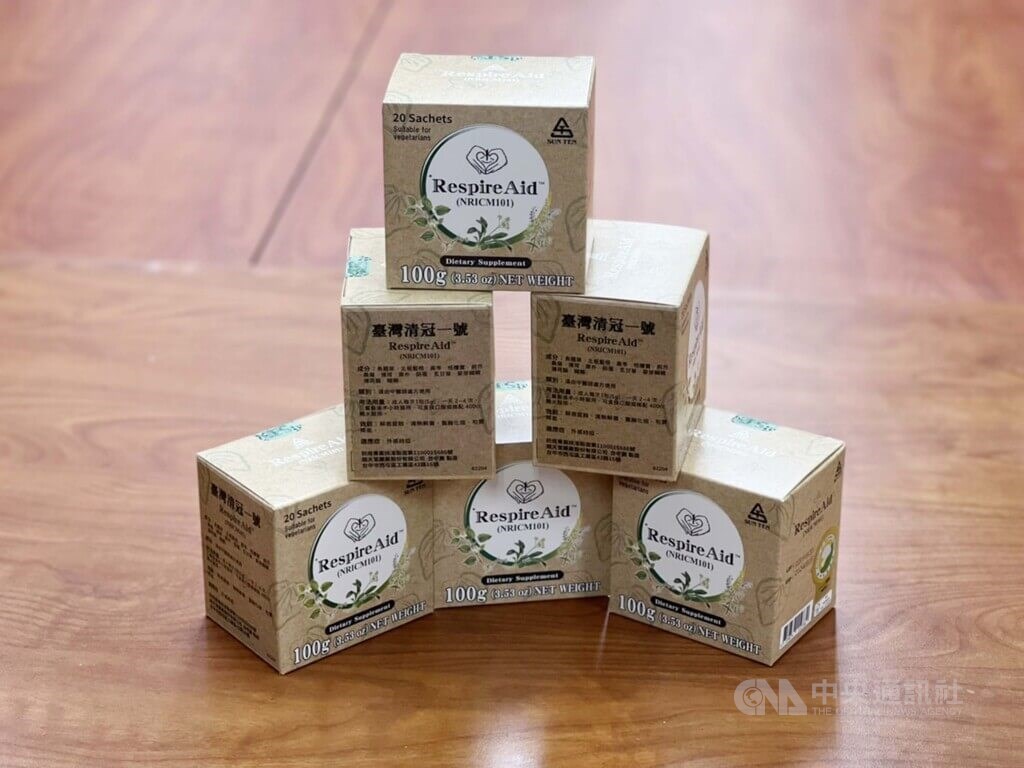 Taipei, Sept. 8 (CNA) Two traditional herbal formulas developed in Taiwan were found to be effective in limiting the progression of COVID-19 when used together with western medicine, according to the results of a small clinical trial that were released Thursday.
The products, known as Taiwan Chingguan Yihau (清冠一號 NRICM101) and Taiwan Chingguan Erhau (清冠二號 NRICM102), were developed by Taiwan's National Research Institute of Chinese Medicine (NRICM) and tested in a clinical trial conducted at nine hospitals nationwide, according to the institute.
A total of 302 COVID-19 patients with mild to moderate symptoms took part in the Chingguan Yihau trial, which divided them evenly into two groups, NRICM Deputy Director Chiou Wen-fei (邱文慧) said at press conference, where the results were presented.
In the first group, the patients were given Chingguan Yihau, along with western medicine, and none of them developed severe COVID-19 symptoms, Chiou said.
The patients in the second group were given only western medicine, and 14 of them, or 9.27 percent, developed severe symptoms and had to be placed on ventilators or treated in intensive care units, she said.
Meanwhile, another part of the trial examined the use of an updated Chingguan Erhau formula in 246 patients with severe COVID-19 infections, Chiou said.
In the first group of 123 patients, who were given only western medicine, 27 of them, or 21.95 percent, died, she said.
In contrast, the second of group was treated with both western medicine and Chingguan Erhau, and only 7 of them, or 5.69 percent, died, which showed that the Chinese medicine formula lowered the patients' mortality rate by 74.07 percent, Chiou said.
Shen Yuh-chiang (沈郁強), director of the institute's Division of Chinese Medicine, said Chingguan Yihau's efficacy stems from its ability to inhibit viral infection and the replication and production of cytokine storms, thus preventing mild to moderate infections from turning severe.
Chingguan Erhau, meanwhile, does all that, in addition to preventing pneumonia and reducing the activation of neutrophil extracellular traps (NET) that can cause pulmonary embolisms, he said.
Both formulas are effective against the recent Omicron subvariants BA.4 and BA.5, according to Shen.
Chingguan Yihau has been granted emergency use authorization (EUA) in Taiwan and is covered under the National Health Insurance (NHI) program for COVID-19 patients, though not for people who take it as a preventative medicine.
The NRICM is a research institute under Taiwan's Ministry of Health and Welfare.
Related News
Sept. 8: Taiwan's ACIP head thinks it's time to end quarantine for arriving travelers
Sept. 7: Taiwan eyeing late September for rollout of updated COVID vaccines
Sept. 5: Taiwan to resume visa-free entry for multiple countries from Sept. 12
Sept. 2: Taiwan grants EUA for 2nd-generation Moderna COVID-19 vaccine
Aug. 28: Taiwan begins rollout of Pfizer-BNT vaccines for young children
Aug. 24: Omicron subvariant-induced outbreak forecast to peak earlier: CECC
Recent cases
Sept. 8: Taiwan reports 35,124 new COVID-19 cases, 29 deaths
Sept. 7: Taiwan reports 41,296 new COVID-19 cases, 26 deaths
Sept. 6: Taiwan reports 36,707 new COVID-19 cases, 21 deaths
Sept. 5: Taiwan reports 24,103 new COVID-19 cases, 31 deaths
Sept. 4: Taiwan reports 34,358 new COVID-19 cases, 35 deaths
View All