ELECTION 2024
/
KMT, TPP set to have second 'party-to-party' talk on Jan. 13 elections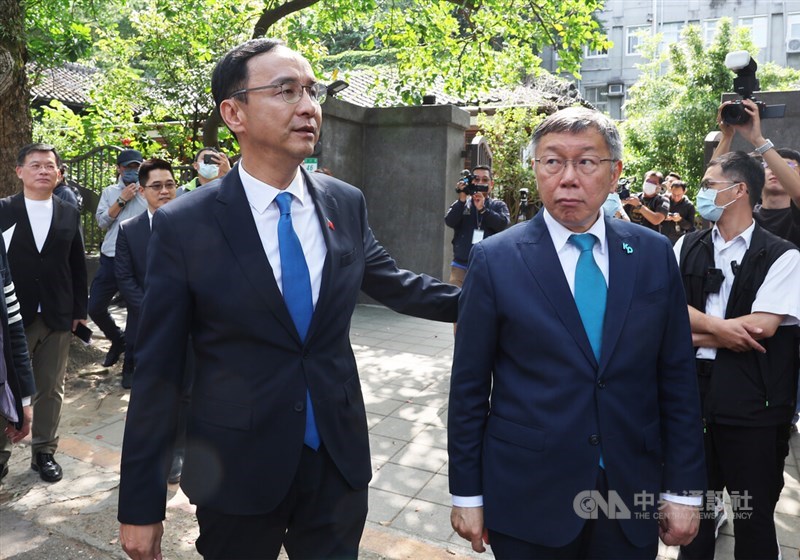 Taipei, Nov. 14 (CNA) The ongoing saga of the Kuomintang (KMT) and the Taiwan People's Party (TPP) trying to figure out if they will field a joint ticket in the 2024 presidential race will continue Wednesday when representatives of the two parties meet again.
The meeting will take place at the Ma Ying-jeou Foundation in Taipei, with former President Ma Ying-jeou (馬英九) of the KMT invited to participate as a witness, according to statements issued by the two parties.
In its statement, the TPP said the attendees will include KMT presidential nominee Hou Yu-ih (侯友宜), TPP chairman and presidential nominee Ko Wen-je (柯文哲), and KMT Chairman Eric Chu (朱立倫), along with Ma.
Update: KMT, TPP to form joint presidential ticket based upon polling results (Nov. 15)
Due to venue restrictions, reporters will not be allowed to be present during the meeting, but a press conference will be held afterwards, the TPP said.
The meeting was arranged after the two parties agreed to partly determine the order of a joint ticket for the 2024 presidential election through public polls after months of deadlock, as neither the KMT nor Ko seemed interested in playing second fiddle on a presidential ticket.
What remains to be determined is the content and rules of the polling, according to the KMT's Chu.
Ko has advocated relying completely on polls targeted at mobile phone users because of the edge he has with younger voters, while the KMT wants to combine candidate polls with surveys of preferred party because the KMT is far more established than the TPP.
In the first party-to-party meeting on Oct. 30, the KMT and the TPP agreed to collaborate in the elections to maximize the number of seats they will hold in the Legislature and avoid what they called "one-party democratic rule" in Taiwan.
Talk of the KMT and TPP teaming up to take on the ruling Democratic Progressive Party (DPP) in the January 2024 presidential and legislative elections began in September when Ko popped the idea.
Polls have consistently shown the DPP's presidential nominee, Vice President Lai Ching-te (賴清德), to be the frontrunner in the race, in part because Hou, Ko, and business tycoon Terry Gou (郭台銘) have split the opposition vote.
Any decision to field a unified ticket has to come in the next 10 days or so because candidates have to formally register for the Jan. 13 presidential election between Nov. 20 and Nov. 24.
Related News
Nov. 14: Terry Gou officially qualifies for presidential election
Nov. 11: Ex-President Ma backs polling as escape from KMT-TPP joint ticket morass
Nov. 7: Presidential candidate choice 'only hurdle' left for joint ticket: Ko
Oct. 30: KMT, TPP agree to collaborate in legislative elections
FEATURE/Could a prospective opposition joint ticket block Lai's path to the presidency?
View All