Chiang Wang-an discusses digital governance at mayor forum in Seoul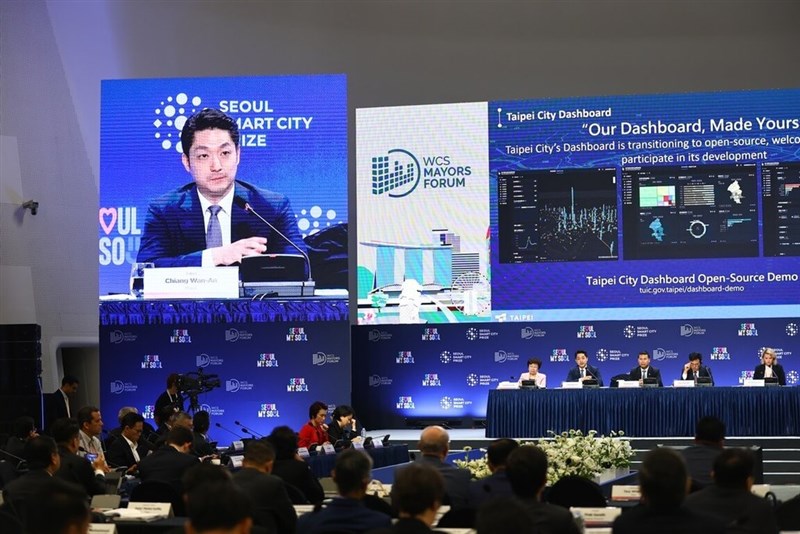 Seoul, Sept. 26 (CNA) Taipei Mayor Chiang Wan-an (蔣萬安) on Tuesday shared the city's experience with digital governance in a speech delivered at the World Cities Summit (WCS) Mayors Forum in Seoul.
During the speech on data-driven innovative policies, Chiang expounded on Taipei Urban Intelligence Center (TUIC), a city government task force responsible for promoting innovative data applications.
He said TUIC is a new city government initiative focused on using data to enhance resource management and infrastructure optimization.
This TUIC tool is used to manage city resources and is being utilized on various projects and events, according to Chiang.
For instance, the city's New Year's Eve celebration attracts approximately 100,000 attendees each year. "By leveraging data, we can monitor the number of people in the area through our collaboration with telecoms companies. They provide us with data on the number of users in the vicinity without revealing individual identities," he said.
Chiang also highlighted another project, YouBike, a public bicycle-sharing service launched by the city in 2009, noting that it is one of the largest bicycle sharing systems in the world.
He said that the city has employed data analysis to optimize the deployment of bicycles by allocating them to high-demand destinations during peak and off-peak hours. "This not only saves time in bike delivery but also enhances the renting experience for our citizens," he emphasized.
The city's objective is "to nurture an open and service-oriented government that caters to the needs of Taipei's citizens," Chiang said, adding that providing access to data is just one of the many methods in which Taipei actively engages with citizens and other cities at home and abroad to join effort to contribute to the enhancement of the city's policy-making processes.
He also extended an invitation to cities around the world to participate in the endeavor, saying Taipei is prepared to open its resources for their use in the hope the city can learn how these cities utilize such open resources to shape their future policies.
Chiang is on a Sept. 24-26 visit to Seoul for the WCS Summit Mayors Forum during which he met with Seoul Mayor Oh Se-hoon and Singapore's National Development Minister Desmond Lee (李智陞) on Monday, followed by a meeting with Tory Whanau, the mayor of Wellington in New Zealand, another sister city of Taipei, Tuesday morning, according to a press release from Taipei City government.
On Monday, Chiang also visited TIPS Town, a startup hub established by the South Korean central government to vitalize the South Korean startup ecosystem, and Asan Nanum Foundation, a nonprofit foundation established in October 2011 to commemorate the 10th anniversary of the death of Hyundai founder Chung Ju-yung and support young entrepreneurs, with the aim of exploring opportunities for startup fostering cooperation.