Ko Wen-je shares views on special relationship with China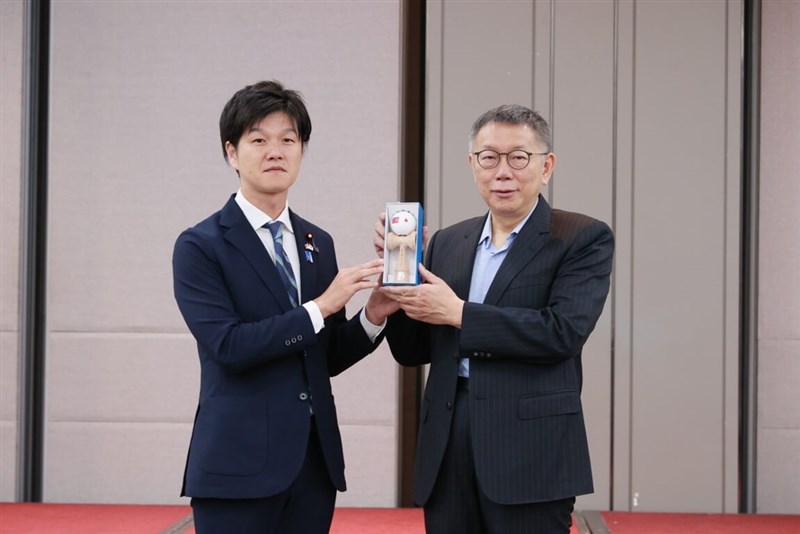 Taipei, Aug. 21 (CNA) Taiwan People's Party (TPP) chairman and presidential candidate Ko Wen-je (柯文哲) on Monday outlined his position on the "two-state" theory proposed by former President Lee Teng-hui (李登輝) in 1999, which defined relations between Taiwan and China as a "special state-to-state relationship."
Responding to media questions, Ko said that Lee had told him to "just emphasize the word 'special'" when referencing the theory.
Ko also brought up the matter in a TV interview on Sunday, when he was asked about his view on cross-Taiwan Strait relations.
The former Taipei mayor recalled that when he discussed the "two-state" theory with Lee in 2018 as he campaigned for mayoral re-election, the former president told him to highlight the word "special" and avoid the "state-to-state" terminology.
Lee also said to him when China asks about his views on cross-strait relations, just say it is a special relationship, according to Ko.
Pragmatically speaking, Lee was right, Ko said, adding that sometimes, adopting a policy of strategic ambiguity toward China is important to Taiwan.
If China asks about the relationship between the two sides of the strait, Ko said the special relationship theory provides all the answers, particularly given that Taiwan and China share a common ancestry, language, history and culture.
Ko also said that it will be a much more difficult task for the next president to handle relations with the United States than 30 years ago when China and the U.S. were strategic partners but not strategic competitors.
Ko's comments Monday came after he met with a delegation from Japan's ruling Liberal Democratic Party led by Japanese Diet member Norikazu Suzuki.
In the meeting, Ko told the Japanese visitors that Taiwan has been idle for 30 years due to the ideological struggle over Taiwan independence versus unification with mainland China, according to a TPP statement.
In Taiwan's political elections, policies play only a minor role compared with tactics involving attacks against opponents, Ko said, adding that his goal is to change Taiwan's political culture.
However, on Monday Ko did not respond to questions about the possibility of a team-up with Terry Gou (郭台銘), the billionaire founder of major Apple Inc. supplier Foxconn, who is said to be considering an independent run at the presidency.
On Aug. 11, Ko declared that he would remain the TPP presidential candidate until the end of the 2024 election rather than support anyone else in the race, though polls currently have him in fourth place. A few days earlier, reports said Ko insisted he would not run as anyone else's vice president candidate.
Gou extended an invitation last Friday for Ko and New Taipei Mayor Hou Yu-ih (侯友宜), the presidential candidate of the main opposition Kuomintang (KMT), to discuss cooperating to challenge Democratic Progressive Party (DPP) candidate Vice President Lai Ching-te (賴清德), who is leading in the polls.
According to media reports, Ko said Sunday that a Gou-Ko pairing is impossible, a remark to which Gou responded that if Ko wants to run to the end, nobody will force him to give up on his goal. However, Gou reminded him that "wise men adapt their actions to the times."