ELECTION 2024
/
TPP presidential candidate Ko Wen-je departs for visit to Japan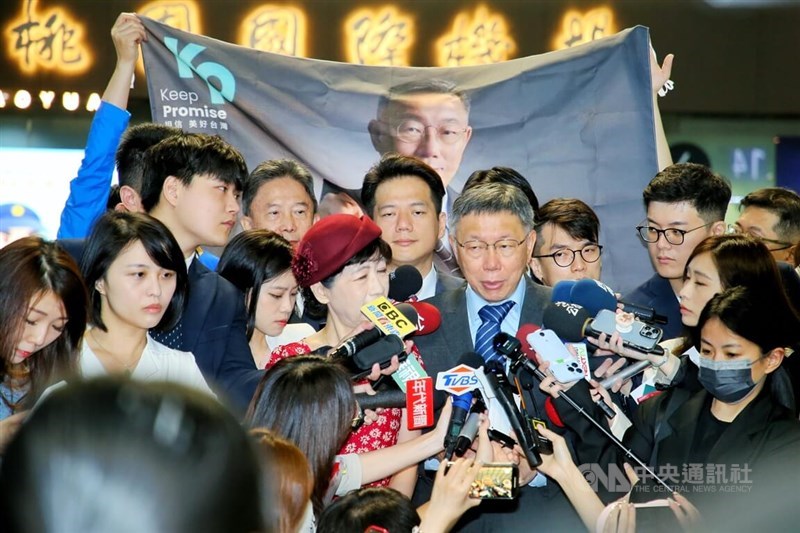 Taipei, June 4 (CNA) The chairman and presidential candidate of the Taiwan People's Party (TPP), Ko Wen-je (柯文哲), embarked on a trip to Japan on Sunday, during which he said he would want to gain a better grasp of Taiwan's important partner in Asia.
Ko, a former Taipei mayor, arrived at Taiwan Taoyuan International Airport at 5:30 a.m. with his wife Peggy Chen (陳佩琪) Sunday morning to take the EVA Airway BR184 flight to Tokyo.
At the airport, Ko told reporters that Japan is Taiwan's most important partner in Asia and the two sides have maintained close trade and economic links and interactions.
Noting that Japan is also an essential ally of the United States in Asia, Ko said that because of these reasons, he needed to understand Taiwan's neighbor better, and therefore the itinerary of his visit to Japan would be similar to that of his recent trip to the U.S.
He will mainly pay calls at the parliament, administrative agencies and think tanks, as well as meet with Taiwanese expatriates and students in Japan, Ko said.
According to the TPP, on the first day of his June 4-8 Japan trip, Ko will visit a Mazu temple in Tokyo, and attend an evening party with Taiwanese expatriates where he will deliver a speech.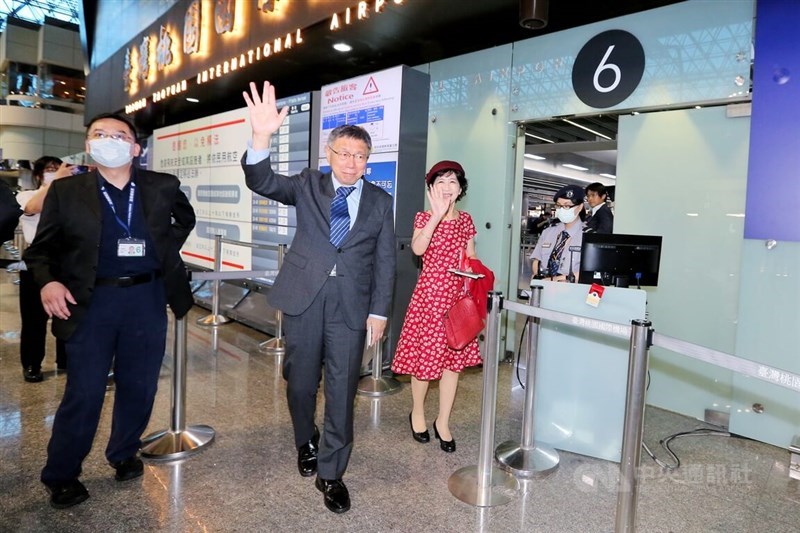 On Monday, Ko will give a speech at Waseda University, visit lawmakers of the ruling Liberal Democratic Party Furuya Keiji and Kihara Minoru, and have dinner with Japan-Taiwan Exchange Association Chairman Mitsuo Ohashi.
The TPP chair will also meet other Japanese lawmakers and visit Japanese thinks tanks in the diplomatic and defense areas, including the Japan Institute of International Affairs, before returning to Taiwan on Thursday.
The 63-year-old Ko spent three weeks in the U.S. from April 8-28 and was formally nominated as his party's presidential candidate on May 17. During his U.S. trip, he visited New York, Boston, Washington D.C. and Houston.
In the Jan. 13 presidential election, Ko faces Vice President Lai Ching-te (賴清德) from the ruling Democratic Progressive Party, and New Taipei Mayor Hou Yu-ih (侯友宜), the main opposition Kuomintang's nominee.
Related News
ANALYSIS / As presidential race kicks off, China policy takes center stage
May 20: TPP's Ko kicks off presidential run, says will extend goodwill to China
May 17: TPP formally nominates Ko as its presidential candidate
April 21: Taiwan must 'prepare for war' but seek dialogue with China: TPP chairman
Focus Taiwan's 2024 presidential and legislative elections coverage
View All