Taiwan, Tuvalu sign technical exchange, legal assistance agreements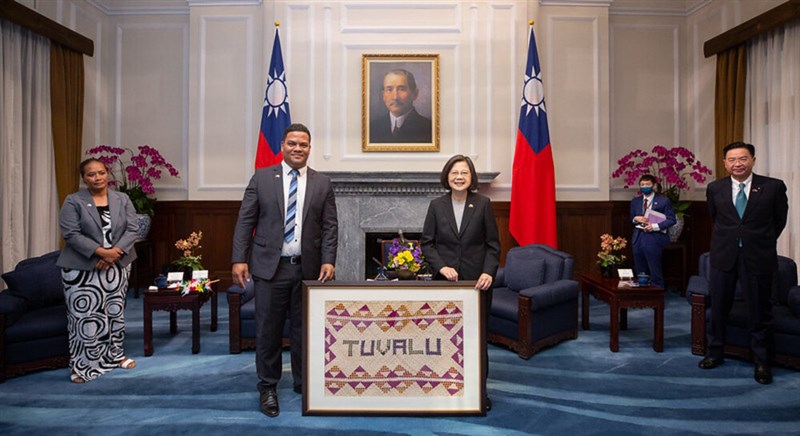 Taipei, June 2 (CNA) Three bilateral agreements were signed between the Republic of China (ROC), Taiwan's official name, and Tuvalu on Friday that include cooperation on advancing mutual legal assistance in criminal affairs, diplomatic staff training and technical cooperation.
The pacts were inked by Foreign Minister Joseph Wu (吳釗燮), Minister of Justice Tsai Ching-hsiang (蔡清祥) and Simon Kofe, Tuvalu's Minister of Justice, Communication and Foreign Affairs, during a signing ceremony held at the Taipei Guest House.
Tuvalu is an important ally of Taiwan in the Pacific region and the two countries have had diplomatic relations for 44 years, the Ministry of Foreign Affairs (MOFA) said.
As a close ally of Taiwan, Tuvalu has for a long time supported the country's inclusion in international organizations such as the United Nations, the World Health Organization, and the United Nations Framework Convention on Climate Change, MOFA added.
Earlier in the day at the Presidential Office, Kofe also met with President Tsai Ing-wen (蔡英文), who thanked the Tuvaluan official and his government for their continued support of Taiwan.
Not only have Taiwan and Tuvalu developed close partnerships in the areas of agriculture, education and energy resources, the two sides are also actively collaborating on information and communications technology in pursuit of national digitization, Tsai said in her welcoming address.
She also touched on the issue of climate change, during which Tsai said Taiwan will continue to promote climate mitigation and adaptation plans and assist Tuvalu in building a resilient response system.
As Kofe has emphasized in the past, the relations between the nations should be based on shared values and mutual respect, she said, indicating that Taiwan and Tuvalu both value democracy and freedom, and cherish each other's unwavering friendship.
"Going forward, we will continue to pursue prosperity and development together," Tsai said.
In his speech, Kofe said the two sides share a strong and friendly relationship that has been strengthened by a shared commitment to the protection and preservation of sovereignty, upholding democratic principles, and promoting regional stability, economic development, and environmental sustainability.
He explained that Taiwan has been an important partner in supporting Tuvalu's developmental aspirations ever since diplomatic relations between the two countries were established in 1979, following Tuvalu's independence from Britain.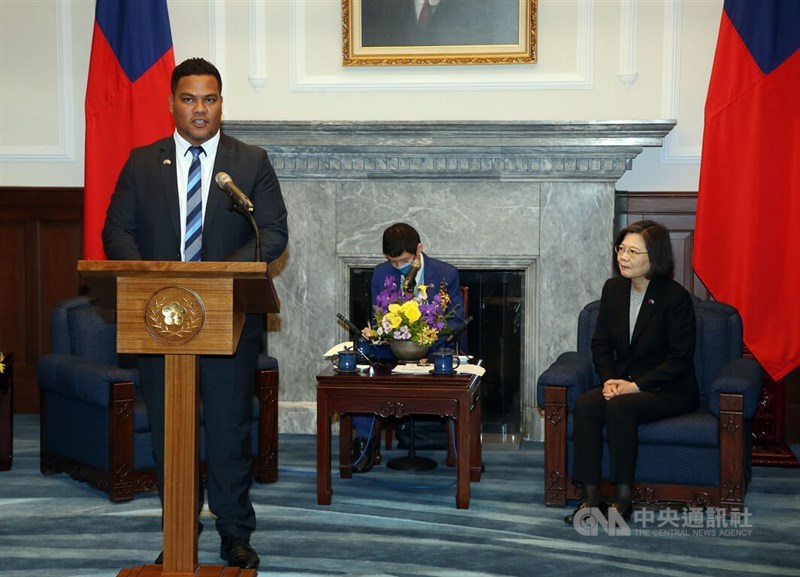 Meanwhile, Kofe also spoke about the challenges Taiwan faces as a nation that is at the very forefront of a global power struggle and geopolitical competition, and that as a friend, Tuvalu is concerned about the constant aggression and threats made by China to Taiwan.
He then reiterated to President Tsai that Tuvalu stands with Taiwan through the good and hard times, that it is committed to building bridges between nations to promote a more collaborative approach to addressing global issues.
Kofe and his delegation arrived in Taiwan on Wednesday and will be in the country until June 5, according to MOFA.
Video source: Presidential Office