Taiwan congratulates Turkish President Erdogan on winning reelection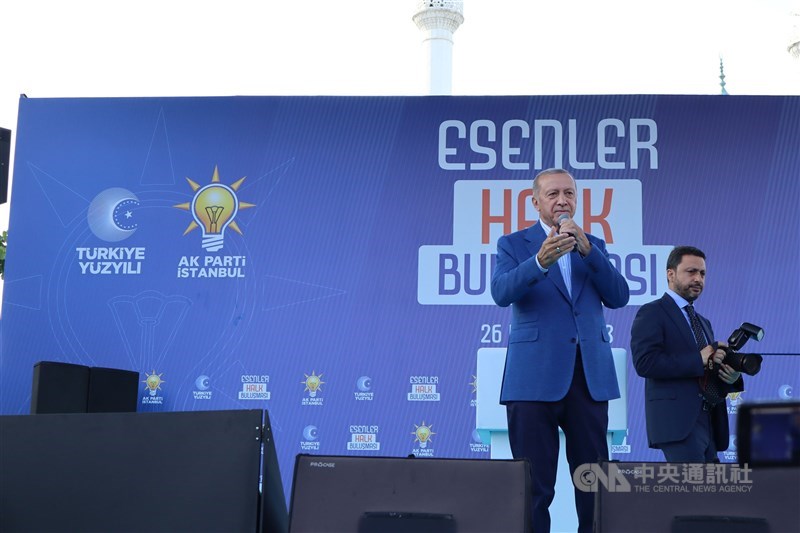 Taipei, May 29 (CNA) Taiwan's government on Monday extended the nation's congratulations to Turkey's President Recep Tayyip Erdogan on his re-election victory on Sunday, which extends his 20-year rule until 2028.
In a press statement, the Ministry of Foreign Affairs (MOFA) said Taiwan's representative office in Turkey has issued a congratulatory message to President Erdogan for winning a historic runoff vote, while lauding the country in holding a successful election.
In Taipei, Anthony Ho (賀忠義), head of MOFA's Department of West Asian and African Affairs, also extended similar congratulations to the Turkish leader via Turkey's representative in Taiwan Muhammed Berdibek, saying that Taiwan's government is looking forward to continuing work on deepening bilateral relations on various fronts in the years to come.
According to MOFA, Taiwan-Turkey relations have continued to warm since the launch of direct flight between Taoyuan and Istanbul in 2014.
Since then, both sides have signed more than a dozen MOUs on investments, agriculture, technology, police affairs, auditing, international assistance and cooperation, as well as small to medium enterprises, MOFA said.
After a devastating magnitude-7.8 earthquake hit southeastern Turkey and parts of Syria on Feb. 6, leaving at least 17,000 people dead with thousands more injured, Taiwan was also one of the first countries to dispatch rescue teams to search for survivors.
In addition, Taiwan's government and the private sector worked together to raise more than US$43 million as well as about 415 tons of relief materials to help the displaced earthquake victims and to help reconstruct Turkey, according to MOFA.
Turkey's Supreme Election Council (YSK) announced on Sunday that Erdogan was elected as the new president, winning 52 percent of the votes.
With 99.43 percent of ballot boxes opened, Erdogan's rival Kemal Kilicdaroglu received 47.86 percent of the votes, according to YSK head Ahmet Yener.
With a gap of more than 2 million votes between the two candidates, the rest of the uncounted ballots will not change the result, Yener added.
Erdogan, 69, came to power in 2003, initially as prime minister, before being elected as president in 2014 and won a second term in 2018.