Taiwan 'will not budge' amid Chinese pressure: Foreign minister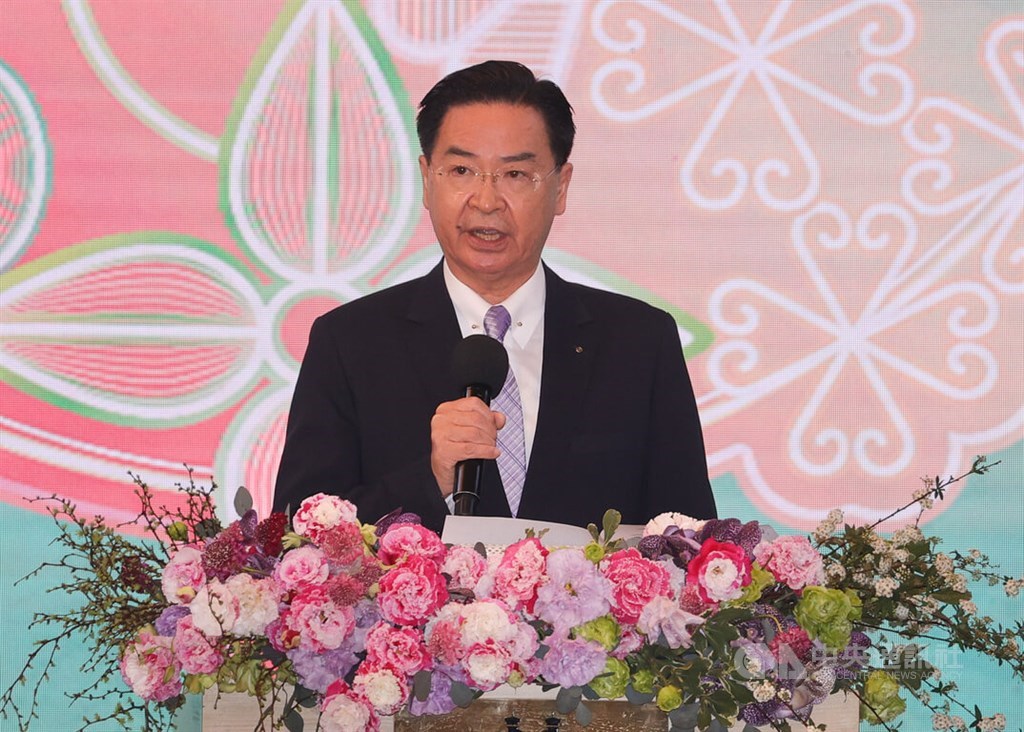 Taipei, March 17 (CNA) Taiwan "will not budge" in the face of China, Foreign Minister Joseph Wu (吳釗燮) told dozens of foreign diplomats in Taipei on Friday evening, as Beijing has exerted increasing political and diplomatic pressure on Taiwan in recent years as tensions between the two sides rise.
"Despite the shadow of a big bully in the neighborhood, Taiwan will not budge, and will continue to stand tall as a force for good in the world," Wu said at the annual "spring banquet" hosted by the Ministry of Foreign Affairs (MOFA).
More than 80 foreign ambassadors and government envoys, as well as their spouses, took part in the event, which was also attended by senior government officials from Taiwan.
Wu called on democratic countries around the world to "work together to combat authoritarian expansion" and "build democratic, trusted, and resilient supply chains."
Speaking along the same vein, President Tsai Ing-wen (蔡英文) said Taiwan was willing and able to step up its cooperation with democratic partners around the world to "defend our way of life" and "ensure the peace and prosperity of the Indo-Pacific region."
"Taiwan is a Taiwan of the world. We will not relent in our efforts" in pursuing security, she added.
Meanwhile, the foreign minister noted that Taiwan had over the years collaborated with its diplomatic allies to "elevate the welfare of their people" by "support[ing] national development plans" in their countries.
"Wherever there's a need, we are always ready to extend a hand of friendship," he added.
Wu's comments came amid a potential diplomatic crisis for Taiwan as its Latin American ally Honduras has signaled an intention to establish diplomatic relations with Beijing.
Honduras President Xiomara Castro said on Tuesday she had instructed the country's foreign minister to begin the process of opening official relations with the People's Republic of China.
Castro did not specify if her country would end its decades-long diplomatic ties with Taiwan, officially called the Republic of China (ROC). The two countries established diplomatic relations in 1941 when the ROC government was still based in mainland China.
The Chinese government has over the years made the nonrecognition of Taiwan a prerequisite for its establishment of diplomatic relations with other countries.
If Honduras switches diplomatic recognition, Taiwan will be left with only 13 official allies or countries in the world that recognize it as a nation, after having lost several under the current Tsai administration as its relations with Beijing continue to deteriorate.
Harold Burgos, the Honduran ambassador to Taiwan, was not spotted attending Friday's banquet.
Invited to deliver remarks at the event, Andrea Clare Bowman, ambassador of Saint Vincent and the Grenadines, said "Taiwan may have lost allies, but this country has certainly gained like-minded friends" that "stand with and speak for Taiwan."
The Caribbean ambassador to Taiwan also applauded MOFA's dedication to cultivate alliances and friendships with other countries in the interests of Taiwan's protection.