Q&A
/
Taiwan's 9-in-1 local elections and voting age referendum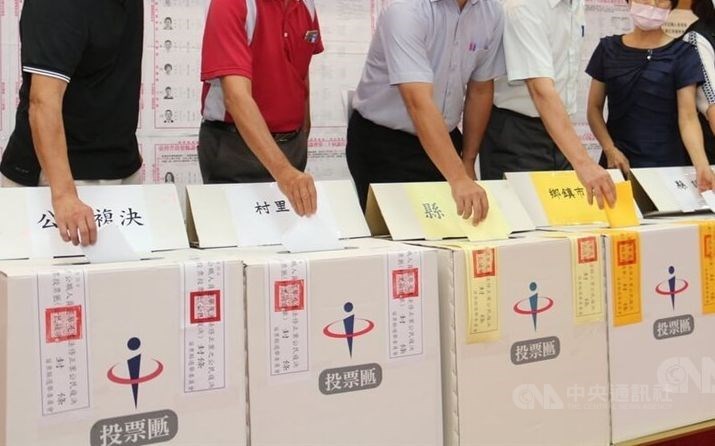 Taipei, Nov. 25 (CNA) Taiwan will hold its "9-in-1" local elections and a referendum on a Constitutional amendment to lower both the legal voting age and the age of candidacy to 18 on Saturday. CNA has compiled the following Q&A to explain what's on the ballot, where the crucial races are, and when we can expect to know the results.
What are Taiwan's "9-in-1" local elections?
Taiwan's local or midterm elections are called "9-in-1" because voters in Taiwan's 22 cities and counties will cast ballots for candidates vying for nine different local government posts, including city mayors, county magistrates, and members of city and county councils.
Also up for grabs are seats for township chiefs and chiefs of Indigenous districts in municipalities, township councilors and Indigenous councilors in municipalities, and ward chiefs -- in total over 11,000 positions at all levels of local government.
Around 19.13 million people in Taiwan -- or over 82 percent of the population -- are eligible to participate in the elections, while 19.24 million are eligible to vote in the referendum. About 760,000 will be voting for the first time.
What is the current party breakdown in Taiwan's 22 cities and counties?
The main opposition Kuomintang (KMT) currently has mayors or magistrates in 14 of Taiwan's 22 cities and counties, following a strong showing in the 2018 local elections, while the ruling Democratic Progressive Party (DPP) holds seven seats and the new Taiwan People's Party (TPP) holds Taipei.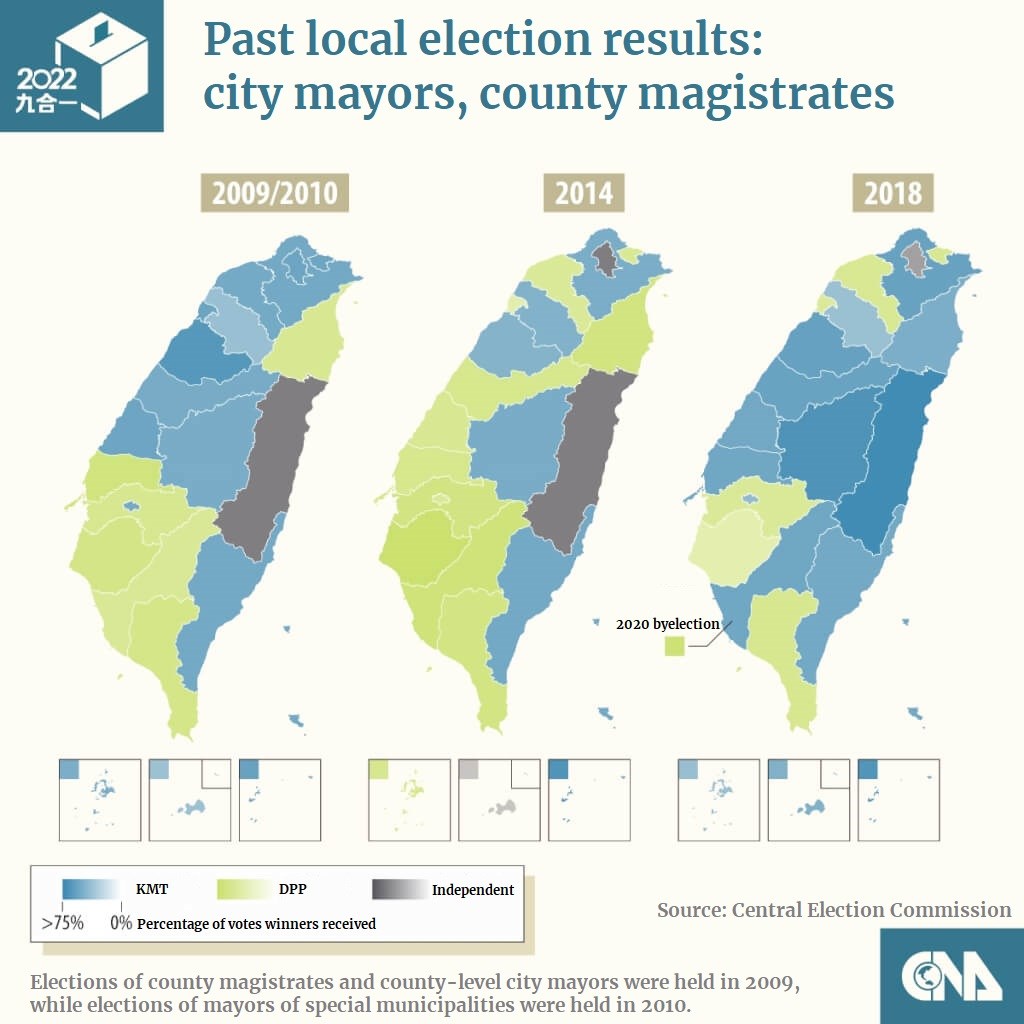 What races are currently seen as most critical?
The general consensus is that Taipei and Taoyuan will be the battles to watch.
In the capital city, the incumbent Ko Wen-je (柯文哲), who will step down after having served two terms, has endorsed his former deputy, Huang Shan-shan (黃珊珊), against two high-profile candidates: the KMT's Chiang Wan-an (蔣萬安) and the DPP's Chen Shih-chung (陳時中).
While Taipei is typically a KMT stronghold, Huang, who is running as an independent supported by the TPP, is herself a member of the pan-blue (KMT-aligned) People First Party. She served as a city councilor for more than 20 years and three years as Ko's deputy, bringing her name recognition and a certain degree of popularity.
She is expected to siphon votes from KMT-leaning voters, turning Taipei into a competitive three-way contest.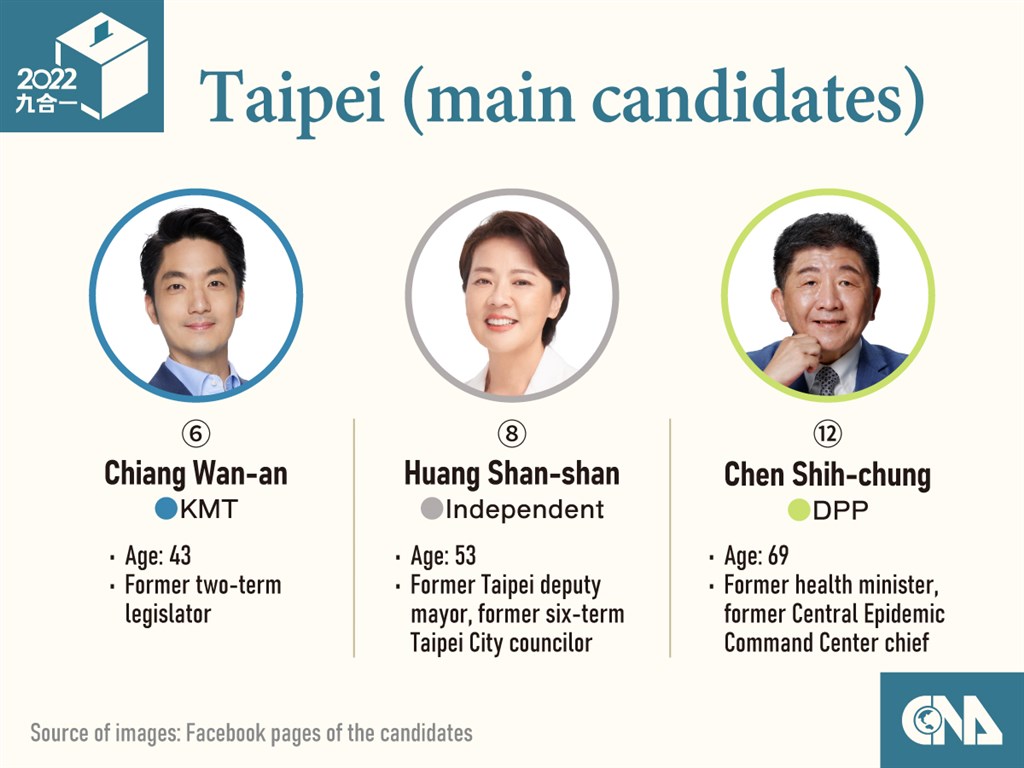 In Taoyuan, a four-way race has taken shape to replace outgoing DPP Mayor Cheng Wen-tsan (鄭文燦).
In addition to DPP lawmaker Cheng Yun-peng (鄭運鵬) and former premier Simon Chang (張善政) of the KMT, former DPP lawmaker and founding party member Cheng Pao-ching (鄭寶清) has also jumped into the race, as has the TPP's Lai Hsiang-ling (賴香伶).
Members of both the DPP and KMT have pointed to Taoyuan as a possible bellwether for their overall prospects on Saturday.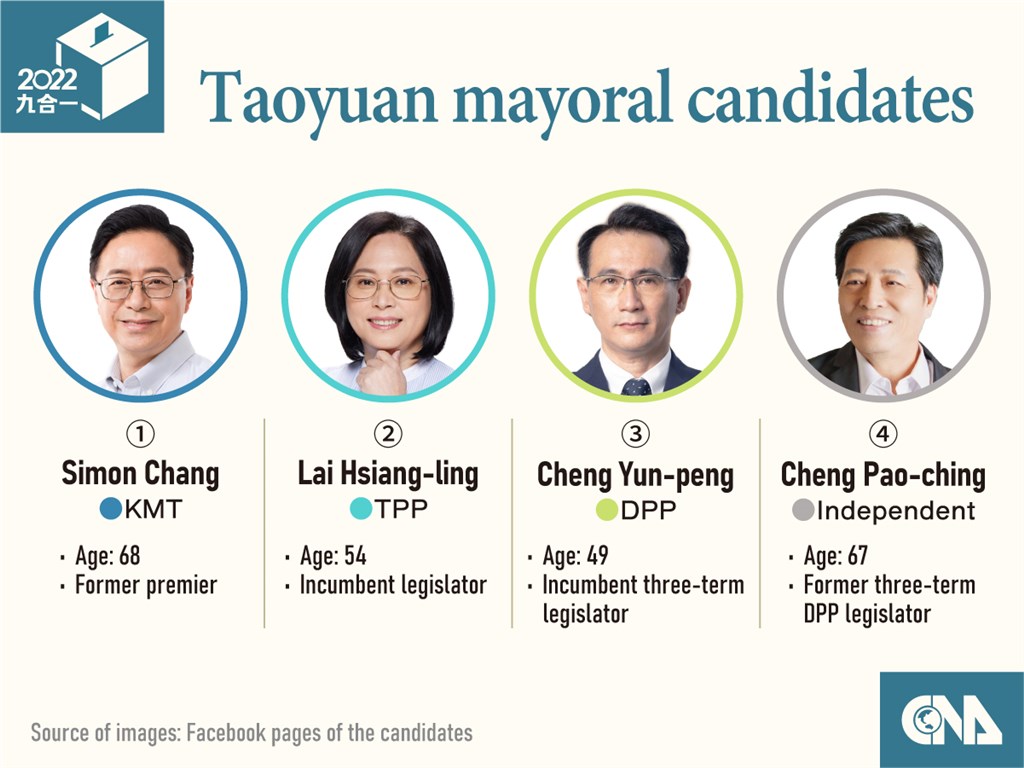 What are the main parties' expectations going into the election?
The KMT has said it would view victories in 14 municipalities, including holding Miaoli and flipping Taoyuan as a "win," while adding Taipei into the mix would qualify as a "big win."
However, losing Taipei and Taoyuan, and one of the 14 municipalities it currently holds, would be seen as a "loss," the party said.
The DPP, meanwhile, has said its "baseline" will be to hold the 7 municipalities it currently controls -- Taoyuan, Tainan, Kaohsiung, Pingtung County, Chiayi County, Keelung City and Hsinchu City.
If it wins Taoyuan or Taipei, and flips either Miaoli, Penghu or Nantou, which typically support the KMT, that would be considered a "small win," party sources have said.
In contrast, losing Taoyuan and Taipei, and failing to flip any other cities or counties, would be seen as a "loss," according to the sources.
What else is on the ballot?
Voters will also be asked a question on whether to ratify a Constitutional amendment that would lower Taiwan's voting age from 20 to 18. It would also reduce the age at which people could run for many offices from 23 to 18, though existing laws would still have to be changed to bring this about.
While all of Taiwan's major political parties support the proposal, there is still a chance that it could fail, as it requires majority support of all eligible voters, meaning it will need around 9.65 million votes in its favor.
The threshold requiring the support of 50 percent of eligible voters for a constitutional amendment is significantly higher than the one for non-constitutional referendums, which only require the support of at least 25 percent of all eligible voters and majority support of all voters who cast ballots.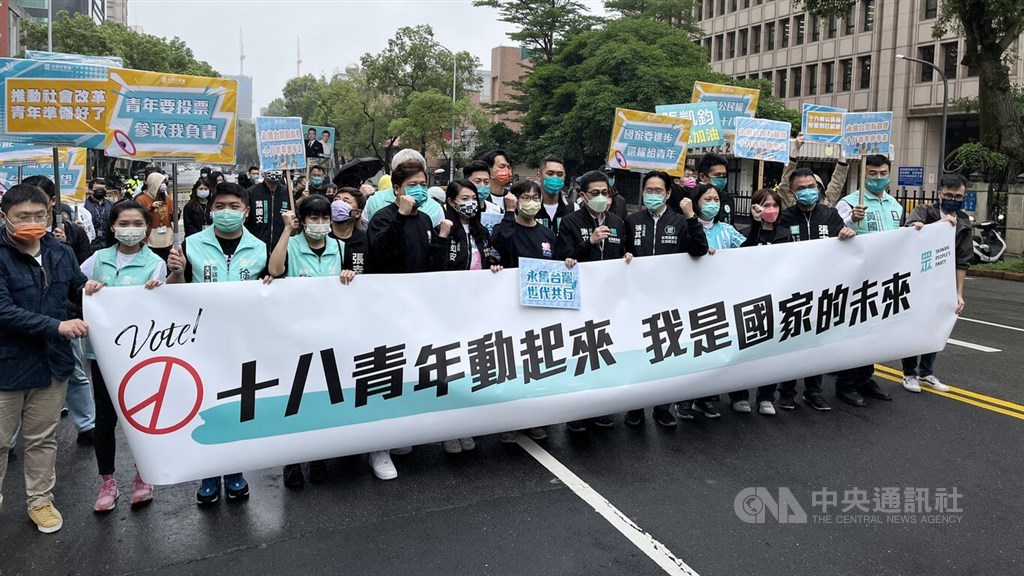 What factors could influence the results?
Because Taiwan does not currently allow absentee ballots, people observing the five-day COVID-19 isolation period will effectively be prohibited from voting.
This could be especially consequential in the voting age referendum, given the high threshold required for amending the Constitution.
What are the implications for Taiwan's 2024 presidential elections?
On the KMT side, New Taipei Mayor Hou Yu-ih (侯友宜) has been tipped as a possible 2024 presidential contender, and would benefit from a strong showing in his re-election battle against DPP challenger Lin Chia-lung (林佳龍).
Meanwhile, the de facto frontrunner for the DPP's 2024 nomination -- Vice President Lai Ching-te (賴清德) -- is not on the ballot Saturday, and thus has considerably less at stake.
Taipei Mayor Ko is hoping for wins by his former deputy Huang in Taipei and TPP Legislator Kao Hung-an (高虹安) in Hsinchu City, which would give him allies in two major cities ahead of a widely expected 2024 presidential run.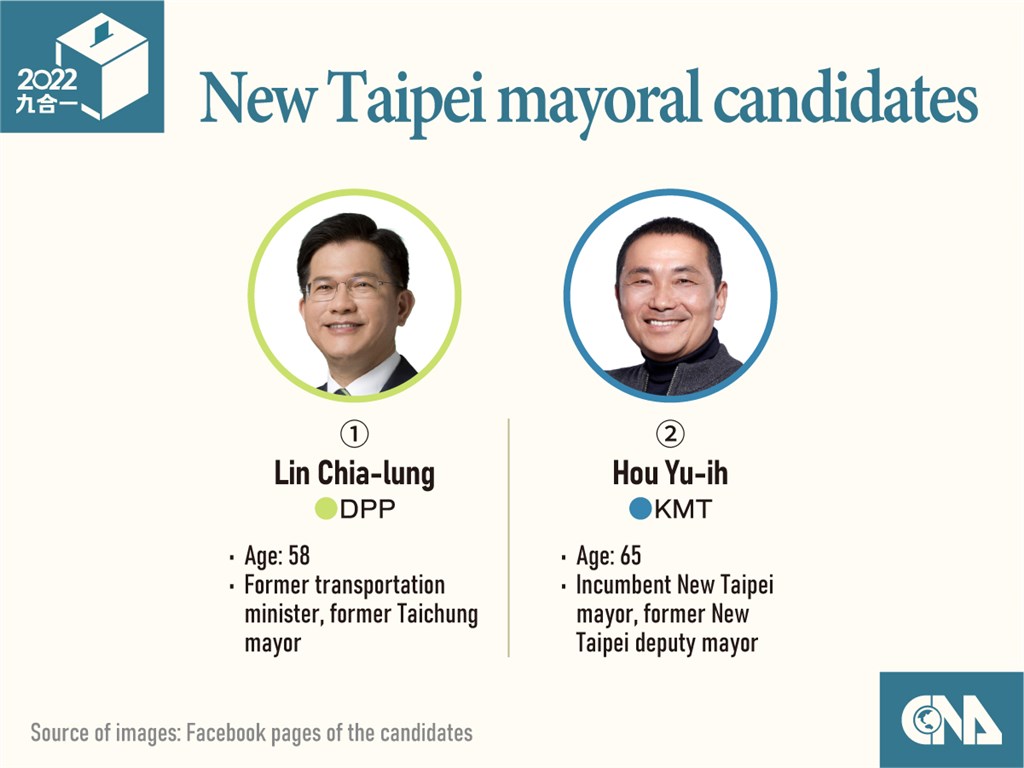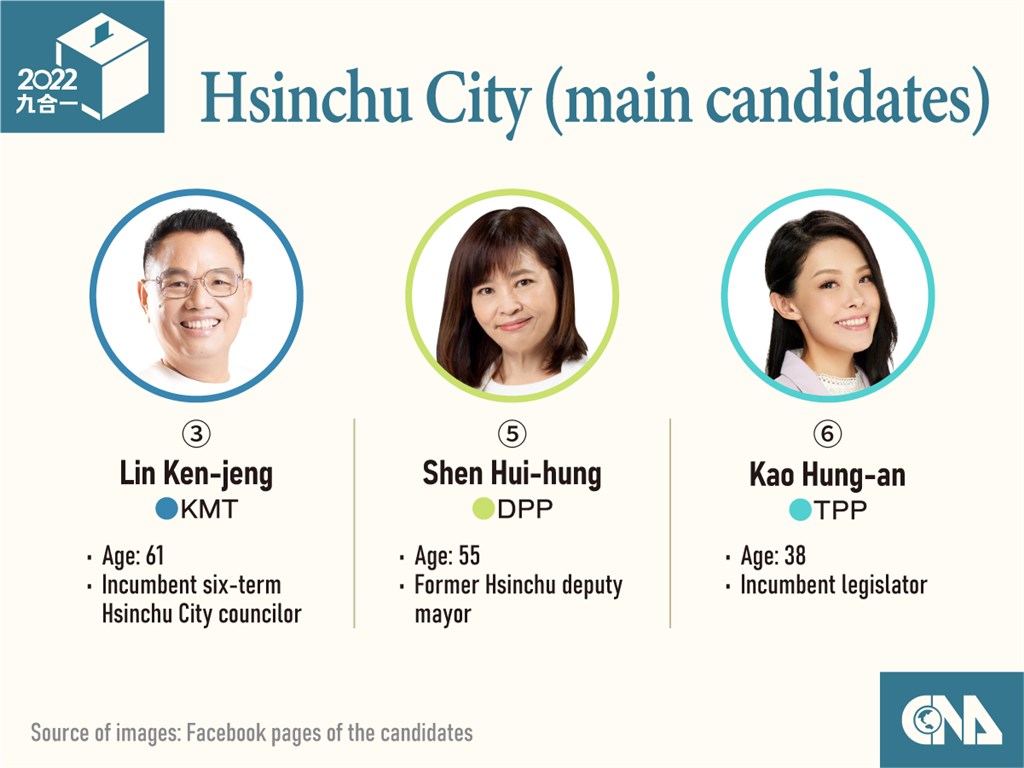 When will we know the results?
Polling stations close at 4 p.m. Saturday.
The results of the elections are expected later Saturday evening, sometime before midnight, with the referendum results expected a little bit later, based on past experience.
Updated
Nov. 26: Results of Taiwan's 9-in-1 local elections, referendum
View All