ELECTIONS 2022
/
Hsinchu mayor hopefuls tout policies for city development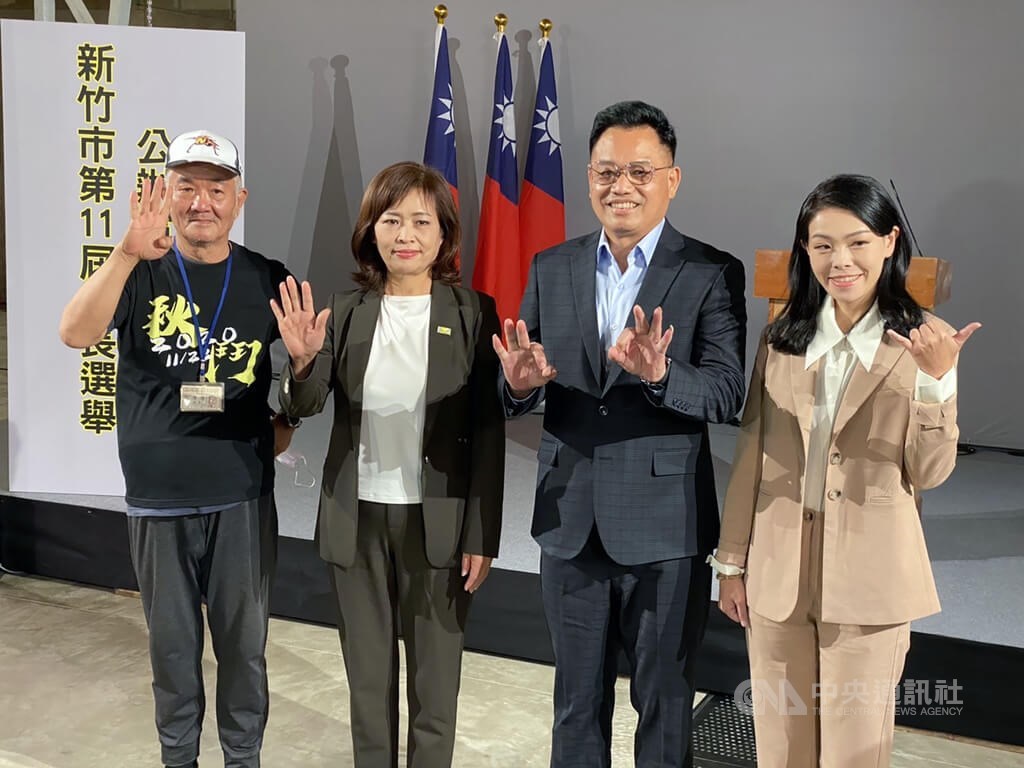 Taipei, Nov. 16 (CNA) Five candidates for the Hsinchu City mayoralty came together at a televised forum Wednesday to lay out their visions for the city, ranging from promoting city-county integration to rolling out an insurance program that covers all residents.
Taiwan People's Party (TPP) Legislator Kao Hung-an (高虹安), who is running under TPP flag, said she would push for "cooperation in the Greater Hsinchu Area," if elected, by establishing a communication platform between the Hsinchu City and County governments.
Under such an arrangement, the Hsinchu City mayor and County magistrate will meet once every six months to find solutions to common problems related to traffic, the environment, industries, and land rights, she said.
She went on to say that after meeting with the Kuomintang's (KMT) incumbent Hsinchu County Magistrate Yang Wen-ke (楊文科), who is running for re-election in the northern Taiwan county, both of them had reached a consensus about her plan.
The goal is to promote the greater integration of Hsinchu City and County before eventually embarking on the de jure process of merging the two places, she said.
Kao also criticized Democratic Progressive Party (DPP) lawmakers for trying to push through an amendment that would pave the way for the reconstitution of Hsinchu City and County into a single special municipality last year.
The TPP lawmaker said the DPP's handling of the issue was "abrupt" and meant for "political gains," without elaborating.
Kao, who is being investigated over accusations of pocketing her legislative assistants' salaries and overtime wages, expressed gratitude to her supporters for their encouragement at a time when she had become the target of what she called a "smear" campaign and "online bullying."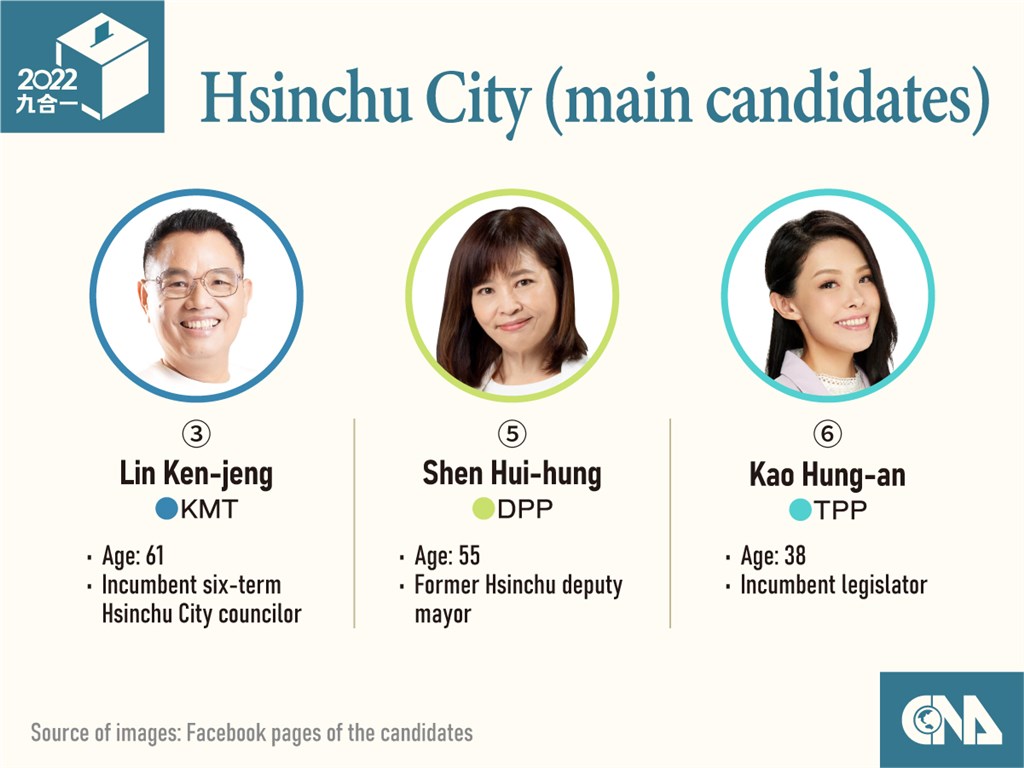 Meanwhile, Hsinchu City Councilor Lin Ken-jeng (林耕仁), the KMT's candidate, pledged to roll out a type of casualty insurance that is free to approximately 450,000 Hsinchu City residents if he was given a chance to lead the city government.
Lin claimed that this free insurance program would only cost the city government an estimated NT$55 million (US$1.76 million) per year, but he did not explain how he came up with the numbers.
Lin also blamed former Hsinchu Mayor Lin Chih-chien (林智堅) of the DPP for the debacle over the renovated Hsinchu Baseball Stadium, saying that the former mayor had rushed the reopening of the stadium while paying little regard to safety.
The stadium, which reopened in July after a NT$1.2-billion renovation project that took three years, was closed after only two games due to multiple reports of building flaws and player injuries. It remains closed as of now.
Without responding directly to Lin's criticism, the DPP's nominee Shen Hui-hung (沈慧虹), who previously served as deputy Hsinchu City mayor under Lin Chih-chien's government, said she would "face up to her mistakes" and "commit herself to making corrections."
On another note, Shen pledged to place a high priority on a light rail construction plan while building three new bridges connecting Hsinchu City and County as part of efforts to improve the city's traffic.
The plan to build a four-line light rail system in Hsinchu City is still being reviewed by the Ministry of Transportation and Communications.
Under the leadership of Lin Chih-chien, she said, the Hsinchu City government had undertaken over 1,000 infrastructure projects, including the establishment of a children's specialized hospital and the ongoing construction of a new social housing complex.
"I believe residents in Hsinchu are aware of the changes made to the city over the past eight years," she said.
Two other independent candidates -- Lee Chih-chun (李驥羣) and Huang Yuan-fu (黃源甫) -- also attended the forum.
Lee spent his 30-minute speech attacking the TPP, KMT and DPP candidates who have so far dominated the mayoral race, while Huang proposed to turn Hsinchu into a travel destination for Japanese tourists.
Related News
● Election campaigns around Taiwan, Nov. 15
● Election campaigns around Taiwan, Nov. 14
Nov. 16: Taichung mayoral candidates underscore air pollution at forum
Nov. 15: Taoyuan mayoral candidates address traffic, housing at televised forum
Nov. 14: New Taipei mayor dodges question about presidential run in TV forum
Nov. 14: DPP candidates unveil joint semiconductor development platform
Nov. 12: 12 Taipei mayoral candidates outline visions at televised hustings
Nov. 12: Kaohsiung mayoral candidates highlight population loss, high-tech plans 
View All