Taiwan, Palau sign MOUs on joint criminal investigation and forensics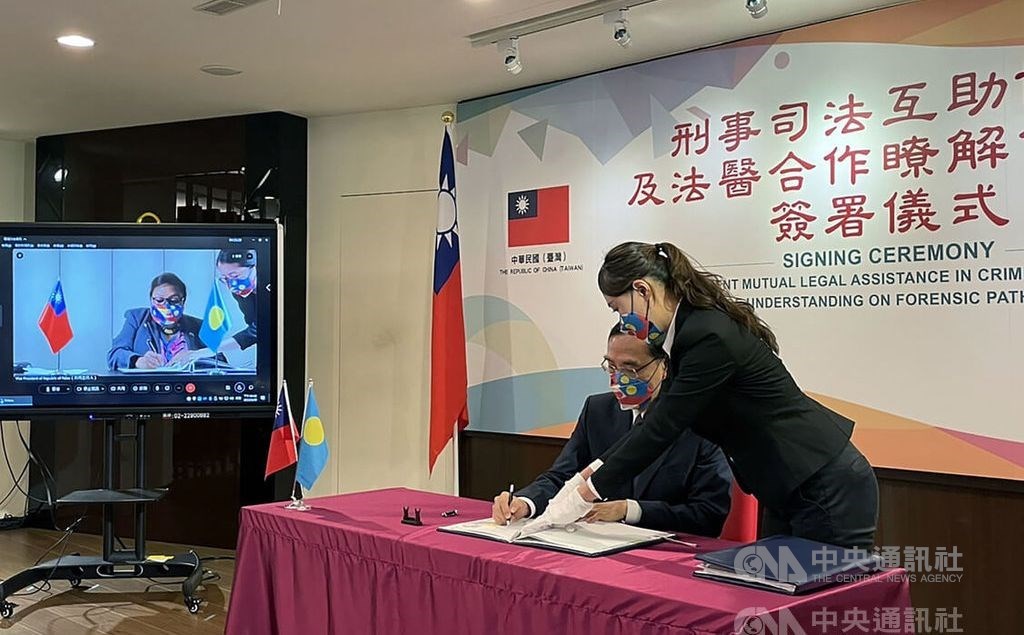 Taipei, Aug. 30 (CNA) Taiwan and Palau Tuesday signed memorandums of understanding (MOU) to serve as a basis for mutual legal assistance in criminal matters and forensic assistance between the two countries.
The MOUs were signed virtually by Justice Minister Tsai Ching-hsiang (蔡清祥) and Palauan Vice President and Minister of Justice Uduch Sengebau Senior, who is in quarantine after arriving in Taiwan on Saturday on a five-day visit, marking the first time Taiwan has signed an MOU on mutual forensic assistance with another country.
Taiwan has signed agreements on mutual legal assistance in criminal cases with 10 countries and mutual legal assistance agreements in civil affairs with two countries, he said.
The MOU on forensic assistance will allow Taiwan to send medical examiners to Palau at the request of the latter to perform autopsies and forensics as well as train medical examiners, Tsai said.
During the video call Sengebau Senior noted that Taiwan and Palau had never discussed in detail possible collaboration on fighting crime, and exchanged views with Tsai on increasingly rampant cross-border telecom fraud and illegal gambling, according to a news release from the justice ministry.
Both sides acknowledged the importance of providing mutual legal assistance, which it is hoped will serve as a basis for improved mutual legal assistance, the ministry said.
The two countries first began discussing the possibility of Taiwan sending medical examiners to Palau to help the latter perform autopsies in 2020, which paved the way for the signing of the MOU, it said.
Diplomats on both sides ironed out legal details, and with Taiwan's Ministry of Foreign Affairs and the Embassy of the Republic of China (Taiwan's official title) in the Republic of Palau mediating between Taipei and Ngerulmud, the signing of the MOU was made possible, it said.
Meanwhile, under the MOU on legal assistance relating to criminal matters, the two sides will be able to present evidence, facilitate the delivery of documents, locate suspects and related evidence, as well as request searches, the sequestering and freezing of assets or the issuing of fines, it said.
Law enforcement officials on both sides will be able to question witnesses virtually provided they gain their consent, or listen to the testimonials of defendants or witnesses to spare them from having to travel to make their statements, it said.
These forms of cooperation will mean that the two sides can also establish joint investigation teams to tackle cross-border crimes, it said.
As to the MOU on future forensic assistance, Taiwan may, upon request, send medical examiners to Palau to help with autopsies and forensics, thereby swiftly determining the cause of death and expediting the pursuit of perpetrators, which will help to deliver justice to bereaved families, it said.
The MOU contains an article that says both sides should also collaborate on the cultivation of medical examiners, which would enable Palau to benefit from Taiwan's well-developed forensics know-how.
Related News
Aug. 31: New deals with Taiwan 'important for Palau's future': Palauan VP
Aug. 27: Palau's vice president arrives in Taiwan on five-day visit