Visiting U.S. senator calls for preserving Taiwan's independence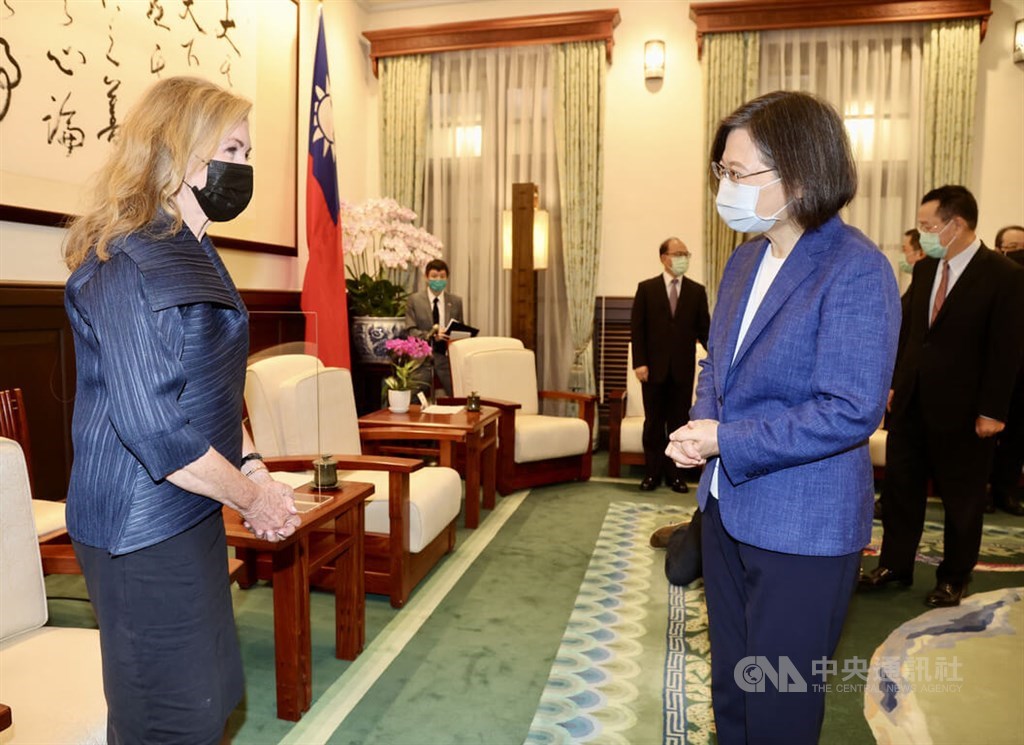 Taipei, Aug. 26 (CNA) United States Senator Marsha Blackburn, a vocal critic of China's government, said at a meeting Friday with President Tsai Ing-wen (蔡英文) that it was important for other democracies to support Taiwan as it works to preserve its independence and freedom.
"It is important...that freedom-loving nations support Taiwan as they seek to preserve their independence and their freedom," said Blackburn, who has served as a senator since 2019 and is currently a member of the Senate Armed Services Committee.
Blackburn, a Republican representing Tennessee, said she looked forward to continuing to help support the people of Taiwan as "they push forward as an independent nation."
The 70-year-old senator has been critical of Beijing, which she described to the media as a U.S. "adversary."
In a tweet posted after she arrived in Taipei late Thursday night for a three-day visit, she pledged: "I will continue to stand with the Taiwans (sic) and their right to freedom and democracy," adding that "Xi Jinping doesn't scare me."
Meanwhile, Tsai praised Blackburn for recently sponsoring a bill in the U.S. Congress that aimed to "bolster U.S. backing for Taiwan to enhance our self-defense capabilities."
The president was mostly likely referring to the Taiwan Democracy Defense Lend-Lease Act introduced in July.
According to Blackburn, the bill would support "the United States' partnership with Taiwan by authorizing a defense lend or lease program with the government of Taiwan."
Tsai said the Russian invasion of Ukraine and China's military exercises in the Taiwan Strait showed that authoritarian countries are disrupting and threatening the world order.
She urged democracies to "further unite and cooperate in jointly holding a firm line of defense of our values, freedom and democracy."
Tsai also expressed hope that Taiwan could join the U.S.-led Indo-Pacific Economic Framework for Prosperity (IPEF), saying that like-minded countries should deepen economic and trade cooperation to create more secure and resilient supply chains.
Taiwan is excluded from the IPEF, an economic initiative launched on May 23 by U.S. President Joe Biden to boost U.S. economic engagement in the region. It currently includes 14 participating countries, including Japan, India, South Korea, Indonesia, Vietnam, and Australia.
In addition to meeting with Tsai, Blackburn will also meet with Wellington Koo (顧立雄), secretary-general of the National Security Council, to discuss security and trade issues, before departing on Aug. 27, according to Taiwan's Ministry of Foreign Affairs (MOFA).
She will also give a keynote speech at MOFA's Institute of Diplomacy and International Affairs in Taipei on Friday afternoon, MOFA said.
Source: Presidential Office
Related News
Aug. 26: Bill to provide Taiwan arms meant to "send a warning" to Beijing: Blackburn
Aug. 26: Visiting U.S. senator hoping to strengthen partnerships with Taiwan
Aug. 26: U.S. Senator Marsha Blackburn arrives in Taiwan for 3-day visit
Recent visits by U.S. politicians
Aug. 22: Taiwan partnership 'as strong as Indiana limestone': Visiting governor
Aug. 15: U.S. senator praises Taiwan for restraint amid Beijing coercions
Aug. 2: Visit to honor 'unwavering' U.S. commitment to Taiwan: Pelosi