Taiwan vows to stay vigilant after Chinese military drills conclude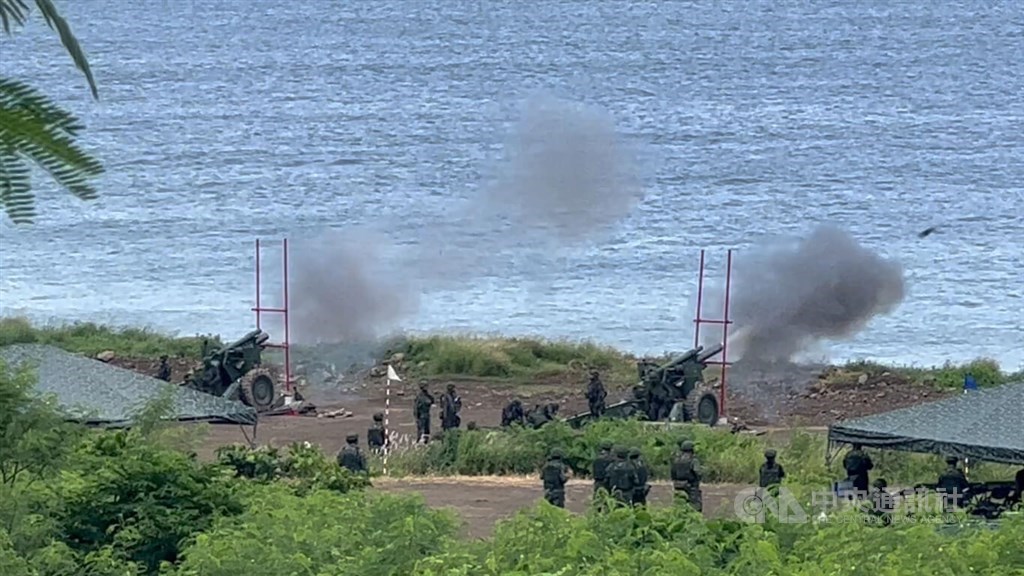 Taipei, Aug. 10 (CNA) Taiwan's Ministry of National Defense (MND) said it remains on high alert Wednesday following an announcement by the People's Liberation Army (PLA) indicating its military drills around the island concluded that day.
As of 5 p.m., 36 sorties by Chinese aircraft and 10 by PLA warships had been detected close to the Taiwan Strait median line on Wednesday, the MND said in a news release.
Of the intruding aircraft, 17 breached the Taiwan Strait median line -- nine S-30s and eight J-11s -- in what the PLA called "joint air and sea operations," the MND said.
In response, Taiwan deployed combat air patrol aircraft to warn away the intruding aircraft and locked onto them with air defense missiles, the MND added.
"The PLA Eastern Theater Command has accomplished its missions through the series of joint military exercises in the sea and air space around Taiwan," PLA Eastern Theater Command Spokesman Shi Yi (施毅) said earlier Wednesday in a statement, in reference to drills carried out by the PLA around Taiwan that ran from Aug. 4 to Tuesday in the wake of a 19-hour visit to Taiwan by U.S. House Speaker Nancy Pelosi from Aug. 2 to Aug. 3.
In response to a statement by the PLA Eastern Theater Command Monday that exercises around Taiwan will become routine, the MND said it would remain vigilant and flexibly deploy troops based on the level of threat posed by the PLA and the tactics it employs.
China's provocative military drills around Taiwan gave the nation's troops an opportunity to "train and be combat-ready at all times," the MND said.
Update
FEATURE/Taiwan braces for sustained Chinese pressure
Aug. 18: 51 Chinese warplanes, six warships spotted near Taiwan: MND
Aug. 18: 90% of people in Taiwan opposed to Chinese drills: Survey
Aug. 18: Chinese warship detected near Taiwan missile testing site: Navy
Aug. 18: U.S. trade talks can help counter China 'coercion': Cabinet official
Aug. 17: 50% of Taiwanese believe U.S. could help if China attacks: poll
Aug. 16: China using U.S. lawmakers' visit as excuse for latest drill: Taiwan
Aug. 16: China 'overreacting' to peaceful visits to Taiwan: U.S. official
Aug. 15: U.S. senator praises Taiwan for restraint amid Beijing coercions
Related News
Aug. 10: MAC slams 'wishful thinking' and 'lies' in China's Taiwan white paper
Aug. 10: KMT vice chairman makes controversial visit to China
Aug. 9: 45 warplanes, 10 warships spotted near Taiwan as PLA drills continue
Aug. 9: Taiwan's diplomatic ties stable amid possible China retaliation: FM
Source: Ministry of Foreign Affairs
Aug. 8: Chinese drills aligned with plans for taking Taiwan by force: Expert
Aug. 7: China sends 66 warplanes, 14 warships around Taiwan Sunday
Aug. 7: Taiwan to hold live-fire artillery drills to test combat readiness
Aug. 6: 20 Chinese warplanes, 14 warships deployed around Taiwan: MND
Aug. 6: U.S., Japan, Australia urge China to stop military drills
Aug. 6: Defense ministry says China simulating attack on Taiwan
Aug. 5: China's drills a 'new normal' aimed at changing status quo: Experts
Aug. 4: President Tsai calls China's live-fire drills 'irresponsible act'
Aug. 4: China fires 11 Dongfeng ballistic missiles into waters off Taiwan: MND
Aug. 4: Flights, ships rerouted to avoid Chinese military drills
Aug. 4: China cannot stop world leaders from visiting Taiwan: Pelosi
Aug. 3: China's military exercises aimed at blockading Taiwan: defense ministry
Aug. 3: China imposes new trade restrictions on Taiwan as Pelosi visits
Aug. 2: Visit to honor 'unwavering' U.S. commitment to Taiwan: Pelosi