Taiwan condemns Russia for violation of Ukraine's sovereignty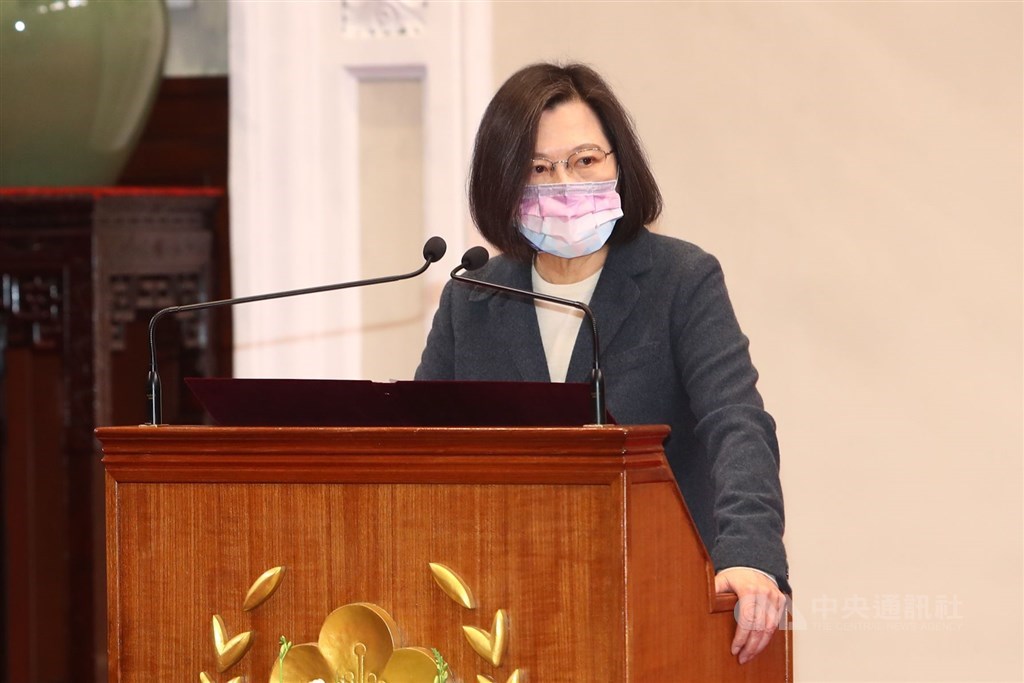 Taipei, Feb. 23 (CNA) Taiwan's government condemns Russia for undermining Ukraine's sovereignty and calls for peaceful means to resolve disputes, President Tsai Ing-wen (蔡英文) said Wednesday.
The Taiwan government "condemned Russia's violation of the sovereignty of Ukraine," Tsai said in a Facebook post, shortly after she was briefed on the latest situation at Ukraine's borders by a task force under the National Security Council (NSC).
The government urged all sides to use peaceful means to resolve disputes, Tsai said, adding that Taiwan is willing to contribute to various de-escalation efforts, though she did not elaborate on what those efforts might be.
The briefing took place after several actions taken by Russia over the past two days. Russian President Vladimir Putin declared on Tuesday that his government recognized Donetsk and Luhansk -- two breakaway regions in eastern Ukraine controlled by separatist forces -- as sovereign entities.
Putin also signed a decree ordering Russia's troops to "maintain peace" in these two regions, drawing condemnations from Western governments and international organizations such as the United Nations and NATO alliance. Countries such as the United States and Britain have also announced financial sanctions on Russia as a response.
While keeping an eye on the Russia-Ukraine situation, Taiwan's government will continue ensuring the security of Taiwan, according to Tsai. The national security authorities and armed forces have been instructed to strengthen their monitoring of the situation across the Taiwan Strait and continue refining defense readiness, she said.
At the same time, all government agencies should be on the alert for potential influence operations perpetrated by overseas powers and their local partners that attempt to use Ukraine's situation to sway public opinion in Taiwan, Tsai said. They should step up efforts to clarify false information and prevent its spread, she added.
The president also asked the administration to prepare for potential short-term and long-term impacts of Ukraine's situation on the global and domestic economy and devise plans to ensure the supply of strategic goods, and stabilize commodity prices and the financial market.
Meanwhile, a national security official told CNA on Tuesday the country should be wary of what he called "cognitive warfare" waged by China.
The purpose of the Chinese activities would be to use information about Ukraine to plant an idea in Taiwan that the U.S. would not honor its commitment to Taiwan's security, the NSC official said on condition of anonymity.
Apart from sowing division between Taiwan and the U.S., such efforts will also aim to promote Taiwan's unification with China, the official said.
According to the official, the situation of Taiwan and that of Ukraine are not comparable and the U.S. commitment to Taiwan's security remains firm.
Taiwan is located at a strategic location in East Asia and plays a key role in the global supply chains, the official added.