U.S. stands with Lithuania against Chinese coercion: Blinken tells Lithuanian FM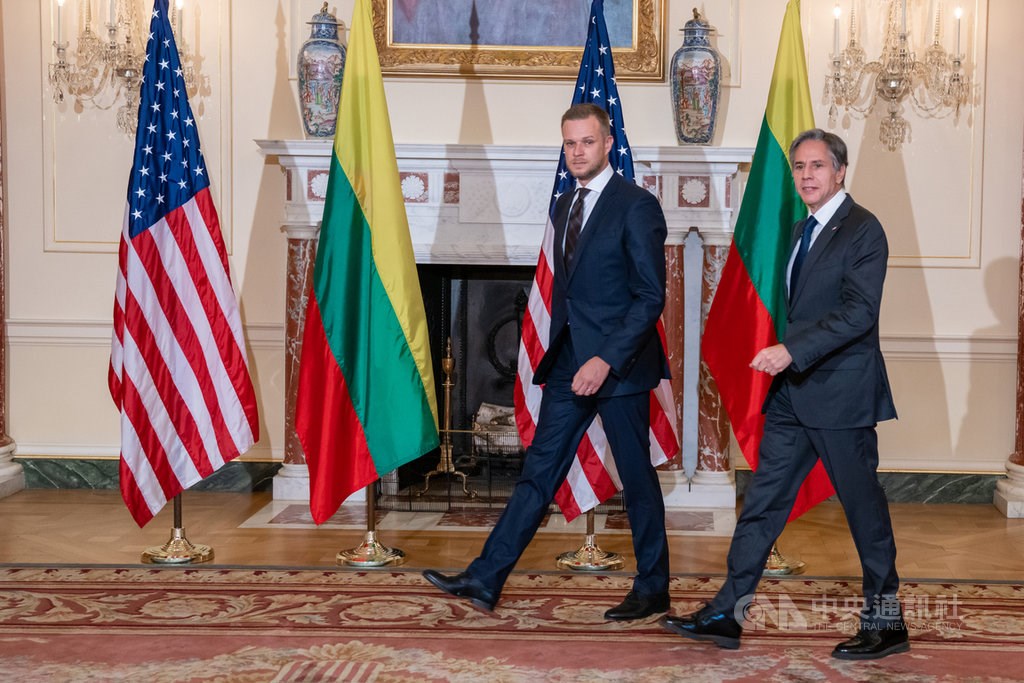 Washington, Sept. 15 (CNA) The United States stands together with Lithuania against economic coercion from China, Secretary of State Antony Blinken told visiting Lithuanian Foreign Minister Gabrielius Landsbergis in Washington on Wednesday.
Blinken's remarks were made as the Baltic state is facing increased pressure from Beijing following its decision to soon open reciprocal representative offices with Taiwan and allow Taipei's office in Vilnius to bear the word "Taiwanese" in its name.
The office's name differs from that used by Taiwan's other foreign missions in countries with which it does not have diplomatic relations.
Taiwan typically uses "Taipei Economic and Cultural Office" or "Taipei Representative Office" in those countries, likely due to host countries' preference to avoid any semblance of treating Taiwan as a separate country in light of their one-China policy.
In response, Beijing, which sees Taiwan and mainland China as part of one country, has sought to impose a political cost on Lithuania for its decision to allow the use of "Taiwanese" in the name of Taiwan's office, seeing such moves as encouraging formal independence.
In addition to recalling its ambassador from Vilnius and expelling Lithuania's from Beijing, China has introduced retaliatory sanctions, including the halting of direct freight train services to the Baltic state.
In Blinken's Wednesday address made before he and Landsbergis entered the Department of State building, the secretary of state said that Lithuania and the U.S. are strong partners and stand together for collective defense and security.
"We stand against economic coercion, including that being exerted by China. And we stand strongly for democracy, including in Belarus, where we're very much working together," he said.
For his part, Landsbergis said his meeting with Blinken on the day of International Day for Democracy is "truly symbolic."
Following their meeting, Landsbergis said in a tweet that both sides confirmed their commitment for democracy and liberty, human rights and rule of law "in the face of increased pressure from authoritarian regimes across the globe."
State Department Spokesperson Ned Price, meanwhile, said Blinken reiterated "ironclad U.S. support for Lithuania in the face of attempted coercion from the People's Republic of China," during the same meeting.
In Taipei, Taiwan's Foreign Minister Joseph Wu (吳釗燮) expressed the nation's appreciation for Blinken's support for front-line democracies in a tweet.
Wu also said he was inspired by Landsbergis' wisdom and courage to work with Taiwan.
"We'll take real actions to cooperate with #Lithuania in trade, investment & supply chains," the minister tweeted.
As part of the so-called "real actions," a MOFA press release said chief of Taiwan's National Development Council (NDC), will lead a trade delegation to three countries in Europe next month, including Lithuania, to boost trade and economic ties.
According to Lithuanian foreign minister, Landsbergis began his U.S. trip on Tuesday, when he met with members of the U.S. Senate and the U.S. House of Representatives.
Before meeting Landsbergis, Senator Bob Menendez, chair of the Senate Foreign Relations Committee, said in a tweet that he would discuss with the Lithuania foreign minister on "Lithuania's courageous efforts to stand up for Taiwan, as well as democracy activists in Belarus, Russia and Cuba."