CORONAVIRUS
/
KMT local governments seeking permission to procure COVID vaccines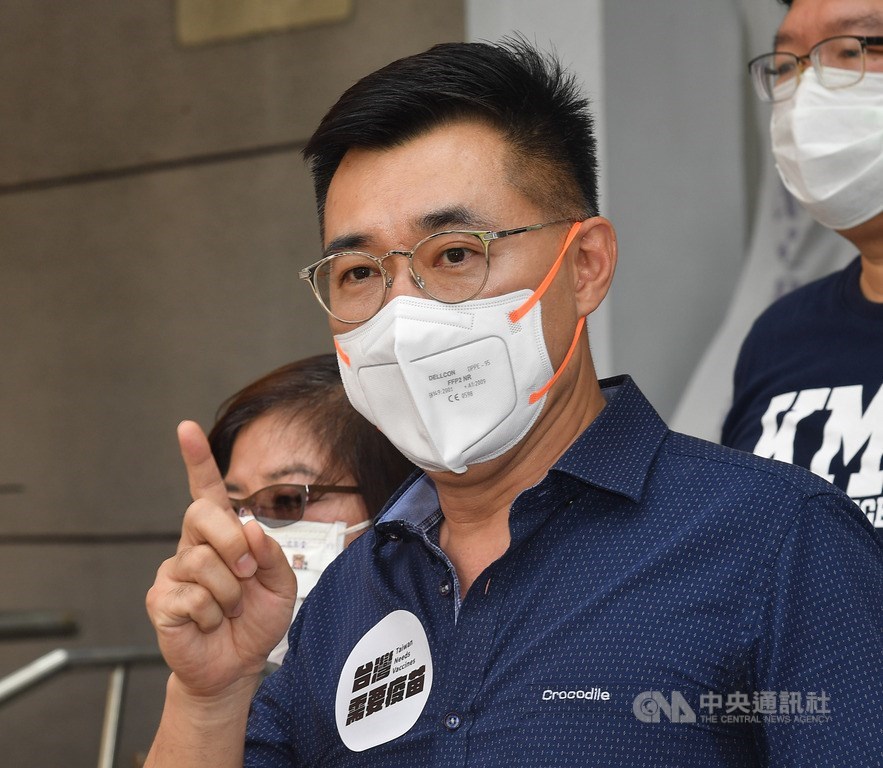 Taipei, July 2 (CNA) The chairman of Taiwan's main opposition Kuomintang (KMT) and four KMT local government heads sent a joint letter to President Tsai Ing-wen (蔡英文) Friday, asking for permission to purchase COVID-19 vaccines.
The Presidential Office, however, reiterated the central government's position on the issue, saying COVID-19 vaccines can only be procured under the relevant existing regulations.
In the letter to the president, Lin Ming-chen (林明溱), Hsu Chen-wei (徐榛蔚), Chang Li-shan (張麗善), and Yao Ching-Ling (饒慶鈴) -- the magistrates of Nantou, Hualien, Yunlin, and Taitung counties, respectively -- and KMT Chairman Johnny Chiang (江啟臣) appealed to the central government to grant them the same rights that had been accorded recently to a humanitarian organization and two technology firms in Taiwan.
They said they were delighted to see Hon Hai Precision Industry Co.'s YongLin Charity and Education Foundation, Taiwan Semiconductor Manufacturing Co., and the Buddhist Tzu Chi Foundation gain permission to procure vaccines, which are crucial to bringing the COVID-19 pandemic under control.
"Such collaboration between the public and private sectors is in line with the people's expectations," the letter says.
"The central and local governments should do more by joining hands" to acquire more internationally certified vaccines for the Taiwanese people, it says.
Chiang and the four county chiefs said they had applied to the Food and Drug Administration (FDA) a while ago for permission to purchase vaccines, in line with the Central Epidemic Command Center (CECC) regulations, but had not received a response to date, which was "worrisome."
Commenting on the matter, Presidential Office spokesman Xavier Chang (張惇涵) said such applications are reviewed by the competent authorities, based on the relevant regulations.
According to the CECC, "the importation of vaccines requires a drug license and other relevant documents that guarantee the quality, safety, effectiveness and legality of the vaccines, and also approval by the FDA."
Furthermore, any vaccines procured under special authorization by the FDA must be administered in line the CECC's epidemic control policies, Health Minister Chen Shih-chung (陳時中), who heads the CECC, said on May 28.
Taiwan's government has signed contracts to purchase some 20 million COVID-19 vaccines from abroad, including 5.05 million doses of Moderna, 10 million doses of AstraZeneca, and 4.76 million doses of unspecified brands through the COVAX program.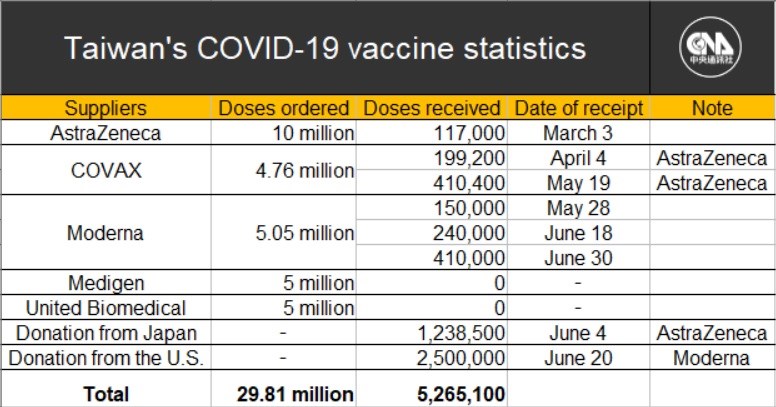 It has also signed contracts to buy 10 million doses of COVID-19 vaccines from two Taiwanese companies.
Even with recent vaccine donations from the United States and Japan, however, Taiwan has obtained only 5 million doses, so far, and only 8 percent of its 23.5 million population has received at least one COVID-19 vaccine shot.
According to experts, Taiwan will need to vaccinate at least 60 percent of its population to achieve herd immunity and safely reopen tit borders, which means acquiring around 30 million doses of COVID-19 vaccines.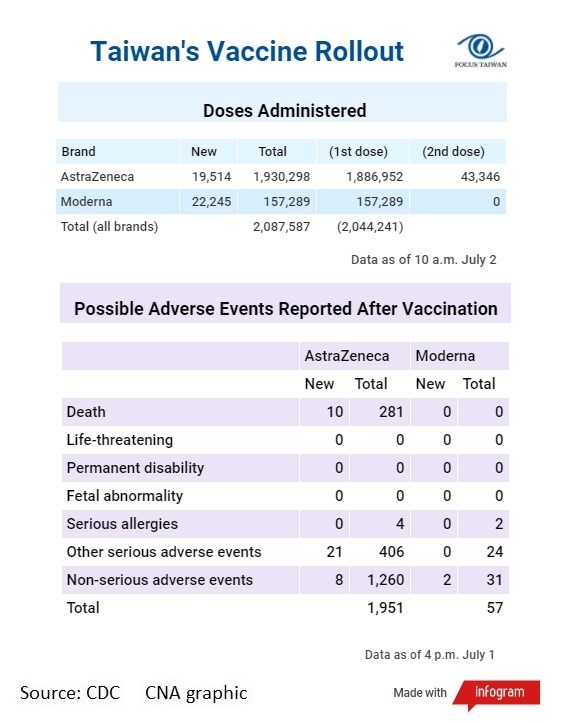 Earlier this year, a deal to buy 5 million doses of the Pfizer-BioNTech COVID-19 vaccine from the manufacturer fell through at the last minute, due to China's interference, according to the Tsai administration.
Locally transmitted COVID-19 cases in Taiwan began to surge in mid-May, prompting the CECC to issue a Level 3 alert, which has since been extended twice and lasts at least until July 12.
On Friday, Taiwan reported 57 new domestic COVID-19 infections and 15 deaths, bringing the total number of cases in the country to 14,911 and the number of deaths to 676.
View All