CORONAVIRUS
/
Taiwan government slams online article on Japan's vaccine donation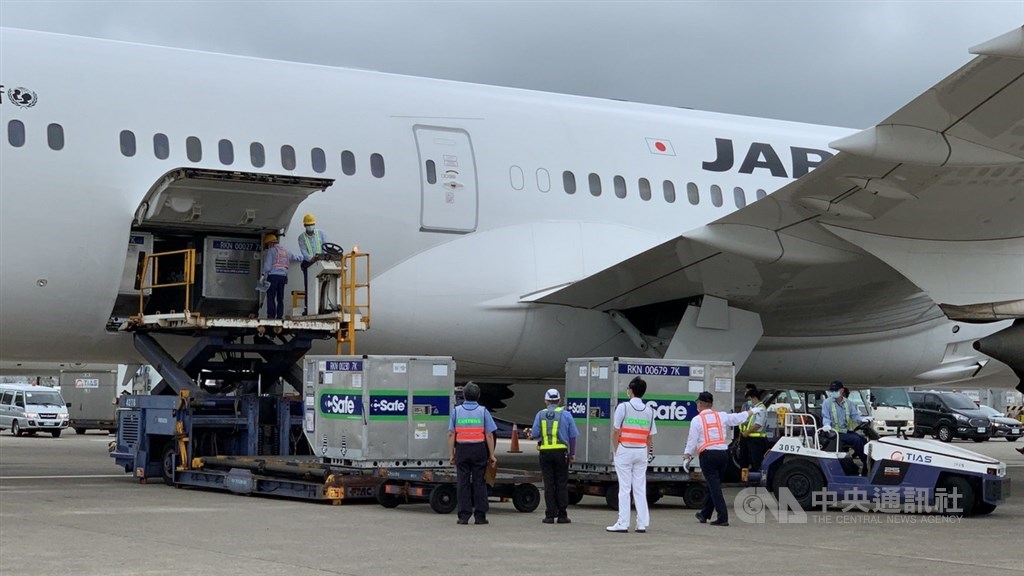 Taipei, June 8 (CNA) Taiwan's government on Tuesday slammed as "distorted" and full of "rumors" an article recently posted on social media that inaccurately reported on Japan's donation of AstraZeneca COVID-19 vaccine to Taiwan
Japan's government shipped 1.24 million doses of the AstraZeneca COVID-19 vaccine to Taiwan on June 4, one day after the country's Foreign Minister Toshimitsu Motegi revealed during a legislative session that Japan was working to supply COVID-19 vaccines to Taiwan.
According to Japanese media reports, Motegi told legislators that Taiwan had an urgent need for vaccines right now because its local production capability will only become available in July.
The article first appeared in an online forum a few days ago, but has since gone viral. It claimed that the reason Japan did not provide more vaccine doses was because Taiwanese officials said the country only needed a few doses to meet present need as its indigenous vaccines will be available in July.
A video showing Motegi answering legislators' question which came with the article also went viral. The video caption falsely indicated the Japanese official told legislators Taiwan did not ask for many vaccines, because it only needed enough for June, with Taiwan's locally produced vaccines scheduled to be rolled out in July.
Such claims angered some netizens in Taiwan, at a time when COVID-19 community transmission continues to surge in the country. Several experts have blamed the recent spread of the virus on the government's failure to secure enough vaccines when the COVID-19 situation in Taiwan was relatively good.
Taiwan's Ministry of Foreign Affairs (MOFA) issued a statement late Monday, accusing the online article of deliberately misinterpreting Motegi's statement to manipulate public opinion for political purpose.
MOFA stressed that Taiwan's government will continue to secure vaccines from their original manufacturers to ensure a steady supply.
Premier Su Tseng-chang (蘇貞昌) told reporters on Tuesday before attending a legislative session that an accurate translation of Motegi's statement can easily be found online, describing the article as dealing in "vicious rumors."
He thanked friendly countries such as Japan and the United States for providing Taiwan with vaccines during this difficult time and urged the public to stop spreading false reports.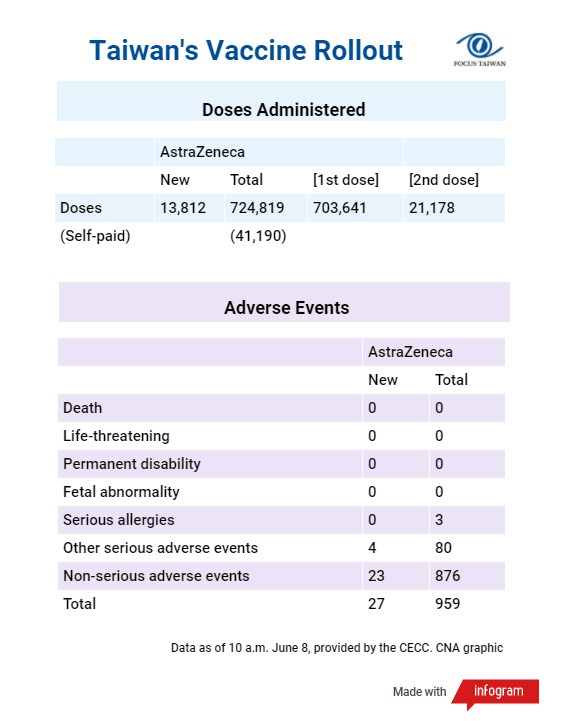 Health Minister Chen Shih-chung (陳時中) also said during a press briefing Tuesday that Taiwan's government has not told any country it has enough vaccines.
"The fact is we just don't have enough vaccines. We did not tell Japan that we have enough," he said.
Meanwhile, in a statement Tuesday, the Kuomintang, Taiwan's main opposition party, criticized the administration for dragging its feet in securing vaccines authorized by the U.S. Food and Drug Administration for emergency use, and being indifferent to efforts by the private sector to obtain vaccines.
Politicians and analysts from opposition political parties have also voiced suspicion that some government officials are giving undue protection to indigenous vaccines in order to artificially boost the stock prices of those companies for personal gain.
President Tsai Ing-wen's (蔡英文) administration has strongly denied such allegations.
View All