New Belizean ambassador presents credentials to President Tsai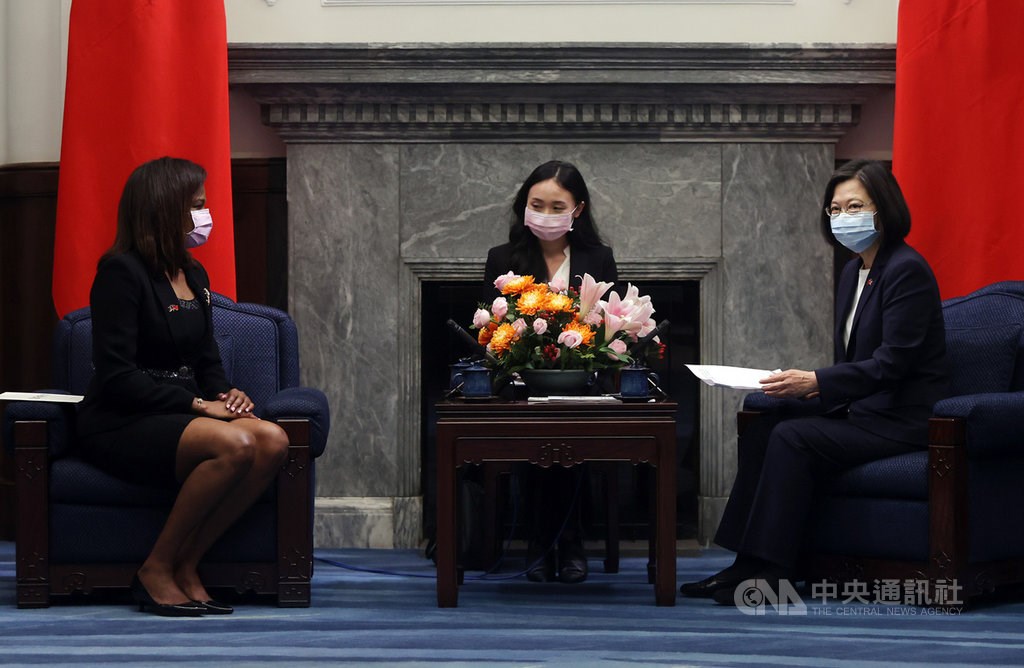 Taipei, April 20 (CNA) Belize's new Ambassador to Taiwan Candice Pitts presented her credentials Tuesday to President Tsai Ing-wen (蔡英文), who expressed the hope that the two diplomatic allies will continue to deepen their relationship.
At the ceremony, Tsai said the new administration of Belize Prime Minister John Briceño has been working to build on his country's cooperation with Taiwan and that Pitts' appointment attested to the value the Belize government places on the bilateral relations.
Having served previously as a city councilor, Pitts has a deep understanding of the needs of the Belize people, and her knowledge of Taiwan-Belize relations will help build even stronger ties between the two countries, Tsai said.
The president also noted that Pitts worked as an educator for years and has a background of advocating for women's empowerment and other important causes.
"Your experience can help facilitate further cooperation between our nations in areas such as education and gender equality," Tsai said.
She said that when she visited Belize, she was deeply impressed by the country's scenery and the people's support for Taiwan.
The strong relations between Belize and Taiwan are evident, she said, citing the common fight against the COVID-19 pandemic and their signing of an economic cooperation agreement, an air services agreement, and a mutual legal assistance treaty.
"Today, we are glad to welcome a new ambassador from Belize and look forward to breaking new ground in our bilateral relationship," Tsai said. "Ambassador Pitts, let me once again congratulate you on your new posting, and wish you every success."
"Thank you, President Tsai Ing-wen @iingwen for your warm welcome! #Belize reaffirms its support of #Taiwan, and we look forward to augmenting our bilateral relations," Pitts tweeted Tuesday after the ceremony, which was also attended by Presidential Office Secretary-General David Lee (李大維) and Foreign Minister Joseph Wu (吳釗燮).
Pitts arrived in Taiwan early March, replacing Diane Haylock, who had been serving in the post since August 2016.
According to Pitts' Twitter account, she has since met with Kaohsiung Mayor Chen Chi-mai (陳其邁), Taipei City Mayor's Office for External Affair Commissioner Tom Chou (周台竹) and Belizean students in Taipei and has visited several business enterprises in Taiwan.
The new ambassador holds a Ph.D. from Howard University in Washington, D.C., according to a press statement on the official government portal of Belize. As an educator, she has taught in the United States and Belize, and in March 2018, she was elected as a Belize City councilwoman, it said.
Belize, one of Taiwan's nine diplomatic allies in the Latin American and Caribbean region, has maintained relations with Taiwan since October 13, 1989.