U.S., Taiwan sign first-ever MOU on health cooperation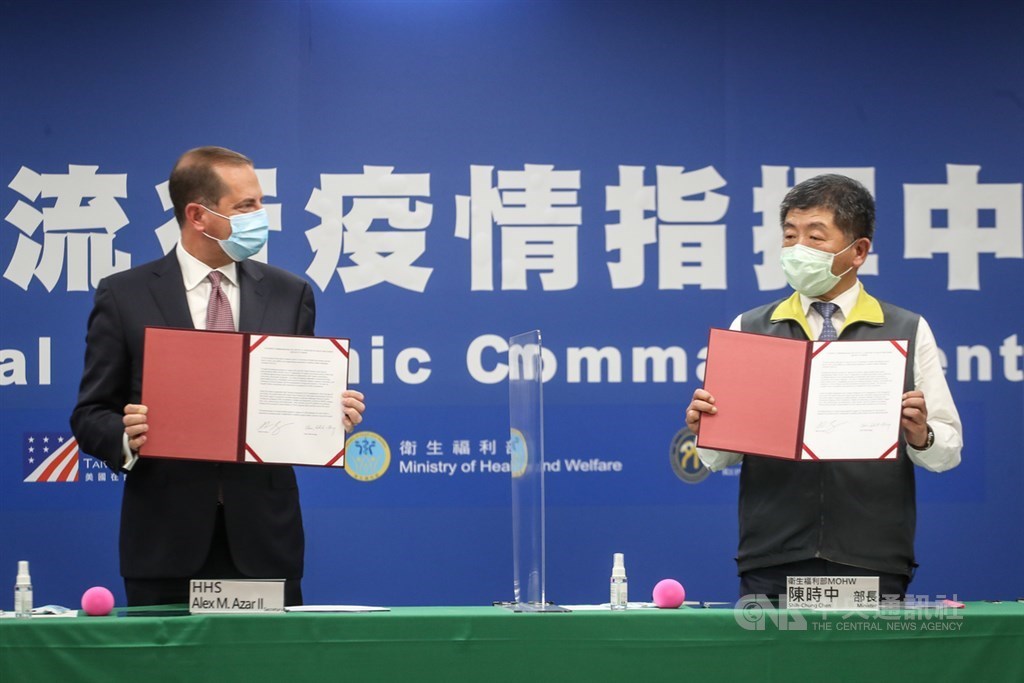 Taipei, Aug. 10 (CNA) Taiwan and the United States signed their first memorandum of understanding (MOU) on health cooperation on Monday to expand cooperation on global health security, infectious disease control and vaccine development.
The MOU was signed by Brent Christensen, director of the American Institute in Taiwan (AIT), and Yang Jen-ni (楊珍妮), chairwoman of the Taiwan Council for U.S. Affairs (TCUSA).
The AIT is the de facto U.S. embassy in Taiwan due to the absence of formal ties while the TCUSA serves as the headquarters for the Taipei Economic and Cultural Representative Office (TECRO) in the U.S., which is AIT's counterpart.
The signing was witnessed by U.S. Secretary of Health and Human Services (HHS) Alex Azar, who is currently in Taiwan, and Taiwan's Health Minister Chen Shih-chung (陳時中).
Azar said the MOU formalizes the more than two decades of collaboration between the health ministries of both sides, while Chen called it a "breakthrough" in Taiwan-U.S. health and medical cooperation and the "beginning of a new chapter" in Taiwan-U.S. relations.
According to a statement by the Ministry of Health and Welfare, the MOU was the first signed between the two health ministries despite decades of cooperation in public health, particularly in emerging infectious diseases response and dengue vaccine research.
It will lead to greater bilateral cooperation in areas such as global health security, digital health, infectious disease prevention, and vaccine development, the statement said.
Collaborative efforts under the MOU's framework will be conducted through science and research projects, personnel exchanges, training, consultations, and workshops and conferences, it said.
The AIT said in a statement that the MOU "aims to enhance the health and well-being of people of Taiwan and the United States as well as promote global health security together."
"It will strengthen ongoing cooperation on global health security, investigation and control of infectious disease, research, prevention and treatment of chronic disease, and the development of drugs and vaccines," the statement said.
Liu Li-ling (劉麗玲), an official in the MOHW's Office of International Cooperation, told CNA the MOU signifies the upgrade of Taiwan-U.S. health cooperation to a ministry level.