Tsai urges government officials to observe professional ethics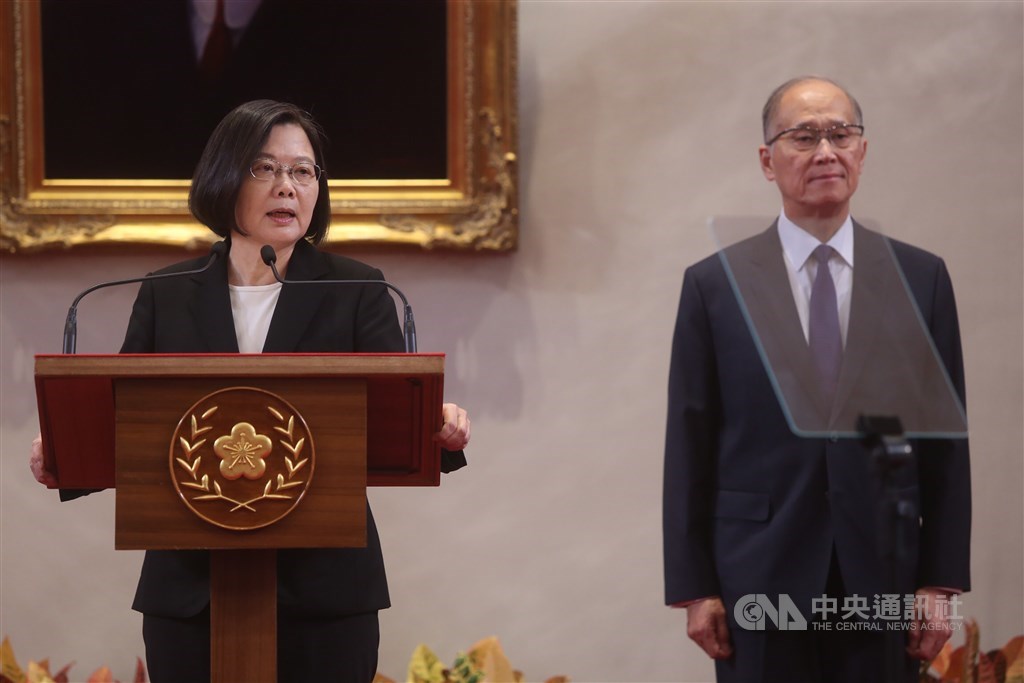 Taipei, Aug. 3 (CNA) President Tsai Ing-wen (蔡英文) on Monday called on members of her Democratic Progressive Party (DPP) administration to uphold high moral standards and eschew illicit actions, after her top aide Su Jia-chyuan (蘇嘉全) resigned the previous day amid bribery allegations against his nephew, a DPP lawmaker.
At a press briefing at the Presidential Office, Tsai also named Straits Exchange Foundation (SEF) Chairman David Lee (李大維) as Su's successor.
Su, who was appointed Presidential Office secretary-general on May 20 at the start of Tsai's second term, resigned Sunday "to avoid causing further trouble for the president."
In a statement, Su said that in his 30-year political career, neither he nor his wife had ever been investigated for corruption or tried to use his position to cover up any alleged misconduct by family members.
The statement was made amid allegations that that his nephew, DPP Legislator Su Chen-ching (蘇震清), had taken bribes from businessman Lee Heng-lung (李恆隆) to lobby for a law amendment.
Lee has been engaged in a legal fight against Far Eastern Group Chairman Douglas Hsu (徐旭東) over ownership of Pacific SOGO Department Store chain since the early 2000s.
Prosecutors suspect that Su Chen-ching and others had been accepting bribes since 2013 to lobby for a retroactive amendment to the Company Act clauses on capital increases, which would give Lee's company legal grounds to regain control of Pacific SOGO.
The Taipei District Court opened a hearing Sunday afternoon on prosecutors' request for the detention of Su Chen-ching, three other legislators and a former lawmaker allegedly involved in suspected bribery.
At Tsai's press briefing Monday, she said her DPP administration and the party's legislative caucus are constantly discussing law reforms that would be beneficial to the country as a whole, and their decisions "will not be influenced by select few" for their personal gain.
She called on the judicial branch of government to thoroughly probe the bribery allegations against the lawmakers.
Meanwhile, all government officials should uphold high moral and ethical standards and refrain from engaging in illicit activities, Tsai said.
"Those who found breaking the law will face the legal consequences," she said.
Even in cases where officials are cleared of suspected bribery charges, there are consequences, as the people will lose trust in the government, she said.
Meanwhile, the president said she picked Lee as the secretary- general of the Presidential Office because he is a seasoned diplomat with decades of experience in foreign affairs and has been serving in the administrative branch of government for the past four years.
Lee, 70, is a former foreign minister and diplomat who was moved from his post as National Security Council (NSC) secretary-general in May to head the SEF, the a semi-official intermediary body established in 1991 to handle cross-strait affairs.
Lee's first task in his new post at the Presidential Office will be to organize the state funeral of the late former President Lee Teng-hui (李登輝), according to Tsai.
Lee Teng-hui, who served as Taiwan's president from 1988-2000 and was praised by many local and international leaders as a democratic icon, succumbed to multiple organ failure at the age of 97 on Thursday.