Han seeks to reinvigorate campaign with rally in New Taipei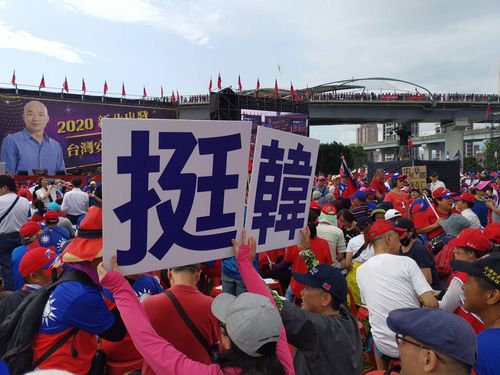 Taipei, Sept. 8 (CNA) In a major show of support, hundreds of thousands of supporters attended a campaign rally held by Kuomintang (KMT) presidential candidate Han Kuo-yu (韓國瑜) in New Taipei Sunday, in the wake of recent speculation about divided KMT support and falling popularity.
Supporters began to arrive at Sweet Ripples Park in the municipality mid-afternoon, many wearing Republic of China (ROC) flag-inspired shirts and holding campaign merchandise such as tarpaulins and placards.
Republic of China is the official name of Taiwan.
The nearest metro station -- Sanchong Station -- was filled with people heading to the park, an indication that supporters were not mobilized by others but participating of their own volition, one supporter told CNA.
The crowd was estimated at around 350,000, according to Han's campaign team. However, police on site refused to give numbers.
In his first campaign rally after being officially nominated, Han reiterated his love for the ROC and lamented the mudslinging he has been subjected to since announcing his presidential bid on June 1.
He stressed his four ideologies as being to defend the ROC, to cherish Chinese culture, which he described as "our roots," to preserve freedom and democracy, and never forget that many people continue to struggle in life.
"Please support my ideologies" Han urged his supporters. "We believe the government should truly serve the people."
The rally aimed to show unity and reignite the passion of the pan-blue camp, amid a threatened split if tycoon Terry Gou (郭台銘), who is also aligned with the pan-blue camp, decides to launch a presidential bid.
In addition, Han's support has been falling in some recent opinion polls, including one conducted by TVBS in late August that indicated Han won a support rate of 41 percent while President Tsai Ing-wen (蔡英文), who is seeking her re-election, got 49 percent.
Former President Ma Ying-jeou (馬英九), KMT Chairman Wu Den-yih (吳敦義) and other political heavyweights attended the rally, though the mayor and former mayor of New Taipei, Hou You-yi (侯友宜) and Eric Chu (朱立倫), both from the KMT, were no shows.
Ma urged KMT supporters to rally behind Han and slammed the Democratic Progressive Party (DPP) for backsliding on Taiwan's economic development, governance, and international affairs, and the cross-Taiwan Strait relations.
A woman surnamed Liu told CNA that she supports Han because he is "down to earth," as demonstrated by his compassion for common people's suffering and his willingness to address it.
Asked how she views recent controversies involving Han, including being late to appointments and remarks deemed by some as belittling migrant workers, she replied "nobody is perfect. We must check the circumstance behind the claims."
"I used to refer to myself as a 'Han Fan.' But not anymore," another supporter surnamed Chang said. "Now I see myself as a member of 'Han's troop,' which will always be loyal to Han."
Another supporter said he wants to see the DPP administration removed from office due to bad governance and wrongdoing. He did not elaborate.
Before attending the campaign rally, Han's first after winning the KMT presidential primary in July, he visited five temples in New Taipei City, to seek divine blessing.