Taiwan, Japan, U.S. hold joint workshop on network security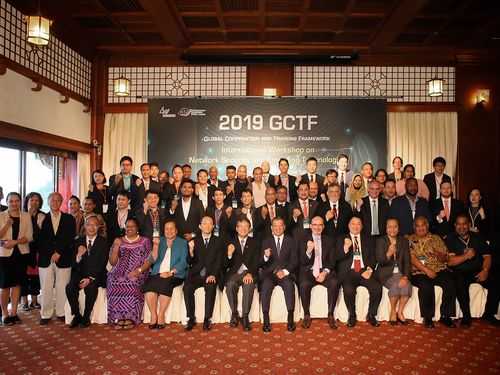 Taipei, May 28 (CNA) The issues of network security and new technologies are in the spotlight at an international workshop that opened Tuesday in Taipei under the auspices of the United States, Japan and Taiwan.
Held under the Taiwan-U.S. Global Cooperation Training Framework (GCTF), the three-day workshop has attracted 41 participants from 25 countries, who will discuss major issues in today's world of technology, said Raymond Greene, deputy head of the American Institute in Taiwan (AIT).
In his opening address at the "Network Security and Emerging Technologies" forum, Greene noted the presence of delegates from Mexico and Chile, two countries that are participating in a GCTF workshop for the first time.
He said the U.S. places high importance on network security, especially the 5G issue, which is why it has sent officials from its State Department, Federal Communications Commission, and Homeland Security to the workshop in Taipei.
The U.S. and its allies recently agreed on a set of proposals for future 5G networks, highlighting concerns about equipment supplied by vendors that might be subject to state influence, Greene said.
Among the allies are Japan, Australia and some members of the European Union, he said, referring to the Prague Proposals that were issued after the Prague 5G Security Conference earlier in the month.
No suppliers were named in the proposals, but the U.S. has been pressing its allies to limit the role of Chinese telecom equipment makers such as Huawei Technologies, over concerns that their gear could be used by Beijing for spying, an accusation Huawei has denied.
Greene said he was pleased to see that Taiwan was also on board with the proposals.
Commenting on the proposals, Lee Der-tsai (李德財), senior advisor to Taiwan's National Security Council, said in his address at the workshop that Taiwan welcomed the measures to ensure 5G security.
"In Taiwan, we also take measures to protect our 4G and 5G networks and we welcome this proposal as it supports globally recognized values, such as transparency, rule of law, and IP protection," he said.
Meanwhile, Taiwan's Deputy Foreign Minister Kelly Hsieh (謝武樵) said cyber security is now not only a personal or domestic concern, but also a global issue that threatens freedom and democracy around the world.
Taiwan has been a major target of cyberattacks from abroad and has been facing increasingly pervasive threats in the form of fake news, he said, alluding to reported efforts by China.
In response, Taiwan has set up a Cabinet-level national communications and cyber security center which "is tasked with spearheading the government's network security management initiatives and related collaboration with international partners," Hsieh said
He said like-minded democratic countries around the world are working together "to foster the digital economy, enhance online governance and safeguard our democratic way of life," as exemplified by the workshop in Taipei.
The GCTF, established in June 2015, was designed to support cooperation between Taiwan and the U.S. in international public health, humanitarian assistance and other global issues, Hsieh noted.
Japan later joined the project and has become one of the sponsors of the workshops, Hsieh said, adding that the current forum is the 19th since the GCTF's inception.