Cross-strait peace and stability remains priority: president Tsai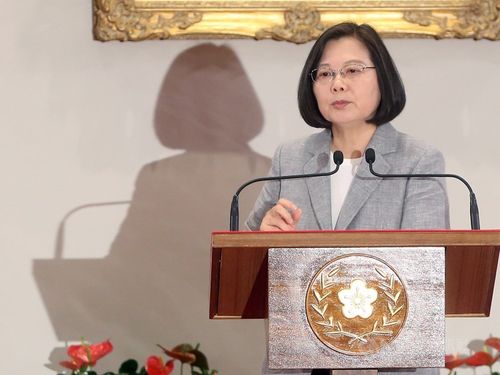 Taipei, May 20 (CNA) President Tsai Ing-wen (蔡英文) hinted Monday that her cross-strait policy will remain unchanged in the future, saying that maintaining peace and stability in the Taiwan Strait will continue to be the focus of her administration.
Tsai made the remarks at a press conference at the Presidential Office, which was held to mark the third anniversary of her inauguration as the country's leader and detail her achievements.
As Tsai has noticeably toughened her tone on cross-strait issues since Chinese President Xi Jinping's (習近平) major speech on Taiwan in January, there has been speculation as to whether her stronger tone could translate into tougher action.
"Basically we will continue to do our best to maintain the current peace and stability across the Taiwan Strait," Tsai said in response to a reporter's question on whether she would consider revising cross-strait policy in the last year of her first term, or second term if re-elected.
Given that Xi removed ambiguity from cross-strait relations when he reiterated in his January speech a Taiwan version of the "one country, two systems" model, Taiwan must unequivocally express its position, the president said.
"Let me be clear. We are merely trying to clearly express our stance," Tsai said. "It is not provocation."
Tsai said if a national leader is not able to clearly express the will of his or her people, "what kind of an independent country are we?"
Taiwan has faced a series of punitive measures from China due to Tsai's refusal to endorse the "1992 consensus," a tacit understanding reached in 1992 between the then Kuomintang (KMT) government of Taiwan and the Chinese government.
The consensus has been consistently interpreted by the KMT as both sides of the Taiwan Strait acknowledging there is only "one China" with each free to interpret what "China" means. However, Beijing has never publicly recognized the second part of the KMT interpretation.
China has cut the number of Chinese tourists visiting Taiwan, and poached five of the nation's diplomatic allies since Tsai's inauguration in May 2016. It also forced international airlines and corporations to change how they refer to Taiwan and excluded the nation from international organizations.
In the face of Beijing's increased pressure, Tsai has stated on multiple occasions that her administration's goodwill toward China remains unchanged, but it will not yield to pressure or return to the old path of confrontation.