Ex-Chinese negotiator pays tribute to late Taiwanese counterpart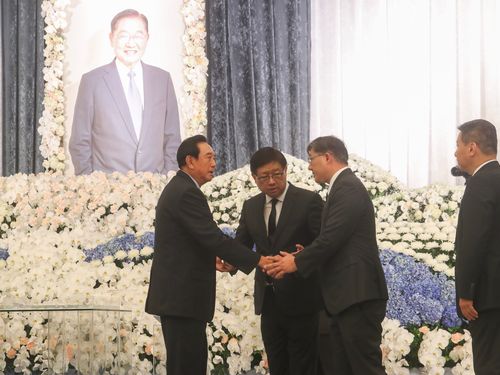 Taipei, Dec. 20 (CNA) China's former top cross-Taiwan Strait negotiator Chen Yunlin (陳雲林) on Thursday paid tribute to his late counterpart, Straits Exchange Foundation (SEF) Chairman Chiang Pin-kung (江丙坤), who died earlier this month at the age of 85.
Chen, former chairman of the Association for Relations Across the Taiwan Straits (ARATS), paid a five-minute visit to the venue of a memorial service at the SEF building in Taipei along with his entourage, and they observed a period of silence in honor of Chiang, according to incumbent SEF Chairwoman Chang Hsiao-yueh (張小月).
Former SEF Vice Chairman Kao Koong-lian (高孔廉) and other incumbent and former SEF officials were also there to greet Chang and his entourage.
Chang said she greeted Chang with a handshake when he arrived at the SEF, telling him she was honored to meet him and that he would be welcome to visit the SEF again.
In return, Chen said, "I have heard so much about you," Chang related.
During Chen's visit to the SEF, he looked at historic photos on display on the second floor of the building and spoke of meetings over the years between him and Chiang.
He also said that before Chiang's sudden death, they had arranged to meet next month.
Later Thursday, Chen issued a statement, mourning the loss of "an old, close friend."
Chen said he came to Taiwan to bid farewell to Chiang in his capacity as a private individual and he greatly regretted the loss of his friend.
Chen also recalled his first visit to Taiwan about 10 years ago, when Chiang warmly welcomed him at the Grand Hotel in Taipei.
"It seems like only yesterday," Chen said.
He said that as heads of ARATS and SEF between 2008 and 2012, he and Chiang held eight meetings and signed 18 agreements.
"For reasons that are well known, there have been many twists and turns in cross-strait relations," Chen said, adding that during Chiang's lifetime he made 179 cross-strait trips to promote the peaceful development of cross-strait ties and deepen cross-strait economic cooperation.
The peaceful development of cross-strait relations is a step in the right direction that will benefit the people on both sides of the strait and the Chinese nation, Chen said in his statement.
Chiang and other people of vision in Taiwan who contributed to the peaceful development of cross-strait ties will be remembered by history, Chen said.
Chen, who arrived in Taiwan around Thursday noon, is scheduled to return to China Friday.
Chiang died Dec. 10 of multiple organ failure at Mackay Memorial Hospital in Taipei. At the time of his death, he was head of the Straits Economic and Cultural Interchange Association.